GROUP OF SCHOOL STUDENTS, TOODYAY SCHOOL DUKE STREET
c. 1929
Overview
B & W photo. A group of four rows of students- boys and girls.
The back row of boys are standing; the next row of boys and girls are sitting and standing; the third row of girls are sitting, and in front of them is a row of boys sitting cross-legged.
A brick wall and door is behind the group and wooden slats to the sides, with a carved point shaped woodwork to the top right-hand corner.
Discoloration and finger marks to back of photo. Slight marking to edge of photo.
Back row: L-R Joe de Bondi, Eric Twine, Leon Chitty, David Lukin, Tom Drake-Brockman (Drakebrockm?), Bill Davies, Tom Rodgers, Laurie Cook, Dudley Chitty, Bert Dorrizzi, Doug Wood, Bill Page.
Third row: L-R Colin Campbell, Mervyn Fawell, Ross Smith, Eric Morgan, (unnamed), Ida Haywood, Alison Walton, Gladys Twine, Jean Fawell, Betty Wroth, Joan McCluney, Peggy Lukin, Deborah Drake-Brockman, Beryl Martin.
Second row: L-R Helen Twine, Heather Baddley, Doris Hasson, Edna Meredith, Hazel Messenger, Myrtle Haywood, Alma Chitty, Joyce Parker, Pat Porter, Dorothy Fawell, Joan Sinclair, Annie De Bondi.
Front row: L-R Neil Ferguson, Frank Twine, Ewen Mackintosh, David Weir, Gordon Dorrizzi, Reg Dawson, Bill Cook, Walter Chitty, (First name unknown) Fawell.
Historical information
The old Newcastle School, located on Duke Street, was the first purpose built school in the new town site of Toodyay (then known as Newcastle). It operated as a school from 1887 to 1954.
From about 1914, new teaching methods were introduced at this school, located in Duke Street, Toodyay that focused on skills suited to future farmers and country residents, including the use of small agricultural plots.
From 1918 the school was classified as a rural observation school. In May 1919, 27 visiting teachers participated in a "school of instruction", spending two weeks learning about the new teaching methods. This was the largest such event held in the state at the time.
In 1920 the school was declared Western Australia's first consolidated school, taking students from smaller schools in outlying areas. Such consolidation provided more efficient teaching than multiple smaller schools. Initially, West Toodyay School was closed and the children taken to Duke Street each day by bus. The same was done for other schools later; the increased student numbers necessitated addition of another classroom, and a wooden pavilion was moved from Bunbury in 1923.
A Parents and Citizens Association was formed in 1921, and a school board was elected in 1923. Also in 1923, the school was provided with electric light.
By 1949 increasing numbers of students meant a site for a new school was chosen. In 1954 the new Toodyay District High School opened and Duke Street closed.
Details

Details

Contextual Information

This photograph is a duplication of another photo in the Shire of Toodyay collection: 2001.1046. Identification of pupils is per inscription on the back of that photo.

Primary significance criteria
Shire of Toodyay

Shire of Toodyay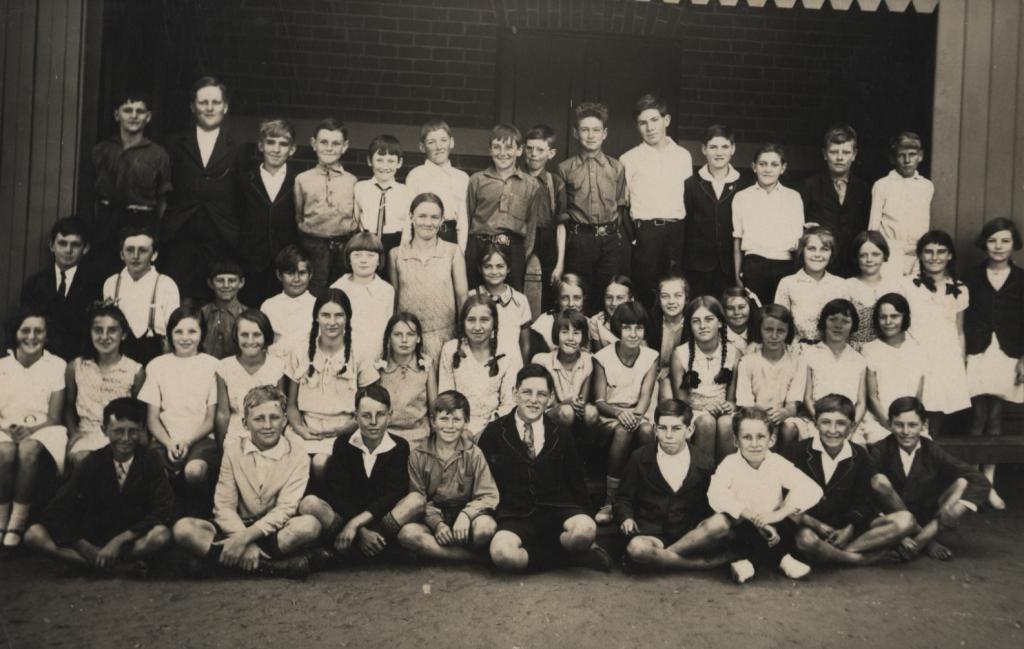 Scan this QR code to open this page on your phone ->