ST JOHN THE BAPTIST 'OLD' ROMAN CATHOLIC CHURCH
c. 1947 - 1949
Overview
Black & white photo of the first St. John the Baptist Church in Stirling Terrace, Toodyay.
A wooden post and rail mesh fence with a cement plinth is in front of the church building.
A tree is to the left of the photo and another midway along the building.
To the right of this tree is a wooden bell-tower, as tall as the church building.
Historical information
This church operated between 1863 and 1963.
In 1963, a new church with the same name was completed and located on the opposite side of Stirling Terrace.
This building was then sold into private ownership.
Details

Details

Inscriptions and markings

A small sticky label states in blue biro: "Photo taken late 1940's"

Primary significance criteria

Google Maps search term / URL

https://www.google.com/maps/embed?pb=!4v1662444064687!6m8!1m7!1syvIdc3VunixlUgr67ZoGCw!2m2!1d-31.55506825340028!2d116.4747152761772!3f206.69234973384093!4f8.087447689098397!5f1.7712906323139332
Shire of Toodyay

Shire of Toodyay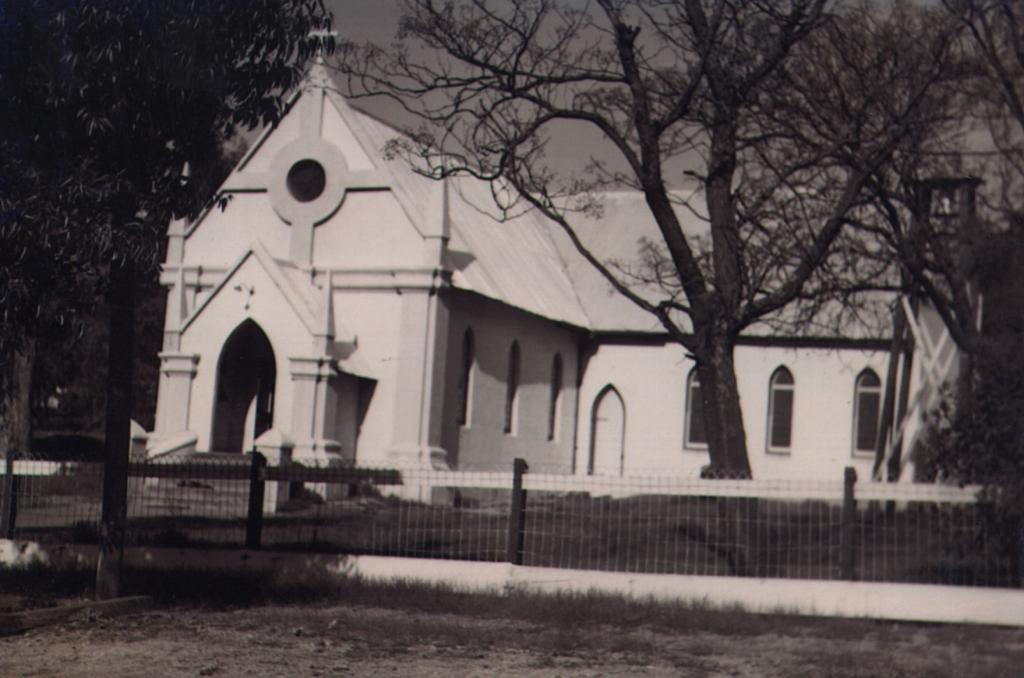 Scan this QR code to open this page on your phone ->