WHEAT PLOT AT EXPERIMENTAL FARM SCHOOL, TOODYAY
1917
Overview
B & W photo of 11 male students are seen standing in a plot of wheat varieties located behind the Toodyay State School. The railway and a car park cover the area in 2022.
In the back ground are 5 buildings, including Marris' Mill under demolition, behind which are tree covered hills.
The wheat is mostly as tall as the boys. The varieties named are Florence, Warren, Cedar, Yandilla King.
Historical information
From about 1914, new teaching methods were introduced that focused on skills suited to future farmers and country residents, including the use of small agricultural plots.
From 1918 the school was classified as a rural observation school.
In May 1919, 27 visiting teachers participated in a "school of instruction", spending two weeks learning about the new teaching methods. This was the largest such event held in the state at the time.
In 1920 the school was declared Western Australia's first consolidated school, taking students from smaller schools in outlying areas.
https://en.wikipedia.org/wiki/Old_Newcastle_School
Details

Details

Inscriptions and markings

Names of the children are written on back of photo:" Peter Lee, Mate Lee, Lyner Aub Leeder, 'Crusty' Lloyd (Fred), Wesley James."
Note accompanying photo reads: " Experimental - Agricultural Division of Toodyay School up from old school [Duke St.] sixty years ago".

Primary significance criteria
Shire of Toodyay

Shire of Toodyay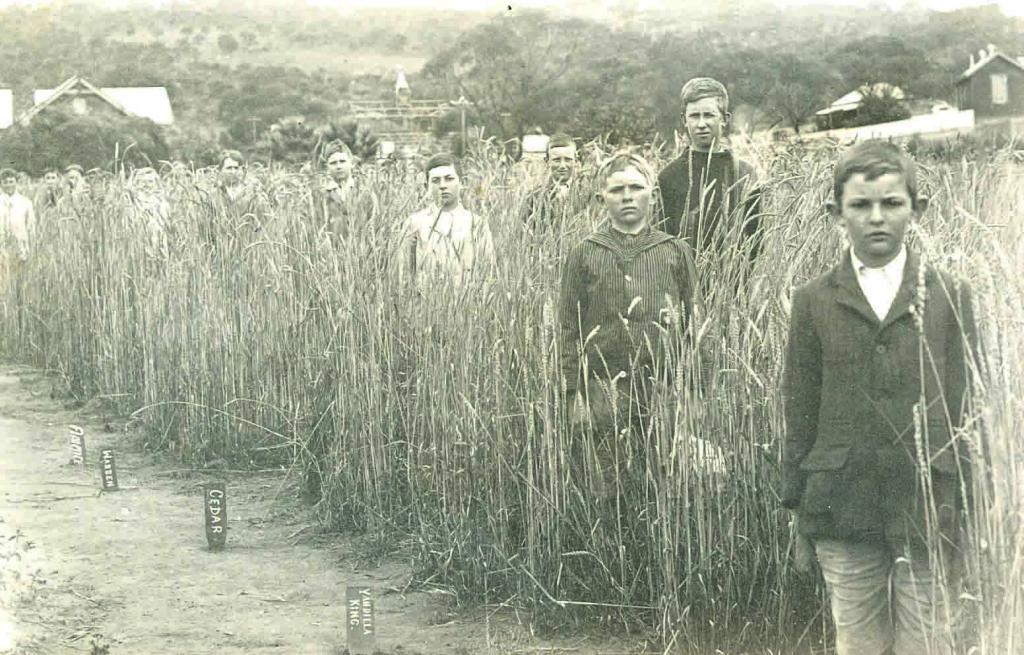 Scan this QR code to open this page on your phone ->