CONFERENCE TICKET 1860
1860
Overview
Ticket for Australasian Wesleyan Methodist Church conference in June 1860
Handwritten name "Stephen Monger" at bottom.
Shows decorative edge, a quote from Old Testament, name of organisation and dates of first and current conference.
The ticket also includes a handwritten notation above Mongers name that is unclear; it may be 6-6 representing the cost of the ticket or a set of initials.
The note is in poor condition, being stained frayed and faded
Historical information
The Stephen Monger in question relates to one of the men operating a store and bakehouse in Newcastle at this time, with a father and son both bearing the same name. The Perth Gazette does not make any mention of this
conference, although it does cover a Wesleyan Tea Meeting in Perth in 1860 which may or may not be related.
It is unknown how this ticket came to be located in the Museum Workshops however it is assumed it was donated.
Details

Details

Inscriptions and markings

Wesleyan Methodist Church

Statement of significance

The value of the item considered for accession lies in its research value as a dated document relating to daily and spiritual life in Toodyay during the 1860s. While there is little to recount any first hand experiences of the conference, it is still a useful example of organised religion in the early years of the colony, and is surprising that such an old document has survived. While the item is
only of local significance, it may in the future provide some information for historical researchers.
Shire of Toodyay

Shire of Toodyay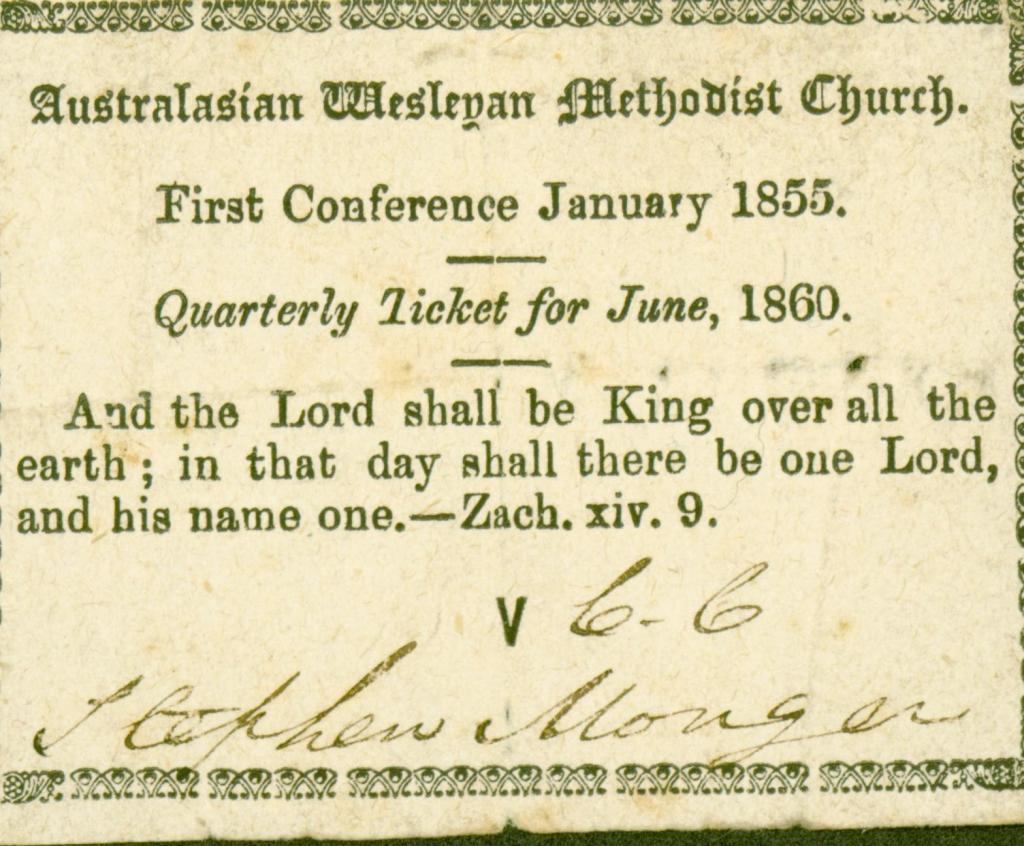 Scan this QR code to open this page on your phone ->