GROVES' HOUSE, 8 FIENNES STREET, TOODYAY
c. 1980
Overview
Colour photo of house in Toodyay.
One sheet of iron dislodged from verandah roof, brick chimney in middle of roof, large Bunya Pine tree at left rear side of photo, weeds overgrown in back yard.
Historical information
The address of the property is 8 Fiennes Street, Toodyay and it is listed on the 2013 Shire of Toodyay Municipal Inventory as place number 49. The place has historic value through its association with Police Constables in the 1860s and Fred Green and his livery stables in the 1890s. The building is a rare example of a cottage from the 1860s that is not a Pensioners Cottage and for its unusual placement on the block.
Police Constable Ebenezer Martin bought the block in 1861 but sold it to Police Constable Thomas Sarsfield Burnside who had transferred from York to Toodyay. He undertook the duties of postmaster for Toodyay in 1863. In 1869 he was transferred to Rottnest Island as Warder.
In the 1890s Fred Green ran a prosperous livery stables at this site. When gold was discovered at Blackboy Hill in 1897 his services were in great demand. After the 'Deepdale' school closed in 1922 he conveyed the children to Toodyay school by horse drawn van, later replacing it with a bus, which was the first school bus service in Western Australia. He also had the Nunile mail run from the 1920s to the last half of the 1930s using a horse and sulky.
Details

Details

Inscriptions and markings

In blue ink: 'John Groves - cr Clinton & Fiennes St Toodyay'

Contextual Information

In 2011 the Shire gardeners' depot was positioned at the Clinton Street end of the residence. The Bunya Pine was still visible to the side of the house.
By 2022 the RSL had taken over the site formerly used by the Shire gardeners and the Bunya Pine was gone. The stump was still visible however, cut off at ground level.
A black and white photo in the Shire of Toodyay's collection, 2001.1541, shows the same building (in a slightly better condition) from a different angle.

Primary significance criteria

Google Maps search term / URL

https://www.google.com/maps/embed?pb=!4v1663576783876!6m8!1m7!1s38iVXSbuGMjj1GeRsvLFsg!2m2!1d-31.55260195996958!2d116.4672753722604!3f47.62807752947071!4f-2.366752163324776!5f0.7820865974627469
Shire of Toodyay

Shire of Toodyay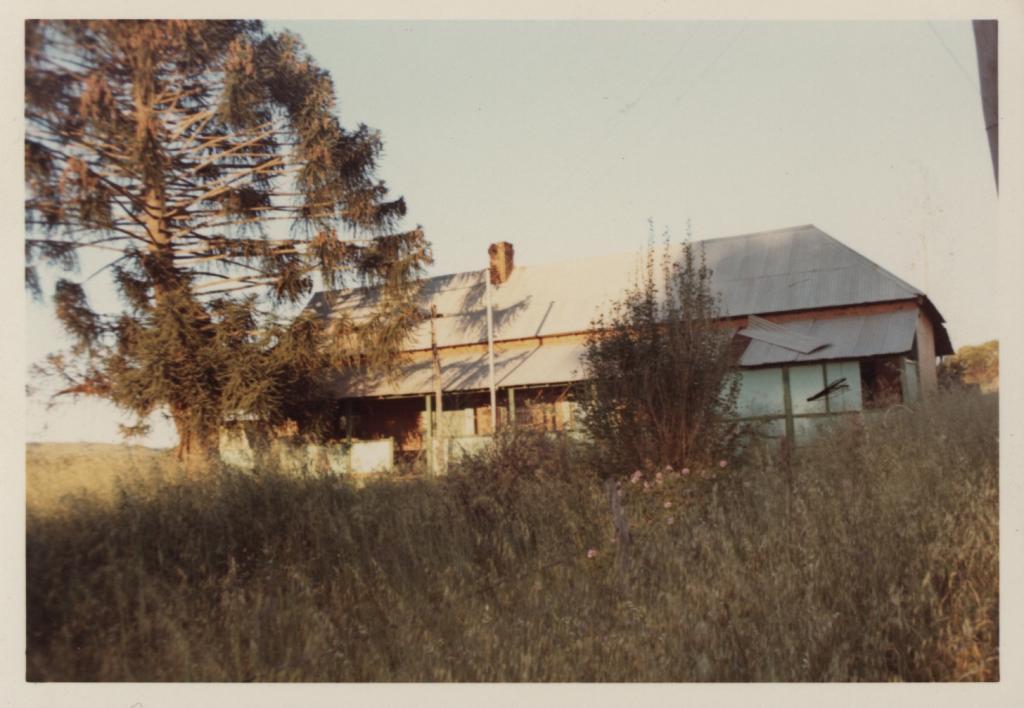 Scan this QR code to open this page on your phone ->