TOODYAY HOSPITAL DISCHARGE NOTE 1921
1921
Overview
Discharge note from Toodyay Hospital.
Shows R. Woods of Calingiri having paid 4 pounds 19 shillings & 9 pence for an eleven day stay at hospital.
Counter signed by Matron A. Stroschein.
Also shows stamp tax in action, stamp is noted as paid for.
Historical information
The document includes an orange Western Australian stamp, featuring a swan and bearing the words "One Penny" with the handwritten note "Received Jan 10th 1921". This longer style stamp was used for stamp duties, which were required for all government related receipts over one pound to make them legally binding.
It is unknown how this receipt came to be located in the Museum Workshops however it is assumed it was donated.
Details

Details

Contextual Information

From 1893 the construction of the new hospital at Newcastle (renamed Toodyay in 1910) on sloping land took longer than originally anticipated
Extra foundations and other modifications had to be carried out before the building was judged suitable for use in 1895. It had two wards with 8 and 3 beds. Only seven years later the Government closed the hospital due to running costs.
After community pressure the Newcastle Hospital re-opened in 1904. A ward of three beds was set up for the care of emergency cases. In 1910 the Newcastle Municipal Council took over running the hospital and a Hospital Committee was formed. Matrons were employed by the Committee to manage the hospital's activities. Expenses continued to be more than the amount received from patients and in spite of ongoing fundraising efforts by the community, the Public Health Department finally closed the Toodyay Hospital in 1940.

Matron Annie Stroschein worked at the Toodyay Hospital from 1921-22. Annie resigned to get married to Milton Wroth on May 31st, 1922.

Statement of significance

The value of the item considered for accession lies in its research value as a dated document relating to daily life in Toodyay during the 1920s. While the document does not recount any first hand experiences of the hospital in the 1920s, it is still a useful as example of a government documents, in particular illustrating the stamp duty in practise. While the item is only of local significance, it may in the future provide some information for historical researchers.

Primary significance criteria
Shire of Toodyay

Shire of Toodyay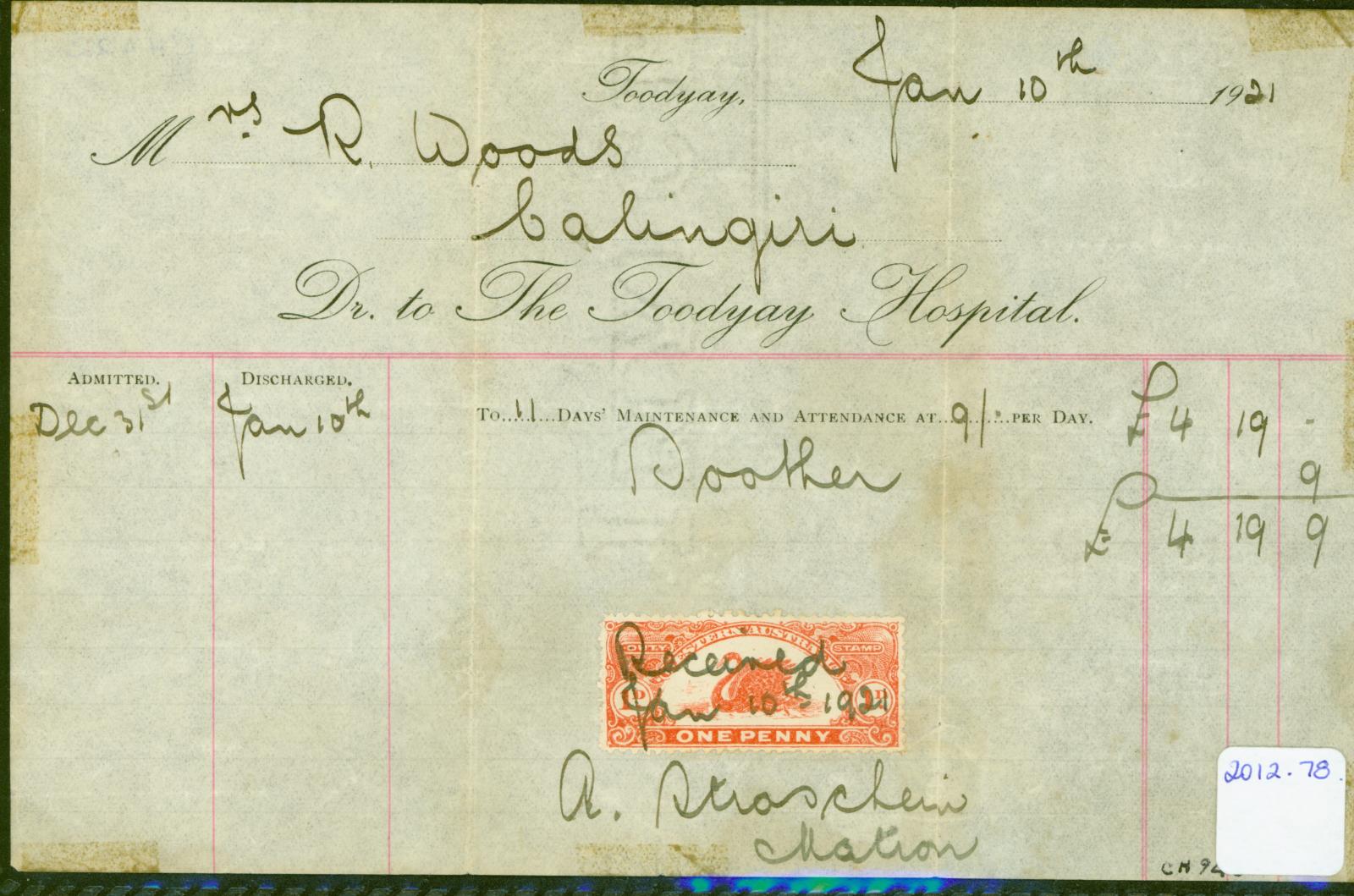 Scan this QR code to open this page on your phone ->