POETRY BY T J STRAHAN, HANDWRITTEN
1919
Overview
Handwritten sheet of paper, with a poem each side. Each poem takes up one face of the sheet.
First poem is dated 18 September. It is numbered 9 and is a five verse redemptive prayer, with a simple ABAB rhyming pattern.
Second poem is dated 8 October 1919. It is numbered 17 and is four verse poem about leaving Jumperding, ABAB structure.
The page is in poor condition, has been torn, stained and is severely creased.
Historical information
It is assumed that this page came from a larger series of works, with the prayer labelled 9and the Jumperding poem labelled 17.
It is unknown how this page came to be located in the Museum Workshops however it is assumed it was donated.
Details

Details

Inscriptions and markings

Statement of significance

The value of the item considered for accession lies in its research value as a dated document relating to Toodyay in the early 20th century. More importantly, it is a very rare direct glimpse into the emotional and spiritual life of a Toodyay resident at this time. While the museum does contain books of poetry in its collection, it does not have any poems written by Toodyay
residents.
Shire of Toodyay

Shire of Toodyay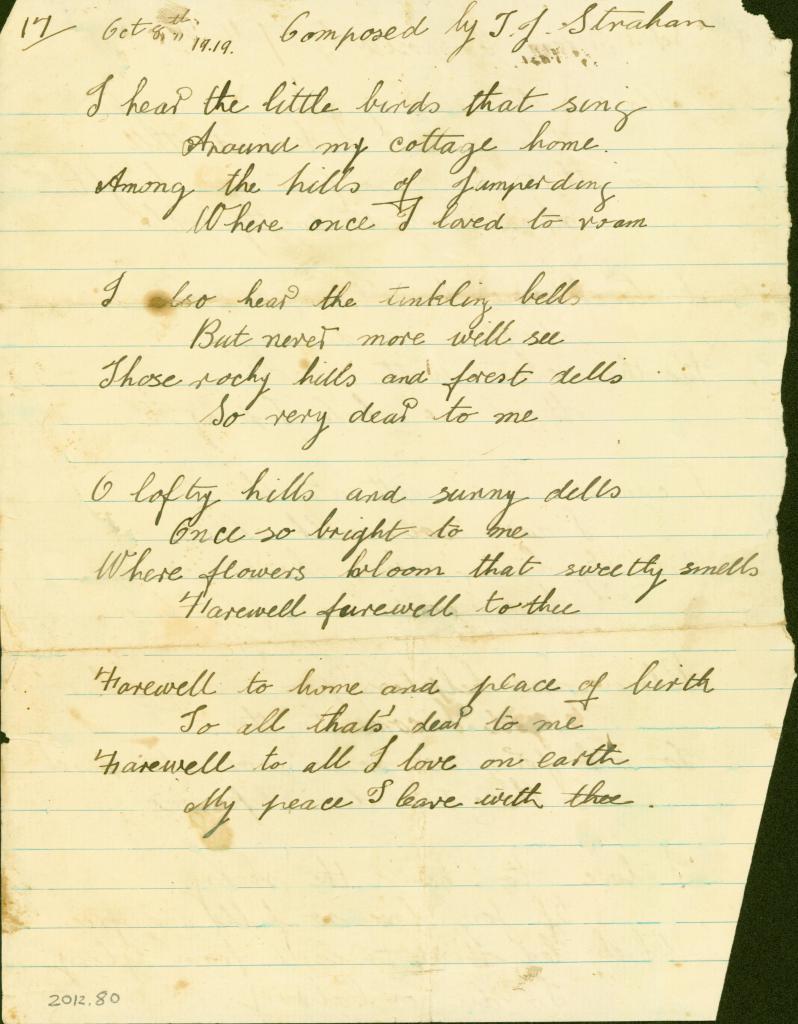 Scan this QR code to open this page on your phone ->