The Yelverton Bed
c. 1850 - 1860
Overview
This rare colonial jarrah four poster bed circa 1850-60, was made for Henry Reginald Yelverton, early pioneer and timber miller/merchant of Quindalup and his wife Mary Yelverton nee Marshall.
The heavily moulded foot rail, fielded panel in frame and sawn flat board with wave motif are the typical design elements for this style of furniture in this period. The head posts and head board were left plain in contrast to the decoratively turned end posts as these parts would be covered with drapes to keep out the cold and therefore not seen. The jarrah wood would have been finished with a mixture of beeswax, oil and turpentine.
Historical information
Henry Yelverton was born in England in 1821. He intended to study medicine, but at 18 visited America and then joined a whaler which reached the Swan River colony in 1845. By 1855 he had moved to Vasse River settlement where he obtained a government license to mill timber and he built a small portable mill which was the first steam powered mill in Western Australia. Yelverton secured a 20 year timber concession over Quindalup jarrah and exported the timber overseas from Geographe Bay. To comply with his license conditions he erected a jetty, saw mills, sheds, workshops, houses and offices in the Quindalup area. Yelverton also constructed a general store and a school for the convenience of the community.
Between 1850 and 1868 the British Government sent over 9600 adult male convicts to WA to satisfy the demand for skilled and unskilled labour. Henry Yelverton employed around 270 ticket of leave convicts at his mills and also in the construction of public and private buildings in Busselton.
In 1860, in answer to a government questionnaire, Yelverton stated that his timber operations were on a scale at least ten times greater than any other in the trade in WA. In 1865, when all timber exported from the colony was worth £15,693, the quantity shipped by Yelverton was valued at almost £11,000 and three years later the Perth Gazette called him 'the oldest and most experienced timber merchant in the colony'. In January 1880 he was seriously injured when a huge log fell on him and due to the risk of moving him a hut was built over him. He gradually recovered and was able to walk on crutches but, aged 58, he died suddenly on 1 April, 1880.
His son Henry John, born on 6 April 1854 at Fremantle, took over the Quindalup mill. In 1898 when British financiers were showing a keen interest in the Western Australian timber industry, he was bought out by the Imperial Jarrah Wood Corporation, later absorbed into Millars' Karri and Jarrah Co. (1902) Ltd. He remained as manager for a time. From 1901 to 1904 he was M.L.A. for the Sussex electorate, supporting the Liberal government. He died on 14 January 1906 when he was mill-manager at Dardanup.
Details

Details

Contextual Information

It is very likely that this bed was made by a convict cabinet maker, working for Yelverton, but also possible that the bed could be attributed to either George Knapton or Charles Keyser who were local Busselton cabinet makers.

This bed was used by several generations of the Yelverton family until 1954 when Miss Ethel Yelverton, granddaughter of Henry Reginald Yelverton, donated it to the Royal Western Australian Historical Society who then donated it to the Busselton Historical Society in 1971.

Place made

Busselton
Western Australia
Australia


Primary significance criteria

Social or spiritual significance
Related Objects

Related Objects
Busselton Historical Society

Busselton Historical Society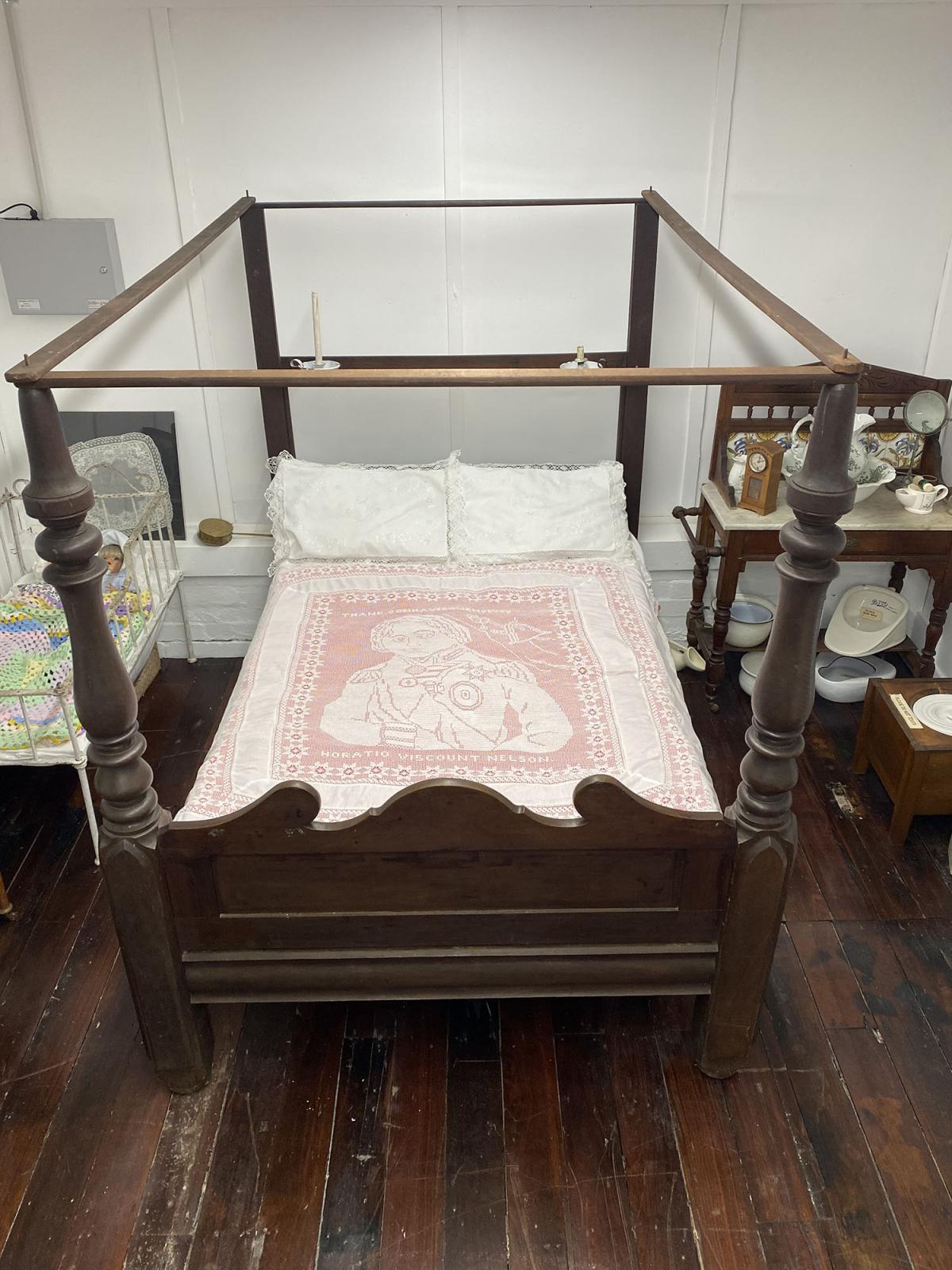 Rare colonial jarrah four poster bed circa 1850-60 was made for Henry Reginald Yelverton. Photo by Flying Eye Photography.
Scan this QR code to open this page on your phone ->