Rediscovering Lost Meaning
Published:
Tuesday, 9 August, 2022 - 10:14
Inscription (noun)
A piece of writing written or cut on or in something, especially as a record of an achievement or in order to honour someone.
MacMillan Dictionary
Humanity has inscribed messages or their name onto objects almost as soon as they created writing. Yet over time, these inscriptions can lose meaning to modern readers. One of the roles of a museum is to help modern audiences rediscover the meaning of words that someone once thought were important enough to inscribe in a book or onto stone, metal, wood or leather.
Pocket watch chain presented by the Kelmscott Agricultural Society to Mr T. Briggs for his pen of 3 heifers, 1923.
Thomas Briggs arrived in Byford with his family in 1911 and established a dairy herd of Ayrshire cattle at Sussex Farm. In 1921 Thomas and his sons Robert and Henry exhibited the herd at the Kelmscott Show, winning a number of prizes for the bulls and heifers they entered. Over the next eight years the Briggs Ayrshire herd won nearly every category that they entered at the Kelmscott show. The Briggs family would go on to successfully exhibit their herd at the Byford Show and at the Perth Royal Show, with Sussex Winsome winning champion cow and Tipperary Butterball winning champion bull at the 1931 Royal Show.
Donated by B. Marsh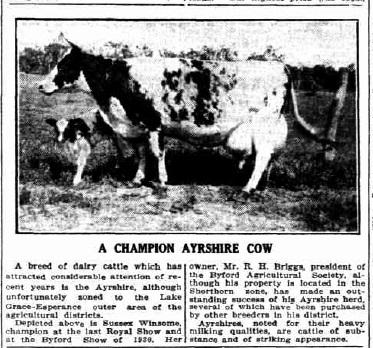 The West Australian 17 January 1932, p20.
Presidents Cup, presented to Benjamin 'Ben' Vidgen Cross, the owner of Runnymede Orchard at the Kelmscott Agricultural Show, 1939. Kelmscott Agricultural Society President Stanley Leigh Roberts presented this trophy to Ben Cross after he was awarded the most points in the vegetable section of the 1939 Kelmscott Agricultural Show. Ben was awarded 19 first place ribbons and numerous second places for the vegetables he exhibited from his Runnymede Orchard and market garden in Bedfordale. The Cross family ran the orchard and market garden from 1897 to 1967.
Donated by A. Logan
The Royal Antediluvian Order of Buffaloes membership badge, presented to Mr Albert Drawbridge in 1950.
Albert Drawbridge arrived in Armadale in 1945 when he took up the position of Station Master at the Armadale Railway Station, a position he held until his retirement in 1958. In c1950 he became a member of the Dale Lodge No 107 of the Royal Antediluvian Order of Buffaloes (RAOB). The RAOB is a fraternal organisation, founded in Great Britain in 1822. The organisation quickly spread to other Commonwealth nations and provides aid to members, their families, and dependents of former members and raises money for a variety of charities. The RAOB established the Dale Lodge No. 107 in Armadale sometime in the late 1940s. On 12 February 1954 the RAOB Hall was opened on Aragon Court.
Donated by C. Gilmore,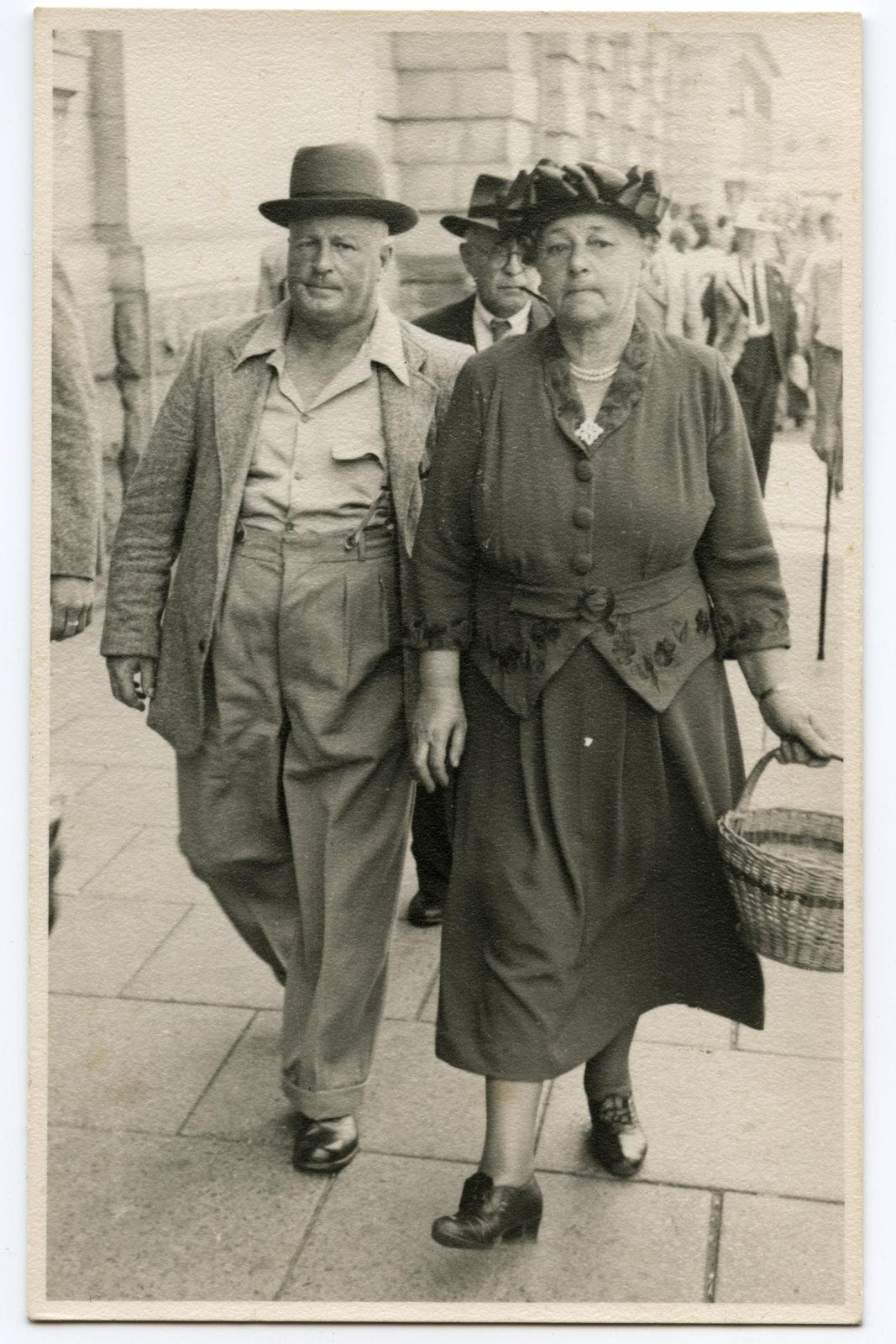 Albert and Laura Drawbridge walking in Perth, c1960.
Courtesy of the Birtwistle Local Studies Library, PH424
City of Armadale Volunteer Bushfire Service 35 years badge, 2012.
This badge was awarded to Robert 'Cam' Clay for 35 years of active service with the Bedfordale Volunteer Bushfire Brigade. Cam and Faye moved to Bedfordale in c1974 to raise their family and became active members of the community. When not fighting fires with the brigade, Cam was working for the Armadale Apex Club or the Youth Hostel Association. He was also a strong advocate for protecting the environment and was a member of numerous environmental groups including the Armadale Gosnells Land Care Group and the Bushland and Environmental Advisory Committee which brought a number of environmental groups together to provide advice to the City of Armadale. In 2011 Cam was awarded the City of Armadale Citizen of the Year Award. Following his death in 2013 a reserve in Seville Grove, running along the Wungong River, was named in his honour.
Donated by F. Clay
Decorative electro plated bowl presented to Mrs W. Butcher by the Bedfordale Congregational Church and Bedfordale Agricultural and Horticultural Society, 1913.
This bowl was presented to Hannah Butcher (nee Marsh) for the volunteer work she had done for the Bedfordale Congregational Church and the Bedfordale Agricultural and Horticultural (A&H) Society. Hannah was born in 1864 and grew up at Paradise Farm, located on the road to Albany in the hills above Armadale. Hannah married William Butcher in 1882 and they were founding members of both the Bedfordale and Armadale Congregational Church congregations, with Hannah helping to start and run the Bedfordale Congregational Sunday School. They were also both involved with the local A&H Society. In 1895 William passed away and Hannah devoted more of her time to helping out the A&H Society, the Bedfordale Congregational Church, the Women's Temperance Union and her family. When Hannah passed away in 1934, six children, 21 grandchildren and five great children mourned her passing.
Donated by Ms C. Scott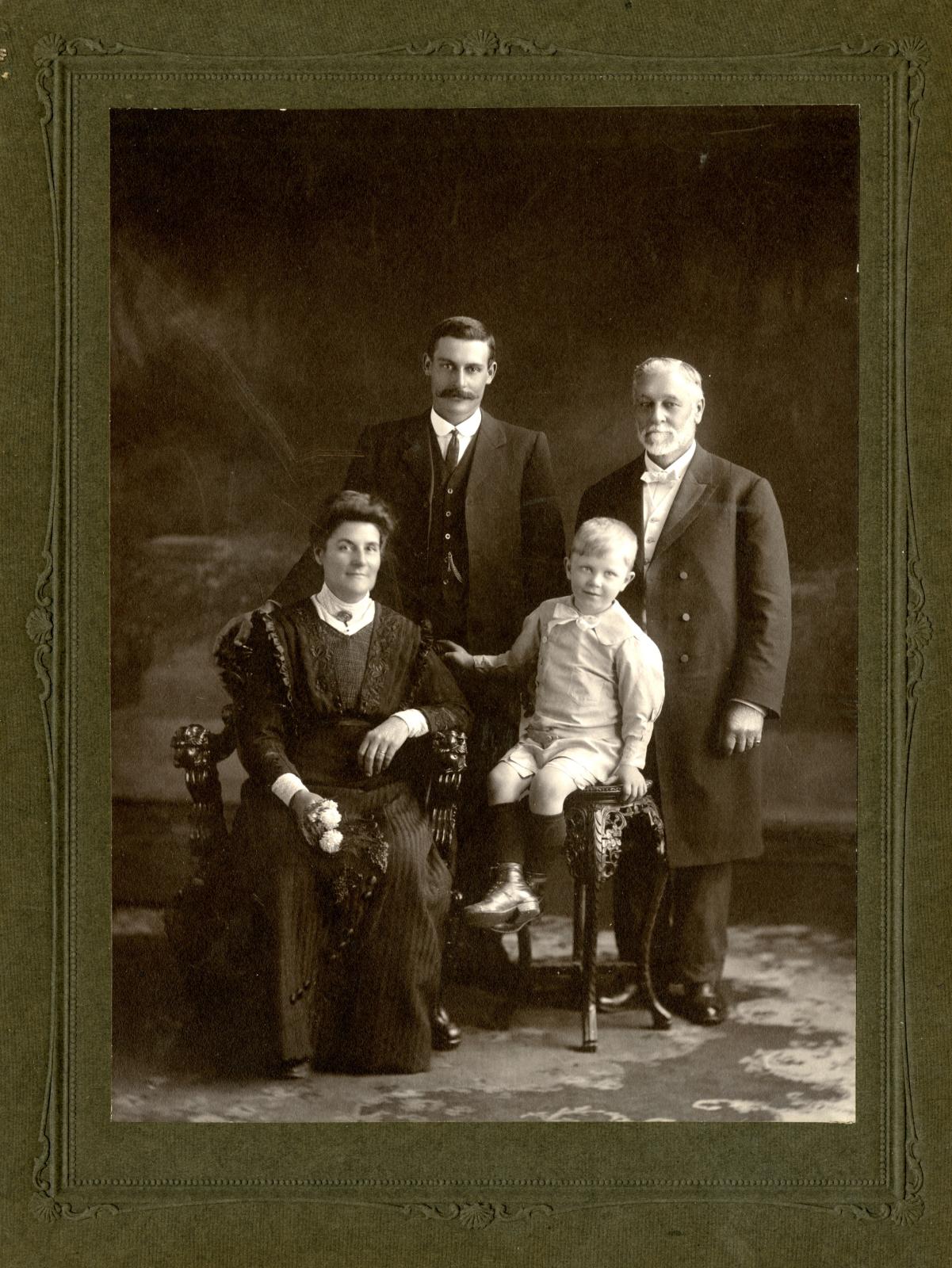 Hannah Butcher posing for a family photo, 1913.
With Hannah are (L-R) her son Levi, her grandson Arthur and her father William Marsh.
Courtesy of the Birtwistle Local Studies Library, FPHC Butcher (7)
Framed collection of birthday cards sent to Jean McWhirter by Reverend Bryant, 1938-1942.
Jean was born at the Armadale Hospital on Church Avenue on 18 March 1937 and was christened that year at the Armadale Congregational Church, located on the corner of Church Avenue and Third Road. For the next five years the church would send her a birthday card.
Donated by Ms J. Webster
Laundry Work in Theory and Practice book, used by Amy 'Gwen' Saw, c1934-45.
Amy 'Gwen' Gwendoline Saw was born in 1919 and lived at the family home 'Glen Iris' on Prospect Road in Armadale. Gwen attended the Armadale State School and after graduation, attended teachers college where she trained to become a home economics teacher. In 1940 Gwen married Athol Robinson and briefly moved to the Gascoyne region before moving back to 'Glen Iris' when Athol enlisted to serve in World War II. During this time Gwen taught home economics. Following the end of the War Athol and Gwen returned to the Gascoyne region where they lived, worked and raised their family. Gwen died in 1964 age 44.
Donated by G. Scott,
Swedish Lutheran prayer book owned by Anders 'Andrew' Johansan, 1877.
Anders Johansan was born in Sweden in 1875. At age 20 he migrated to Western Australia and worked cutting timber in the south west of the state. In 1912 he and his family moved to Seventh Road in Armadale where they built a new home and started a poultry farm. In 1913 Anders was naturalised as an Australian citizen and anglicised his name to Andrew. Andrew passed away from cancer in December 1922.
Donated by L. Johnson
Anders 'Andrew' and Laura Johnson with their daughter Elizabeth, c1906.
Donated by L. Johnson
60th Anniversary Shield presented to the Country Women's Association – Kelmscott Branch, 2004.
On Thursday 31 August 1944 a meeting was held at the Kelmscott home of Mrs E. Pries to discuss the formation of a local branch of the Country Women's Association. All who attended agreed to form a Kelmscott Branch and Mrs G. Church was unanimously elected as president. The branch would go on to host its meetings at the St Mary in the Valley Anglican Church hall, where members would participate in listening to lectures, singing, performing plays, poetry reading and creating and exhibiting art, crafts and cooking. The branch would also conduct fundraising events for a variety of causes including the Armadale-Kelmscott Memorial Hospital. But the most important thing it did was provide an opportunity for local women to get together to socialise, network and support each other. Falling membership in the early 2010s saw the branch officially fold in 2019.
Donated by CWA Kelmscott Branch
Leather bookmark made to commemorate the Centenary of the founding of Western Australia, 1929.
This handmade bookmark was given to Arthur George Berry when he was a student at Armadale State School. Students across Western Australia also received a medal commemorating the anniversary of the establishment of the Swan River Colony. The local district held a number of events to commemorate the Centenary including a Ball at the Armadale Hall, a Centenary Picnic and Sports Carnival for local children and a reunion for old residents at the Ye Old Narrogin Inne.
Donated by Ms D. Berry