WORKERS WHO LAID THE FOUNDATION STONE - TOODYAY TOWN HALL
1910
Overview
A black and white photo of 7 men.
Four have cement spattered boots, one of which is holding a brick or cement carrier, on a pole. The man second from right is the bricklayer Arthur Miller, and the boy to his right is his son Harry. Three men are more formally dressed and are probably Toodyay [Newcastle] Town Councillors, and possibly the contractor Clarke. All wearing hats except for one who is wearing a cap. Four men are smoking a pipe.
To the side of them is a wall of the Town Hall in which has been placed a foundation stone. Underneath it is a cloth draped table or supporting structure. A piece of cloth is on the top of the stone.
Four sash windows are visible in the wall. Across the street is a brick dwelling with one window and an illegible sign.
Behind this, Mt Anderson can be seen.
Silverfish damage to edge of photo.
Historical information
Up until 1908 the Oddfellow's Hall (now the Christmas 360 shop) had provided a venue for larger entertainment events. When it was converted into stores, a need became apparent for a town hall and one was proposed in 1909. It was built adjoining the existing municipal chambers, and the foundation stone was laid in August 1910. In 1956-57 the auditorium was extended with the work being partially funded by the Toodyay RSL, a condition of which was the renaming to the Toodyay Memorial Hall.
Details

Details

Inscriptions and markings

Written lower rt. corner of photo in print "Layers of Foundation Toodyay Town Hall".

Contextual Information

A photograph of the commemorative stone, dating from the 1990s, is held in the Shire of Toodyay collection under accession number 2001.1295. The commemorative trowel marking this occasion is also held in the Shire of Toodyay's collection as 2005.1.

Primary significance criteria
Related Objects

Related Objects
Shire of Toodyay

Shire of Toodyay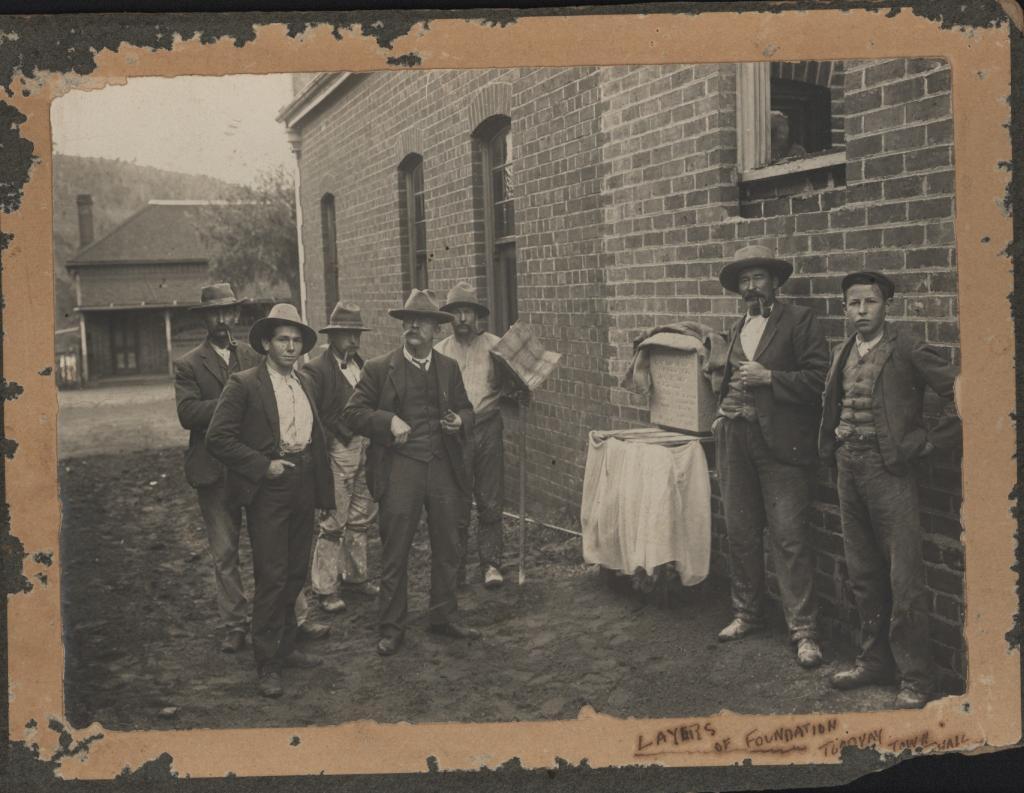 Scan this QR code to open this page on your phone ->