CONCERT PROGRAMME
Overview
Small, yellow paper, printed concert program. Single page of light yellow paper, folded in half and presented as a booklet. On the front cover, printed in red ink, is 'CELL…EBRITIES/INCARCERATED/ (UNLIMITED)/ PRESENTS/ A Crown Theatre/ Centenary celebration/ EXTRAVAGANZA!!/ FEATURING/ A GLAXY OF GORGEOUS GIRLS/ SCINTELLATING MUSEIC/ ALL STAR VOCALISTS/ And a HOST of GRUESOME WITTICISMS'. Inside the booklet, printed in red across both pages, is the event's program, divided into Part One and Part Two.
Historical information
The donor, Graham Bean, grew up living at number 18 The Terrace. His father was a doctor and was the Medical Officer for Fremantle Prison.
Details

Details

Contextual Information

At the northern and southern ends of the Main Cell Block, during the convict era, were Association Wards. Each Ward consisted of two floors, and were designed to accommodate convicts who were getting ready for release into the community. Under the separate system, prisoners spent most of their time segregated in single cells, so living in these Wards allowed convicts to experience the complexities of communal living before being released.

In 1925 the ground floor of the northern Association Ward was converted into a concert hall, complete with stage, known as the Crown Theatre. Between the 1920s and the closure of Fremantle Prison in 1991, concerts and variety shows where held here to entertain the prisoners, some of which were written, produced and performed by prisoners themselves. Others involved productions presented by various outside individuals, groups and organisations. Johnny O'Keefe and Helen Reddy were two of the more famous entertainers to perform in the Crown Theatre.   In 1923 a piano was purchased with the help of the Prison Gate Committee. The piano remained in the Crown Theatre until the Prison's closure in 1991. In 1925 an upper balcony was erected at the rear of the Theatre so women from the Female Division could watch the entertainment, but still be segregated from the male inmates. In 1927 a fire proof enclosure for the projectionist was constructed, implying that films were being shown more frequently.

After World War II, a greater diversity of activities took place in this area. By 1948 a new cinematograph machine was installed, and concerts and films became regular monthly occurrences. They were provided from a fund paid into by the prisoners themselves, assisted by the Prisoners' Aid Society. It was not until 1967 that films were provided by the Western Australian Prisons Department. By the 1960's, a projection box was installed and the Prison began to regularly show films, once a week on a Saturday or Sunday.

After the 1988 riot at Fremantle Prison, all performances were stopped and the Crown Theatre was rarely used. Inmates could now purchase their own televisions for their cells, and most found entertainment through television programs.

The entertainment programs in the Fremantle Prison Collection were printed for a variety of performances and concerts which were held in the Crown Theatre. They date from the 1920s, 1930s, 1940s and 1950s, and all were produced in the Prison's Print Shop.

Primary significance criteria

Artistic or aesthetic significance

Historic significance

Scientific or research significance

Social or spiritual significance

Comparative significance criteria

Interpretive capacity

Object's condition or completeness

Rare or representative

Well provenanced
Fremantle Prison

Fremantle Prison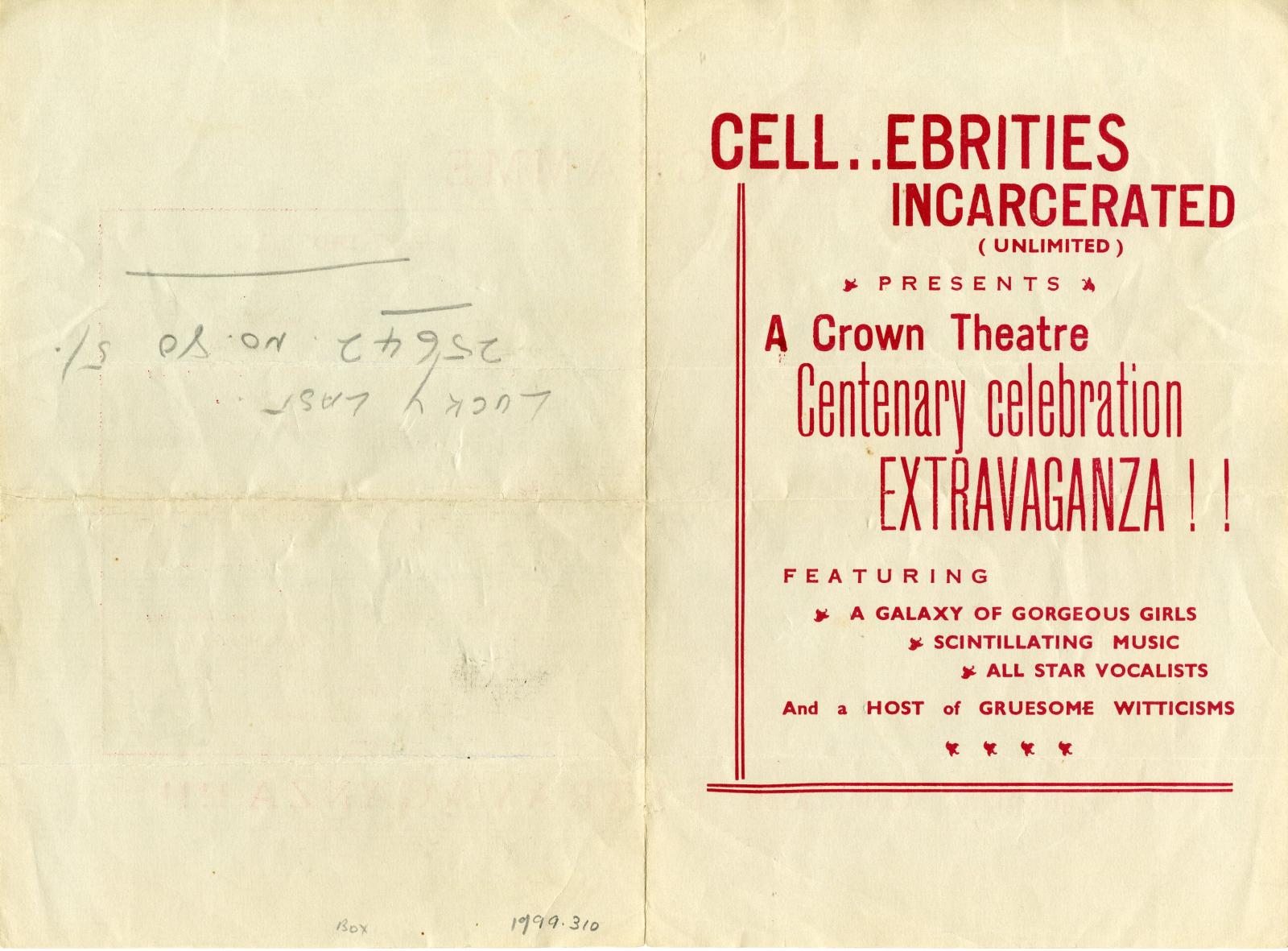 Scan this QR code to open this page on your phone ->