Enlistment Poster
Overview
Large rectangular white sheet of card with printed black ink in poster format.
Historical information
This enlistment poster dated 30 November 1916 was produced after the first unsuccessful conscription vote. The proposal to introduce conscription provoked furious debate within the Australian community where on 28 October 1916, the nation was asked:
"Are you in favour of the government having in this grave emergency, the same compulsory powers over citizens in regard to requiring their military service, for the term of this war, outside the Commonwealth, as it now has in regard to military service within the Commonwealth?"
The referendum was defeated by a narrow margin; with 1,160,033 votes against and 1,087,557 votes in favour. The states of New South Wales, Queensland and South Australia voted a majority against conscription, while Victoria, Western Australia, Tasmania and the Federal Territories voted in favour of conscription.
In the same year the British Government announced the Military Service Act of 1916 which introduced conscription. It sets out the facts of this new piece of legislation and encourages men to enlist before the act came into force on 2 March 1916.
On 20th December 1917 a second referendum was held that too was defeated 1,181,747 against to 1,015,159 in favour.
Australia, South Africa, and India were the only participating countries not to introduce conscription during the First World War.
Details

Details

Inscriptions and markings

'Commonwealth of Australia, Enlistments Australian Imperial Forces' poster with 'In reference to voluntary enlistments for service abroad. Recruits may enlist at any time, and at the time may specify any definite subsequent date to meet their convenience on which they will go into camp. Recruiting Officers will arrange for the local medical examination of all Recruits. dated 'Perth WA, 30th November, 1916' as '(Signed) J. Bilton, Major, DAAG' 'By Authority: Fred. Wm. Simpson, Government Printer, Perth' 'j5488/16'

Contextual Information

This poster presents the language used in recruiting new men into the Australian Imperial Force (AIF) post the defeated first conscription referendum held on the 28 OCtober 1916.

Links to additional resources
Princess Royal Fortress Military Museum

Princess Royal Fortress Military Museum
Other items from Princess Royal Fortress Military Museum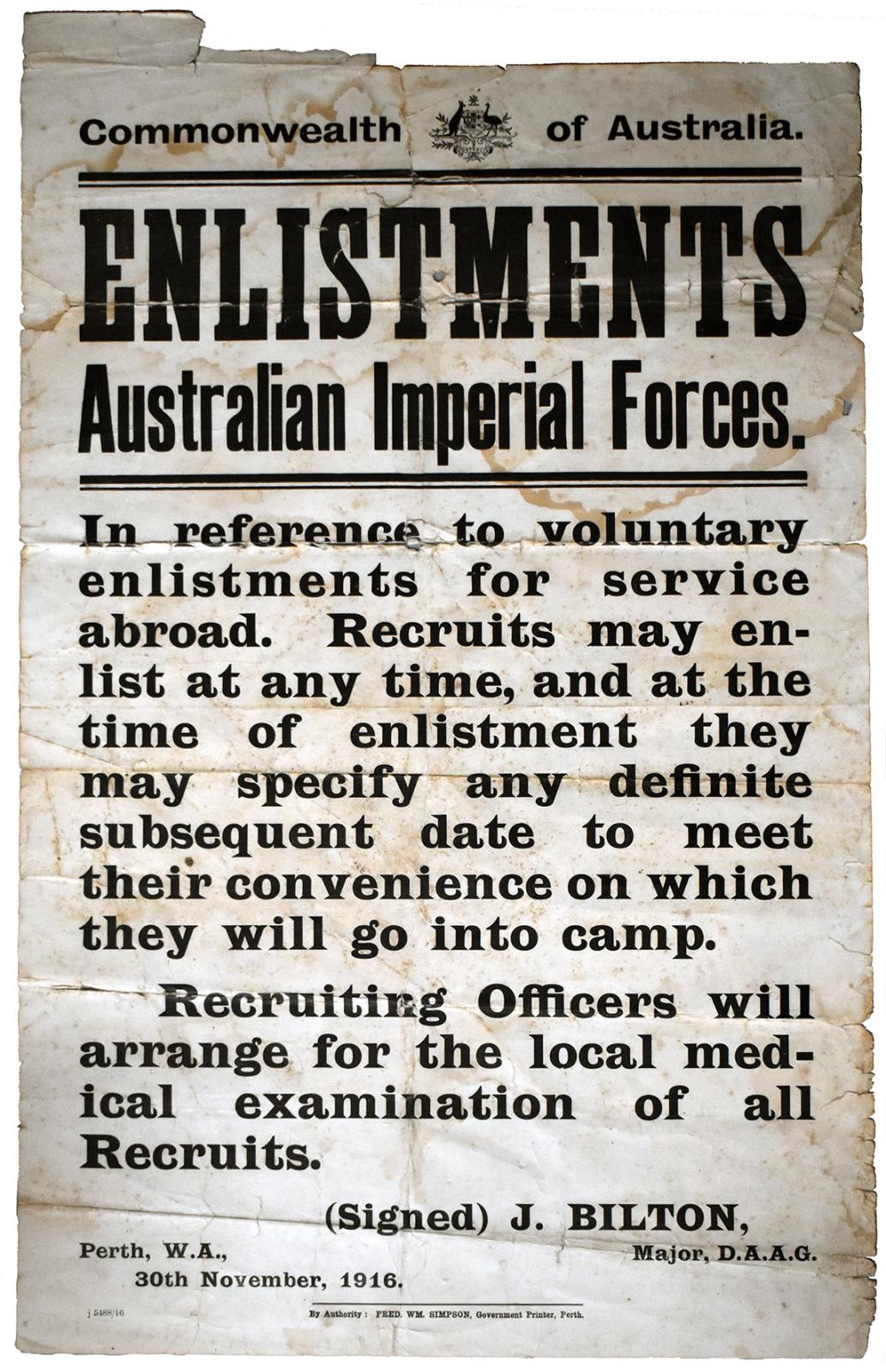 1916 'Commonwealth of Australia, Enlistments Australian Imperial Forces' poster