GEORGE LUCAS'S CLAREMONT GREENGROCERY SHOP, BAY VIEW TERRACE
c. 1920
Overview
Double fronted shop with verandah over the footpath. Details of produce and services signwritten on verandah facia and both windows. Image showing verandah facia with sign [GEO. LUCAS. FRUITERER & GREENGROCER./ ORDERS CALLED FOR & DELIVERED]. Sign attached to verandah post [Agency for/ DESERT FLY TRAP PROPR/ 778 GEO LUCAS]. Signwritten on window to left of door [WREATHS & BOUQUETS / AT SHORTEST NOTICE / BAY VIEW VEGETABLE STORE / TEL.778.] and handwritten, a list of vegetables with price per pound. Signwritten on right window [ BEST QUALITY AT CITY PRICES / BAY VIEW FRUIT STORES / TEL.778.] Handwritten [ Newspapers / Bought in / in any Quantity ]. Produce displayed with prices in windows and seedlings including petunias in wooden trays on footpath outside windows. Rear of cart with open tailgate in lower left. Impressed across lower right corner of mount [ Imperial Studios / Claremont].
Historical information
7 Bay View Terrace had living accommodation above it and later became part of Claremont Hotel. Photograph by Imperial Studios, Claremont.
Details

Details
Claremont Museum

Claremont Museum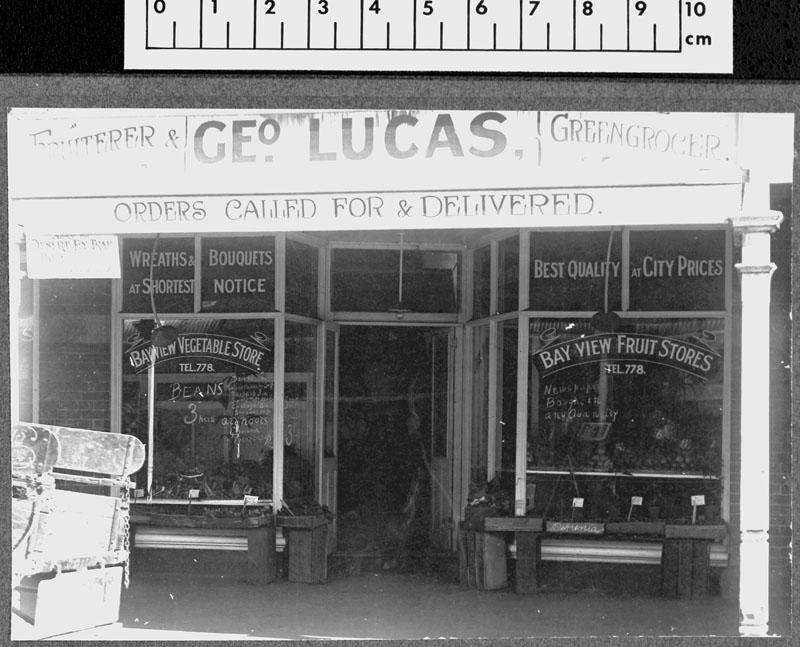 Scan this QR code to open this page on your phone ->