1979 Western Australian Claxton Shield Series baseball team
Overview
A photograph of the 1979 Western Australian baseball team who competed in the Australian Baseball Championship Claxton Shield Series in Melbourne, Victoria. The colour photo has a narrow white border. Handwritten in blue ink on the back of the photograph are the name of the team, the location and year of the championship, and who the photograph belonged to.
The following people have been identified in the photograph:
Back row: Ross Lockhart (Physio), Murray Westphal, Mark Stipetich, Ray Michell, Darryl Moyle, Steve Langdon, Gary Scarterfield, John Crosswell, Tony Goadby, Don Fiscus, Jim Strickland, Ian Warchomij (Manager).
Front row: John Kyle, Doug Mateljan, Don Kyle, Don Knapp, Rod Byrne (Coach), Kaye Greenham (A/Coach), Graham Ward, Bob Ossey, Barry Kirk.
Brad Byrne (Bat Boy)
Historical information
The 1979 Claxton Shield was the 40th annual Claxton Shield, an Australian national baseball tournament. It was held at the South Melbourne Oval in Melbourne Victoria. The series was won by Western Australia.
South Australia's decade may well have been the 1960s, but the 1970s belonged to Western Australia who captured a title in 1975 and a hattrick from 1977 to 1979 thanks to what was arguably one of the strongest Claxton squads of all time.
Wikipedia [https://en.wikipedia.org/wiki/Claxton_Shield]
Details

Details

Inscriptions and markings

On the back of the photograph:
W.A. Claxton Shield Team
Melbourne 1979
Property of Kaye Greenham

Contextual Information

This photograph was donated by Kaye Greenham, a member of the 1979 squad.

Keywords

Western Australian State Baseball Team

Australian Baseball Championships

Claxton Shield 1979

Melbourne, Victoria

Western Australian State Baseball Uniform

South Melbourne Oval

Links to additional resources
Baseball WA

Baseball WA
Organisation Details
View Collection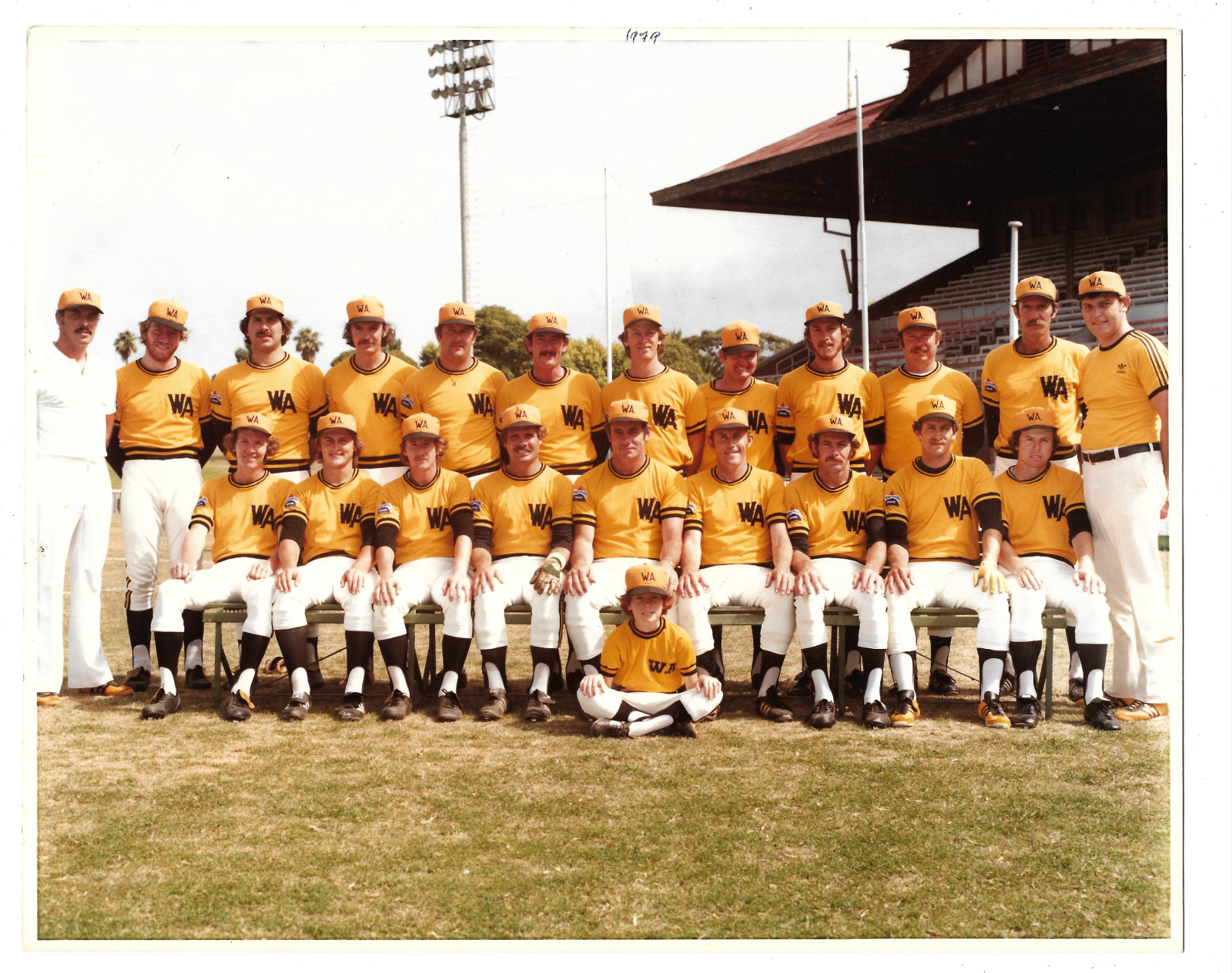 1979 Western Australian Claxton Shield Series baseball team