1936 signed baseball from the first interstate games played between Western Australia and Victoria
Overview
A 1936 baseball from the first interstate competition between Victoria and Western Australia. The aged leather baseball is discoloured and signed by members of both State teams. The ball sits on a wooden eggcup-shaped plinth attached to a round base made from a slice of mulga tree. The round base is cracked.
Attached to the underside of the base is a gold-coloured sticker which depicts a boomerang below a map of Australia. On the image of Australia is a crown and the words 'Crown mulga Australian wood'.
Historical information
In 1936 a Victorian baseball team, under the managership of Mr. R. R. Hindson (V.B.A. Council chairman), accepted Western Australia's invitation to play exhibition games in Perth, including three 'Tests' against the local association. Western Australia, playing interstate baseball for the first time, astounded the visiting Victorians by the calibre of their batting and general defence. The Victorian team were successful in winning two of the three Tests played at Gloucester Park and the WACA Ground. The first test was won by Victoria 6-5. In the second test, with ex-Victorian 'Mick' Carr on the mound for W.A., the Victorians got the shock of their lives and were beaten 8-4. Victoria, on their mettle, gave nothing away in the third and final test, which they won 12-6. Mr Hindson, commenting on the play, said he was astounded by the high standard attained in so short a time, as the sport was still in its first year in Perth.
National Library of Australia [https://trove.nla.gov.au/newspaper/article/189611296]; [https://trove.nla.gov.au/newspaper/article/40962912]
Details

Details

Inscriptions and markings

'WA'
'H. Denford, F. Oliver, G. Dunstan, R. Denford, C. Witton, J. Scharf, G. Evans, L. Fisher, M. Carr, R. Courtney, G. Bowers, R. Wilberforce, O. Lovelock, W. Lynch, A. Downing, G. Dickinson, G. Randell' [Signatures of WA team members]
'1936 Victoria'
[Signatures of Victorian team members - indecipherable]

Contextual Information

This 1936 baseball bears the signatures of both Victorian and Western Australian teams in W.A.'s first-ever baseball contest against another State. The following year W.A. competed in their first interstate Claxton Shield Championship Series against New South Wales, South Australia and Victoria.
The 17 West Australian baseball players who were chosen to participate in one match or another against the Victorian team in 1936 were: R. Denford (Captain), G. Bowers, R. Wilberforce, A. Downing, L. Fisher, G. Dickinson, R. Courtney, F. Oliver, C. Witton, G. Randall, G. Dunstan, H. Denford, J. Scharf, D. Carr (Vice-Captain), W. Lynch, G. Evans, O. Lovelock.
The Victorian players were H. Parkin (Captain), C. Scott, J. Ferguson, G. Heron, C. Johnson, T. Melling, C. Boulton (Vice-Captain), H. King, L. Smith, T. Ruddell, J. Middleton, A. Logan.

The baseball was donated to the Baseball WA Museum & Archives by the family of George Dickinson, a member of the 1936 team. George played baseball from the 1930s to the 1950s. He was inducted into the Australian Baseball Hall of Fame in 2005 and was an inaugural inductee into the Baseball WA Hall of Fame in 2021.

Statement of significance

The baseball is a rare object from the first series of interstate baseball games played between Western Australia and Victoria in 1936. It therefore has historic as well as social significance. For its age it is in good condition and still displays signatures of members of both State teams. Its provenance is excellent, having been in the possession of George Dickinson, a member of the team, since that time.

Primary significance criteria

Historic significance

Social or spiritual significance

Comparative significance criteria

Object's condition or completeness

Rare or representative

Well provenanced

Links to additional resources
Baseball WA

Baseball WA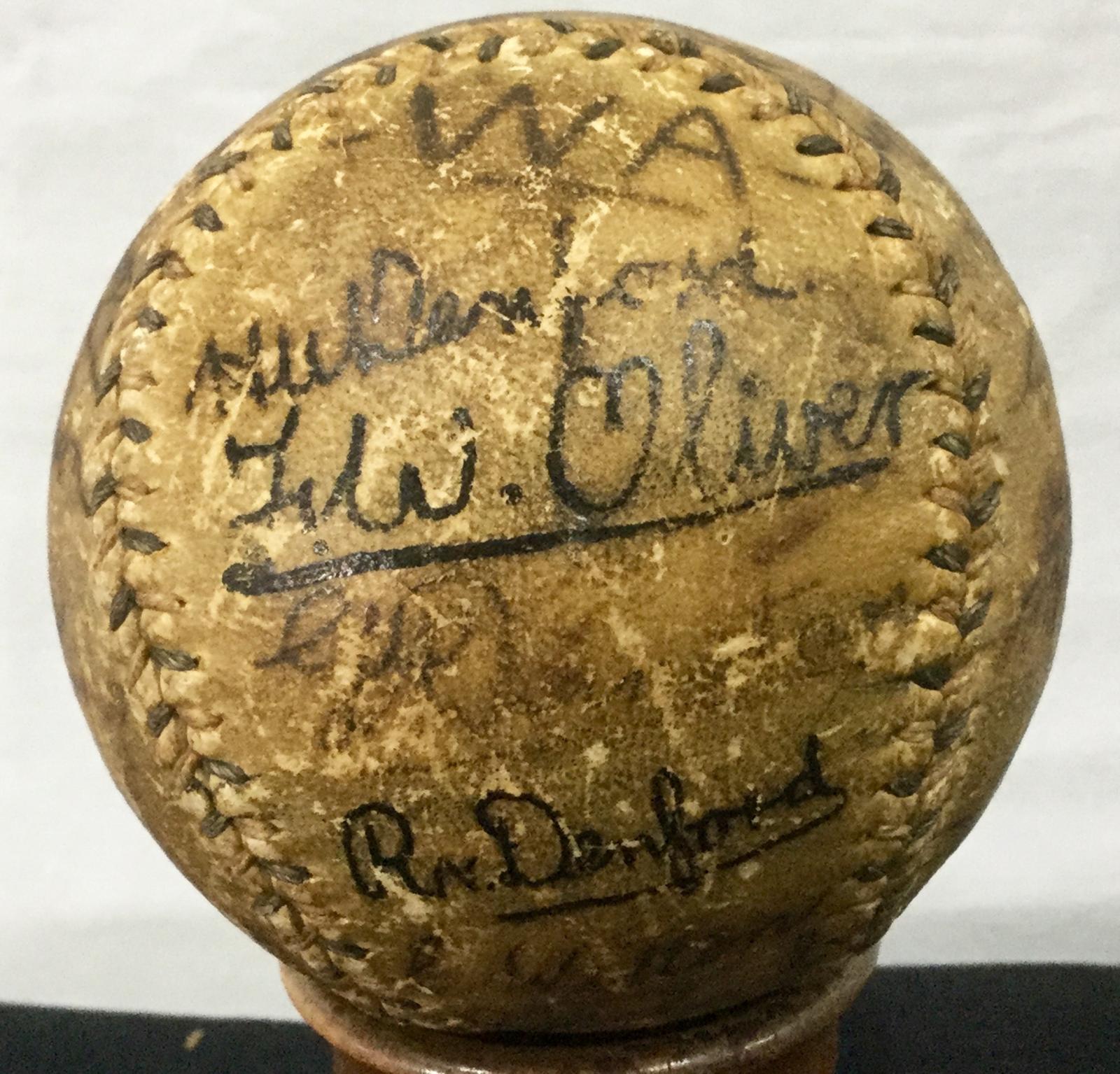 1936 signed baseball from the first games between Western Australia and Victoria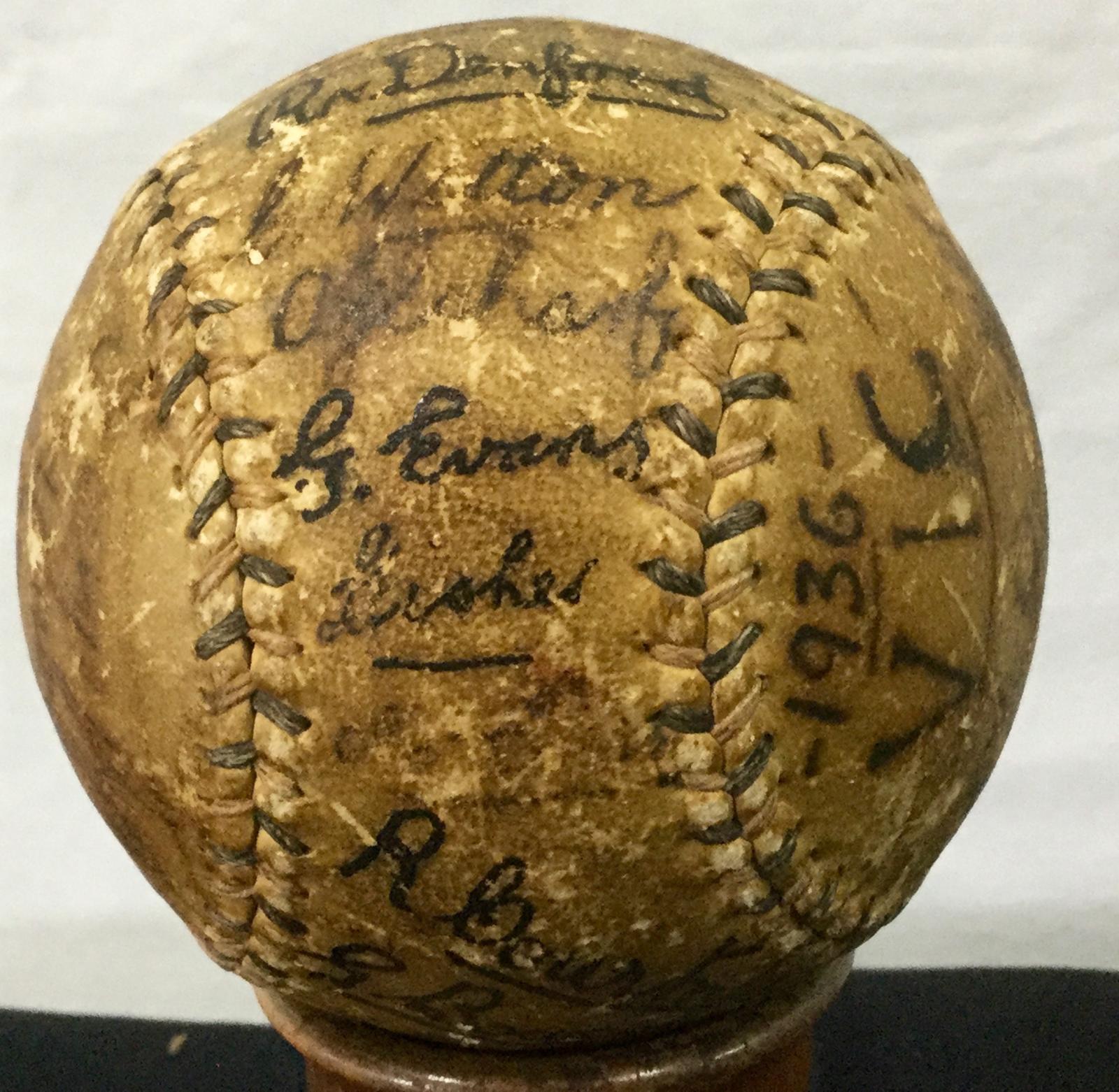 1936 signed baseball from the first games between Western Australia and Victoria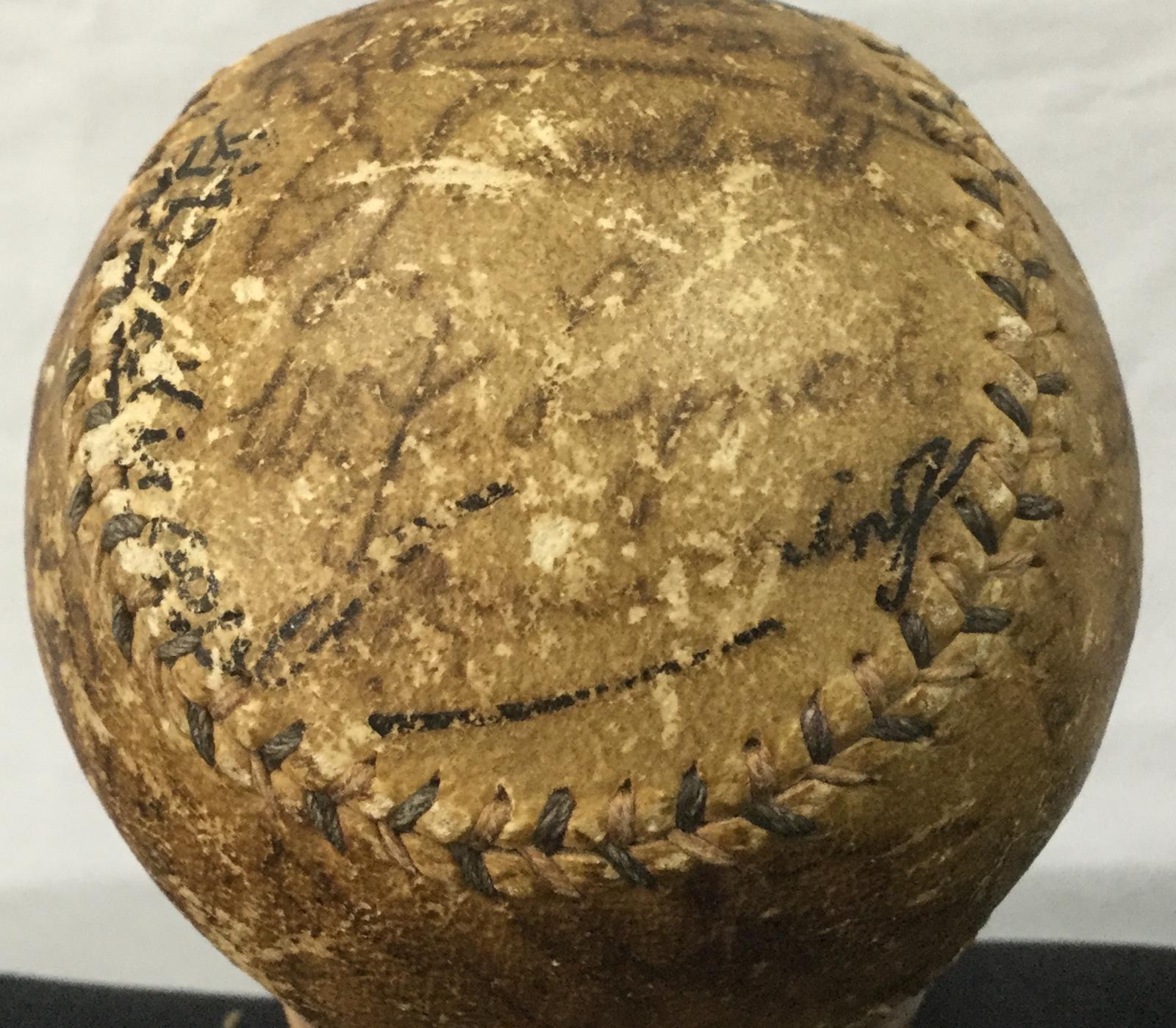 1936 signed baseball from the first games between Western Australia and Victoria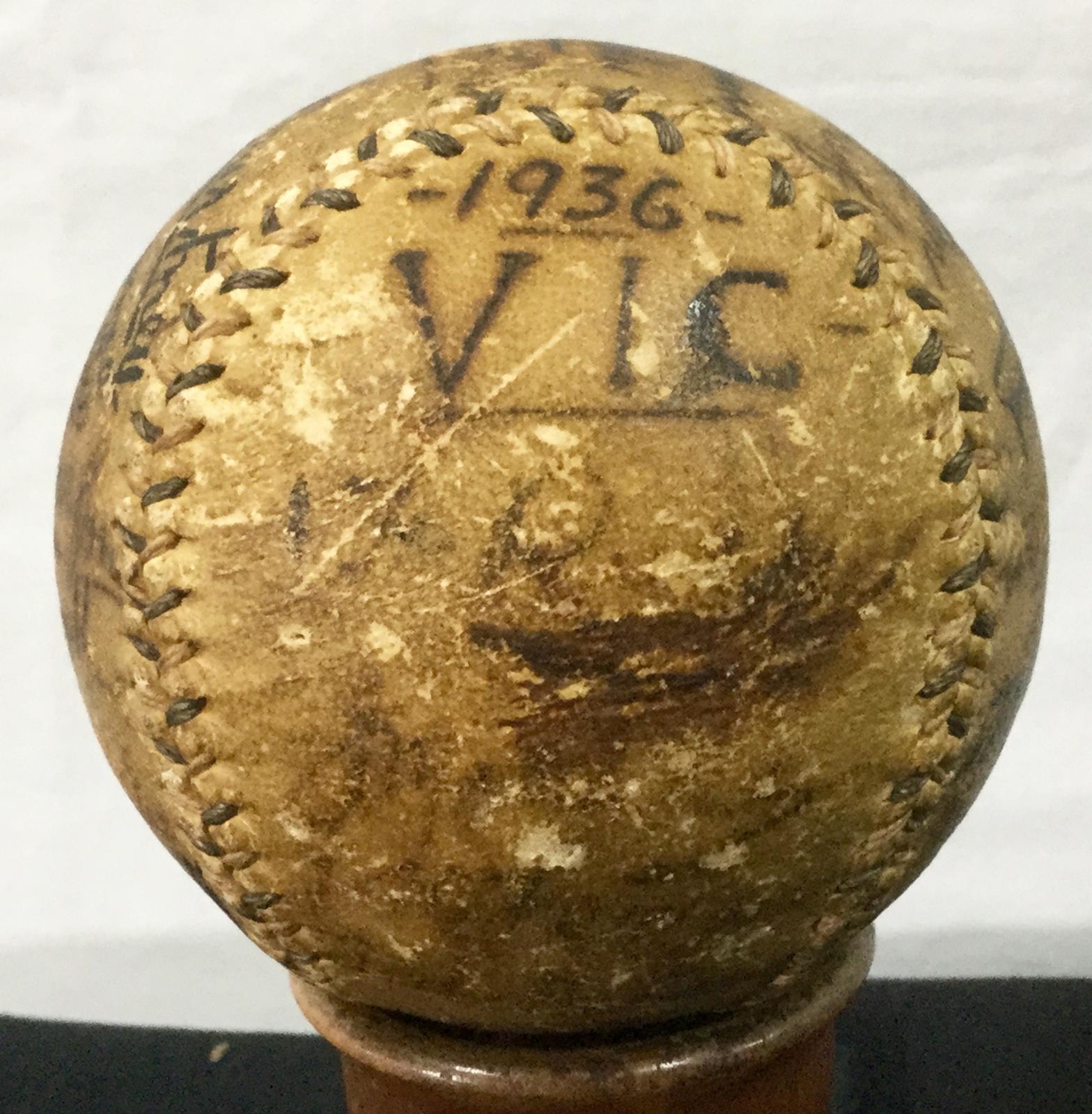 1936 signed baseball from the first games between Western Australia and Victoria
1936 signed baseball from the first games between Western Australia and Victoria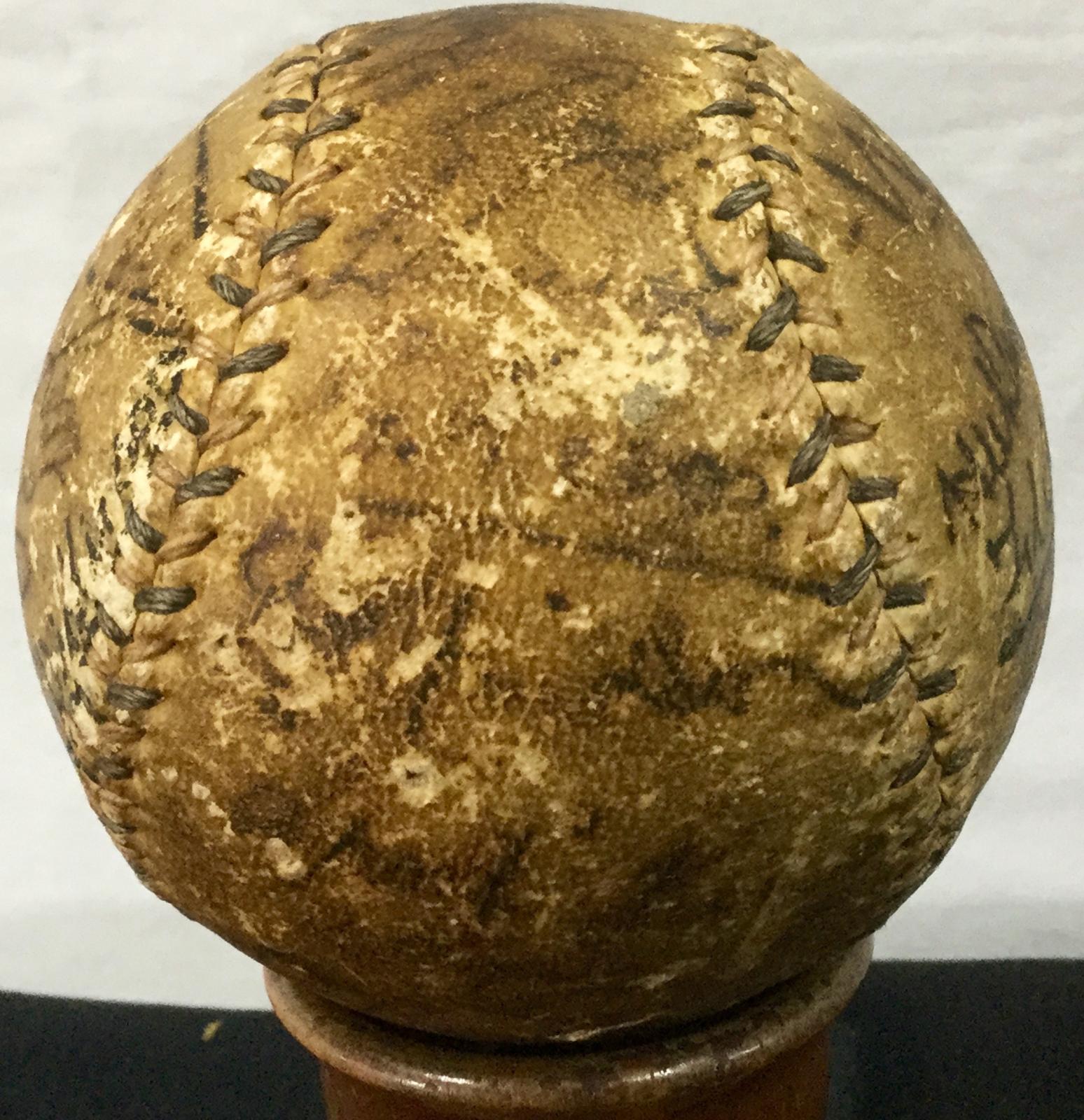 1936 signed baseball from the first games between Western Australia and Victoria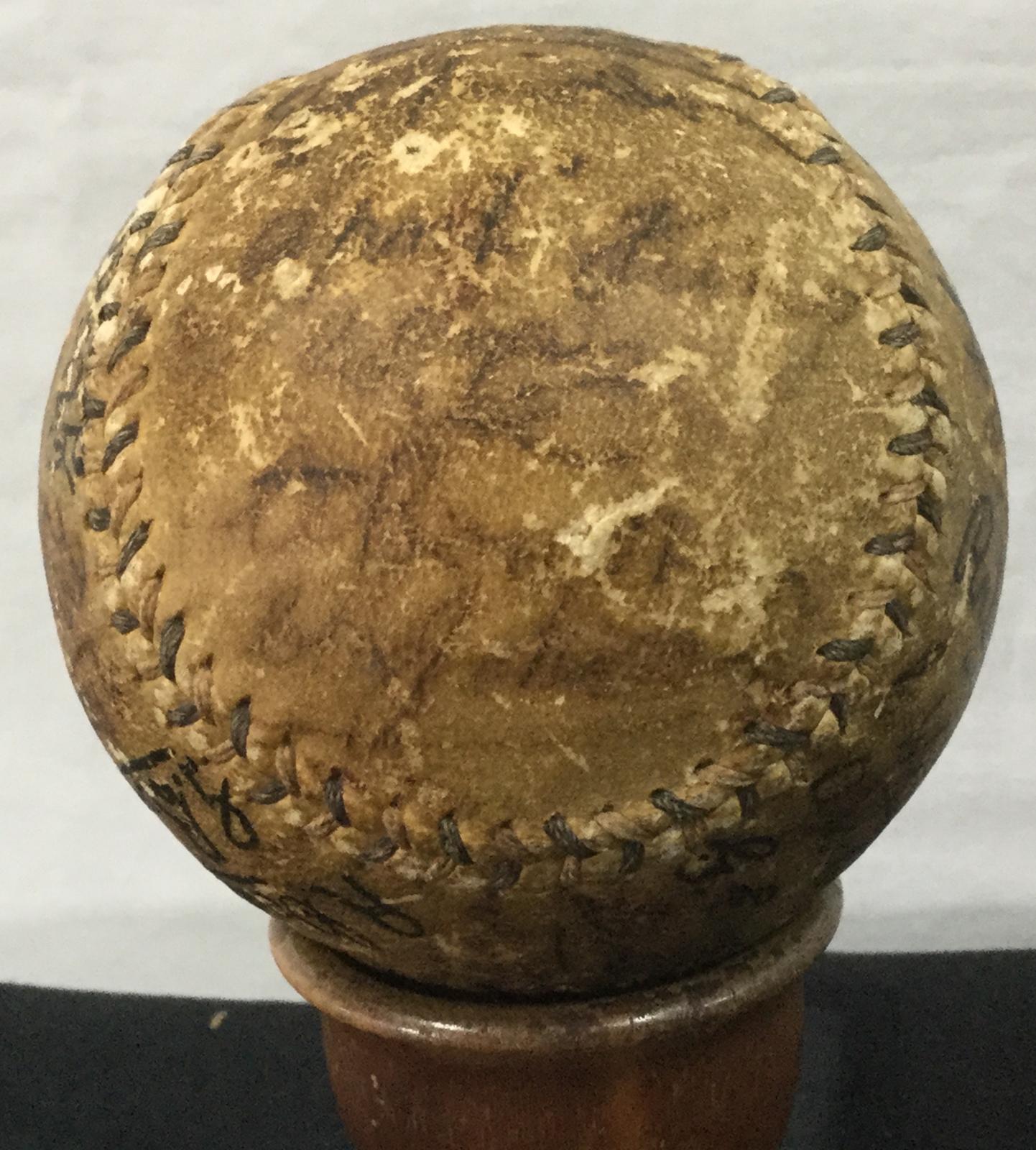 1936 signed baseball from the first games between Western Australia and Victoria