SARATOGA TRUNK
Overview
Rectangular base with an arched lid and a full width leather hinge to the rear. The edges of the base and lid are reinforced with stitched leather binding and the front front and lid are studded. Carry handles are fitted to each end and the lid is secured by a central keyed lock. It once had straps at either end to further secure the contents but only the right straps remains without any buckles. Inside the lid is a document pouch and the interior of the trunk is lined with blue and white stripped fabric.
On the underside of the base there are two wooden runners.
Historical information
Trunk used to transport the property of the Drummond family to the Swan Colony in 1829 aboard the Pamelia. The trunk was passed down through their son James Drummond to Mrs Aitken (nee Drummond) who was living in Kelmscott.
James Drummond (1786-1883) was born in Scotland and studied botany, inspired by his father Thomas who was also a gardener and botanist. In 1829 James married Sarah Mackintosh and they would go on to have six children, Jane, John, Euphemia, Thomas, James and Johnston. In 1808 he was appointed as the curator of the government funded botanic garden in Cork. He lost the position in 1828 when government funding was removed. Shortly after this he was offered and accepted the honorary position of Government Naturalist for the soon to be established Swan River Colony with the understanding that if a government garden was to be established he would be appointed as its superintendent.
James, Sarah and their children arrived in the Swan Colony, aboard the Pamelia in 1829, and was granted several parcels of land near Guildford, Ascot and the Helena Valley. He established gardens on Garden Island and in 1831 next to Government House in Perth. In 1835 he undertook the first of several expeditions where he collected thousands of botanical samples. His expeditions covered the Swan Coastal Plain, the South West, Albany, the Victoria Plains, Wongong Hills and north to the Murchison River. Over his career he sent samples to herbaria around the world and today samples he collected are part of 25 herberium collections across Britain, Europe, America, Melbourne, Canberra and Perth. He is credited with naming several Western Australian species.
In 1836 James and his family moved to Toodyay where they settled and established a farm which was mainly run by his sons Thomas and James. Some of James and Sarah's children, who the chest was passed onto, also had colourful lives careers.
James Drummond Jr (1814-1873) built the first flour mill in Toodyay, worked as the government Inspector of Natives in the nearby town of York while still running the family farm in Toodyay. He served on the Toodyay Road Board in the 1840s and 1850s. In 1870 he was elected to the seat of Toodyay in the recently established Legislative Council after Western Australia gained responsible government in the same year. He held the seat for three years. During this time he was also elected as a founding member of the Victoria Plains Road Board in 1871 and as chair of the Toodyay Road Board in 1872. He died in February 1873 of pneumonia caught while fighting a bushfire near Toodyay.
John Drummond (1816-1906) gained prominence in the colony for his knowledge, understanding and relationship with a number of Noongar family groups across the Colony. In 1842 he was appointed to the York Police force. in 1845 his brother Johnstone was killed by Noongar man Kabinger at Moore River, John tracked the man down and shot and killed him. To escape prosecution for the killing by Governor Hutt, John went and hid by living with a Noongar family group who he knew and making himself look like one of the family. Hutt left the colony in 1846 and John was reinstated as a police officer. He married Mary Shaw in 1852 and they had no children.
Johnston Drummond (1820-1845) followed in his fathers footsteps and started to study to become a botanist and accompanying his father on several collecting exhibitions. In 1845 he was collecting samples along the Moore River. One of the people accompany him was Kabinger's wife who he was sleeping with. Kabinger found them and speared Johnston, killing him.
Thomas Drummond (1811 to 1897), lived and worked on the family farm in Toodyay before moving to York in 1874 and later Perth. Never married.
Jane Drummond (1813-1905) married Michael Clarkson, lived in Toodyay and they had seven children.
Euphemia Drummond (1825-1921), married a Ewan McIntosh, married and in Newcastle (near Toodyay), they had at least two children.
Details

Details

Inscriptions and markings

Sticker inside the lid [MANUFACTURED / BY / W.J.WEBB / PLYMOUTH]

Place made

Plymouth
England
United Kingdom

Statement of significance

This object is associated with the arrival of the first fleet of British colonists who established the Swan Colony in 1829. The travel trunk was used by James Drummond (1786-1863) and his family aboard the Pamelia, on the temporary Garden Island settlement and then on their land grant that covered much of what is today the suburb of Ascot. James Drummond played a significant role in the collection or native flora and identifying them, using European scientific methods, across the Swan Coastal Plain, as far north as the Murchison River, south to Albany and east to Wongan Hills.

Primary significance criteria

Comparative significance criteria

Interpretive capacity

Object's condition or completeness

Rare or representative

Well provenanced
City of Armadale - History House

City of Armadale - History House
Other items by W. J. Webb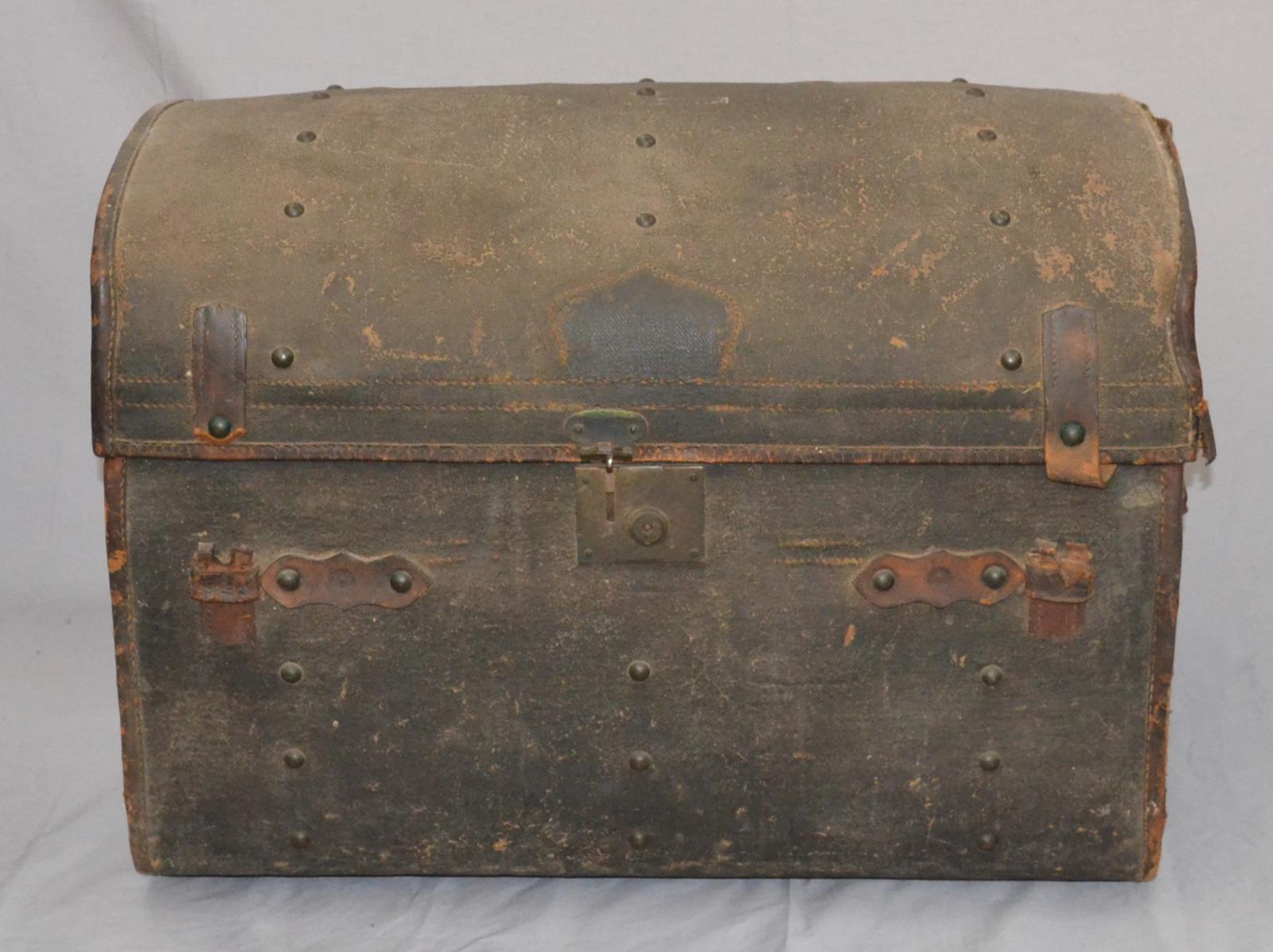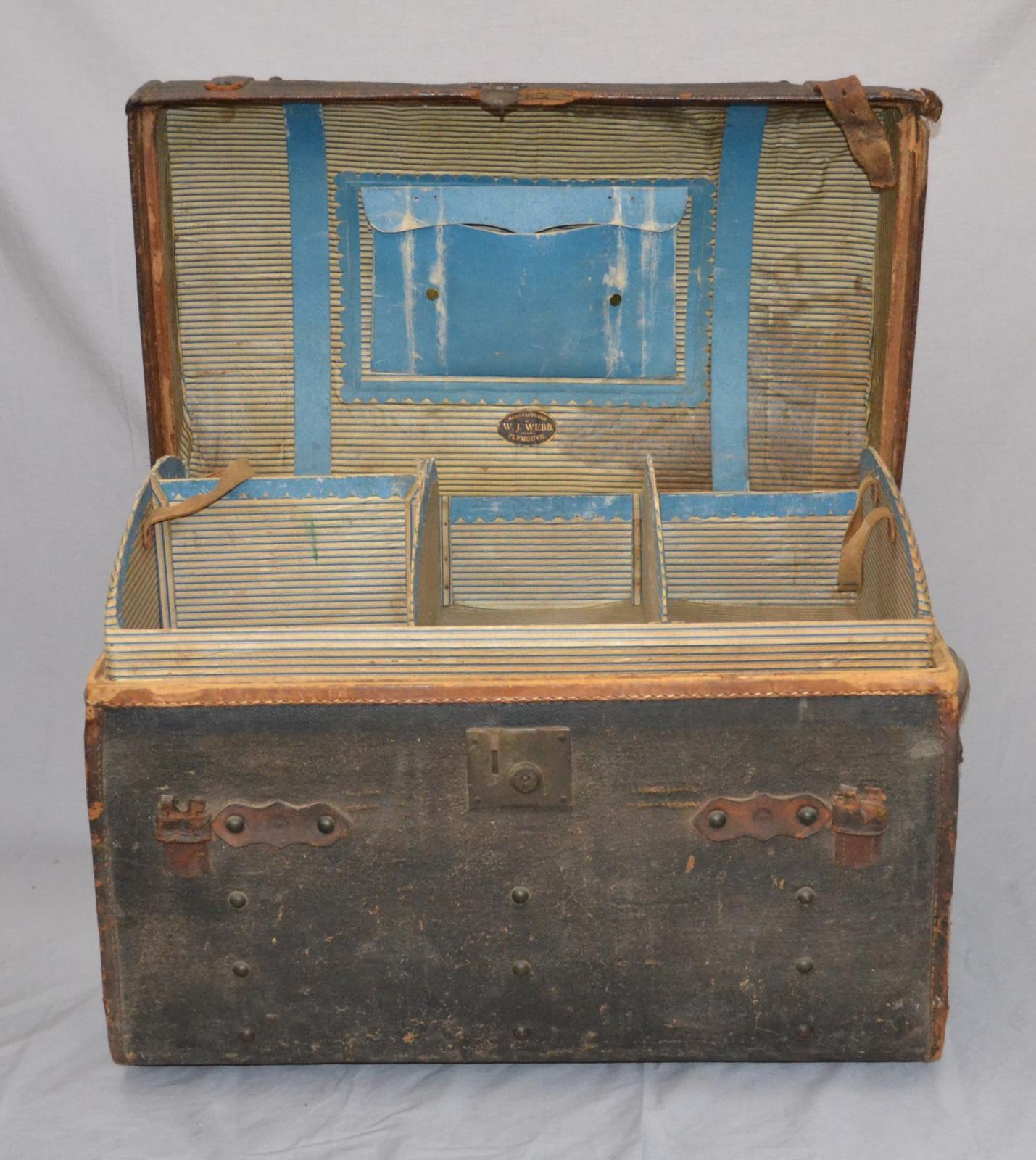 Scan this QR code to open this page on your phone ->