Coronation Coach & Horse in Original Box
Overview
(a).Die cast coach painted gold with one figure inside, two (drivers) on front seat and 2 positions at rear, coach attached by draw bar and traces to 8 white slush cast lead horses, those on the left (of the coach view) mounted by cast slush lead figures, painted with black hats and boots, red tunics and flesh coloured hands and faces.Horses painted off white with red blankets, gold saddles and black harness, manes and tails painted grey with a gold chain for traces, the draw bar painted white.
(b) Box base - red paper cover over cardboard body, cream inside
(c) Box lid- red paper cover over cardboard, cream inside, white label glued to top with full colour picture of the Coach and Horses, large gold letters Coronation/Coach/(small letters) made in England. Label applied above horses reads: Souvenir of the royal Visit to Australia 1954. Another label attached below the printing reads - is and Stone(London) Ltd. ( Would have originally been Curtis and Stone, but the label is slightly damaged.
Historical information
The donor's mother bought the model in 1954 as a souvenir of the Royal Visit.
Made by Lesney Products & Co, the coach,known as LARGE coach, was made as a souvenir of the coronation of Queen Elizabeth the second- Lesney originally made the coach in 1951 as a souvenir for the 1951 Festival of Britain but because of the Korean war and the embargo on zinc it was shelved almost immediately.
In 1952 King George VI died and the embargo on zinc lifted, so Lesney started manufacturing the item again as a coronation souvenir. A few hundred were made when it was realized that the Queen would be sitting alone in the coach on her coronation day and the model had two figures inside, the dies were quickly altered to remove the King. (Although the lower half of his legs remain in the coach!). The horses were made by Benbros as Lesney did not want lead in their factory as just a small amount of lead contamination to the zinc would make the metal unstable as it would crumble.
Details

Details

Registration number

cwa-org-124-2019:222a,b,c

Inscriptions and markings

(a) underside of bottom R.H. side Made in England.
(b) no markings
© as in Description
Manufacturers Details: Lesney Products & Co Ltd, Hackney,London, England.

Contextual Information

The Royal Visit to Busselton in 1954 was the first by a reigning monarch and as such the souvenir is of importance

Statement of significance

It is a very pleasing example of a lasting souvenir made by a company which went on to produce the famous Matchbox items
An interesting marriage of lead and zinc with the accompanying details
Provenance:The donor's mother bought the model in 1954 as a souvenir of the Royal Visit (the first by H.M. Queen Elizabeth II and obviously treasured it, as is apparant by the condition.
There are few left in present day which do not have broken legs on the horses.

Primary significance criteria

Artistic or aesthetic significance

Historic significance

Social or spiritual significance
Related Objects

Related Objects
Busselton Historical Society

Busselton Historical Society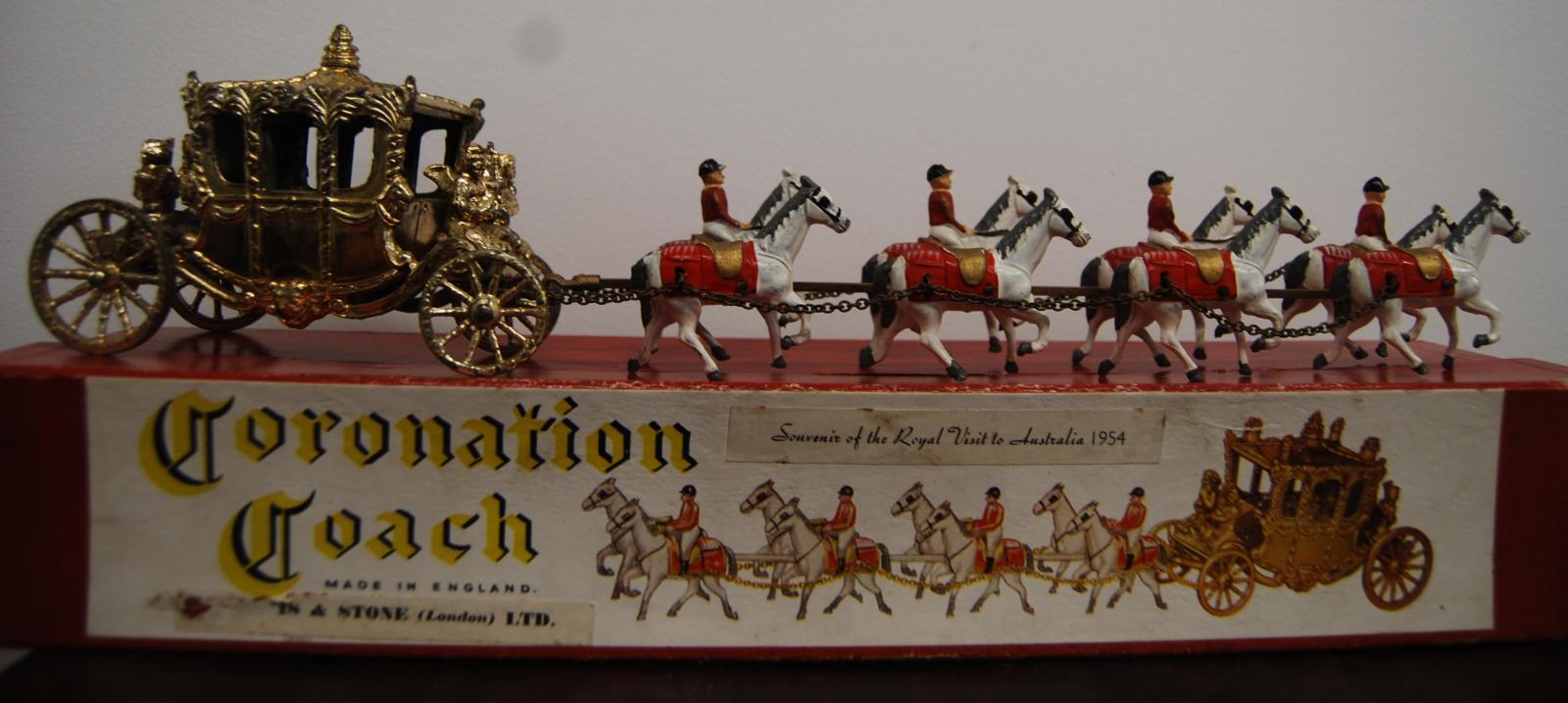 Scan this QR code to open this page on your phone ->