PROTECTIVE BELT
Overview
Wide, thin, brown leather protective belt. Rectangular shaped belt of 1mm thick black leather, with two straps of 1mm thick leather (425mm and 405mm long) both 28mm wide, sewn parallel into one end, each with a number of buckle holes. Two short parallel leather straps sewn into other end each holding blackened metal buckle. Two leather triangular gussets are sewn into top edge of belt body at 180mm and 520mm points which curve it downwards at both ends. Broad Arrows are stamped onto the front surface, with one in the centre of the belt and one in the end section of the straps.
Historical information
This protective belt has Broad Arrows stamped into the front surface (one in centre of belt body and one in end section with straps), which suggests this item dates from the convict period. This belt is likely a kidney belt used to protect convicts undergoing corporal punishment.
Details

Details

Contextual Information

In the early days of the Convict Establishment it was not uncommon for convicts to be sentenced to forms of corporal punishment for breaches of discipline. A certain number of lashes could be imposed as part of a convict's initial conviction sentence, or for misbehaviour conducted whilst inside prison, such as insubordination. The most serious offence was attempting to, or successfully, escaping from legal custody.

A prisoner who had been sentenced to flogging was secured to the flogging triangle, with their legs tied to the base of the frame and their hands to the top. Their back was stripped bare and a protective leather belt was fastened around their upper waist to protect their kidneys, whilst a second could be strapped around the convict's neck to protect their arteries. The belts were in place to prevent serious internal injury, or even death, to the convict during their punishment. Continual flogging caused the skin to break and open, and without the belt on the back this could cause serious bruising or bleeding to the kidneys and other internal organs. Meanwhile the neck strap was in place to protect the main arteries in the neck from being lacerated.

Depending on the sentence, a convict could be flogged up to 100 times. A medical officer was always present at every flogging and could intervene and cease the punishment if he felt the prisoner's life was in danger. If a flogging was stopped prematurely for such a reason, the remaining lashes would be administered after the prisoner had sufficiently recovered.

The last flogging was administered at Fremantle Prison at 9am on 21 June 1943 when a prisoner convicted of rape received 25 lashes as part of his original sentence. The medical officer suspended the punishment after 17 strokes.

Corporal punishment and hard labour were officially abolished in Western Australia under the Criminal Law Amendment Act (No. 2) 1992, effective from 6 January 1993.

Protective belts such as these were also used at the Convict Establishment as a remedy against injury for convicts undertaking hard physical labour as part of their punishment. One such example would be to strap the thick leather belt around the convict's waist, to help support their back from strain while they were undertaking heavy manual work, such as carrying or hauling rocks.

Statement of significance

Corporal punishment and hard labour were two forms of punishment inflicted at the Convict Establishment, both of which are often seen by today's visitors as indicative of the harshness of incarceration during this era. As such, these objects have high social significance, not only as examples of this form of punishment, but as popular examples of the time and genre. These belts have strong provenance to Fremantle Prison, and their historical significance is high.

Primary significance criteria

Artistic or aesthetic significance

Historic significance

Scientific or research significance

Social or spiritual significance

Comparative significance criteria

Interpretive capacity

Object's condition or completeness

Rare or representative

Well provenanced
Fremantle Prison

Fremantle Prison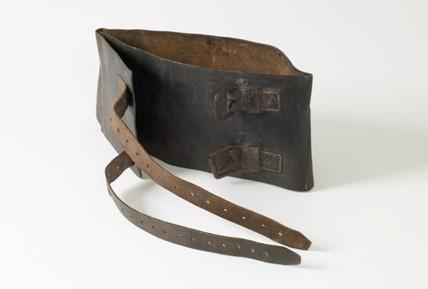 Scan this QR code to open this page on your phone ->