CONVICT DEPARTMENT WESTERN AUSTRALIA SCALE OF RATIONS
1874
Overview
Large, single, rectangular page of blue paper, titled 'CONVICT DEPARTMENT, WESTERN AUSTRALIA. / SCALE OF RATIONS / No. 28'. The scale of rations is printed on the front in black ink. Printed along the bottom of the page is, "Printed at HM Convict Prison, Brixton, Surrey 100 12-74." The page sets out the rations and equivalent measures including ship rations, yeast, oil and fuel, for the Convict Establishment and out-stations.
Historical information
This Scale of Rations for the Convict Department of Western Australia was printed in 1874 at His Majesty's Convict Prison Brixton in the United Kingdom. Setting out the allotted rations and equivalent measures, this scale includes ships' rations, hospital rations and fuel allowances for the Convict Establishment and its out stations.
Details

Details

Inscriptions and markings

HM Convict Prison, Brixton, Surrey 100 12-74.

Contextual Information

The health and wellbeing of convicts inside the Establishment was the responsibility of the Surgeon. To assist with keeping the inmates fit enough to work, and to avoid outbreaks of disease, the Surgeon was also responsible for planning their diet. However the final say on rations lay with the Establishment's Superintendent.

A bakehouse and kitchen were built at the same time as the Main Cell Block. In the convict era, the master cook and the master baker were both warders. Convicts ate bread with black tea for breakfast, soup, meat and vegetables for lunch (known as dinner), which was the main meal of the day. Bread was produced in 8 oz and 10 oz loaves, a practice continued into the twentieth century. Steam from the boiler was used for heating food.

Primary significance criteria

Artistic or aesthetic significance

Historic significance

Scientific or research significance

Social or spiritual significance

Comparative significance criteria

Interpretive capacity

Object's condition or completeness

Rare or representative

Well provenanced
Fremantle Prison

Fremantle Prison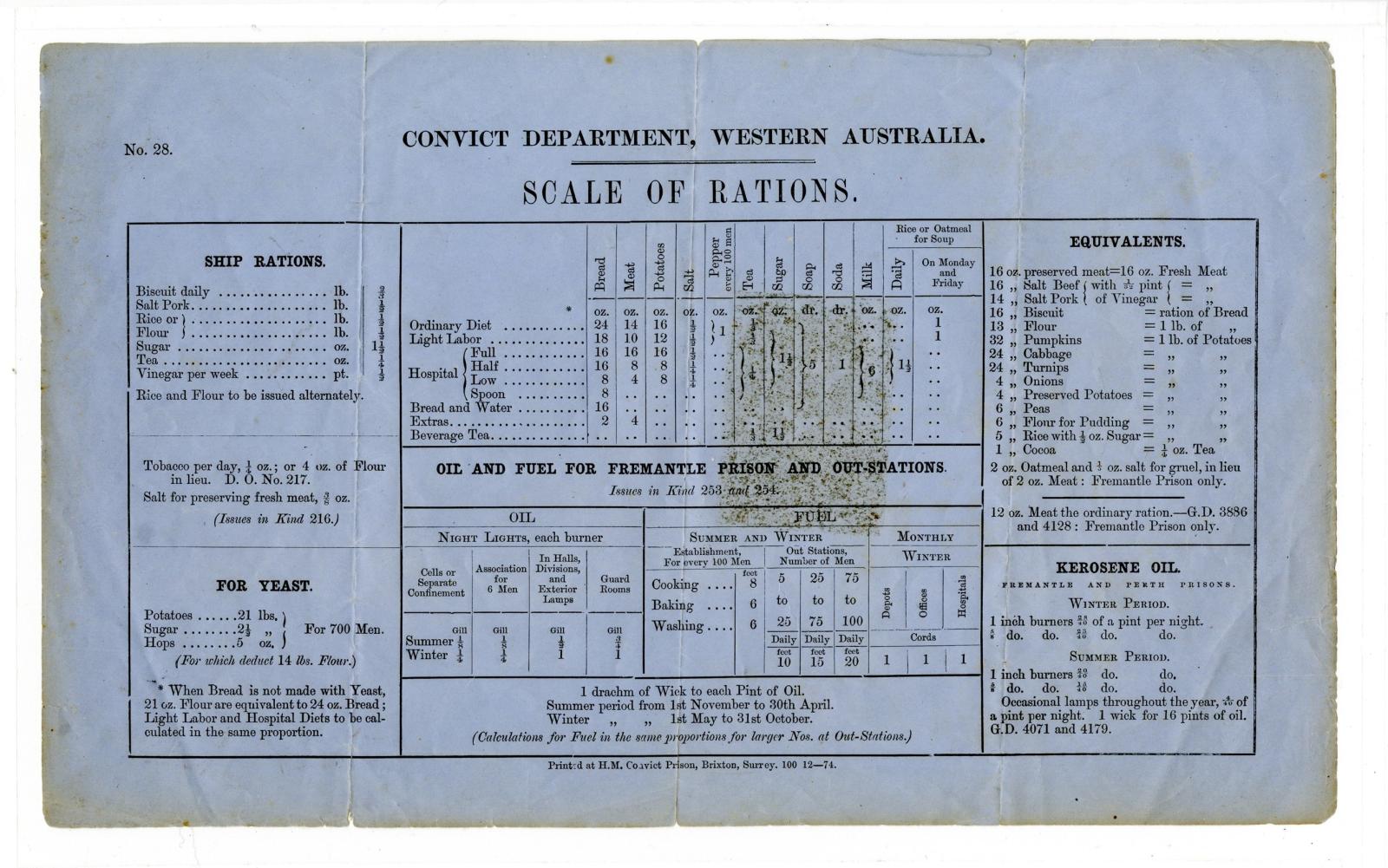 Scan this QR code to open this page on your phone ->