METAL TUB WITH BOARD OF ORDNANCE ARMS 1846
1846
Overview
Large, rectangular, cast iron tub. Rectangular open tub with no lid, and a curled rim around the top edge. A 35mm wide cast metal band is attached around the outside of the tub, near the top rim. On the front of the tub, in raised metal lettering, is a three canon motif in a shield. Either side of this motif is '1846'. Below is a broad arrow with a 'B' on one side and an 'O' on the other side. On the right side of the tub in a long, thin crack in the metal, running from the metal band near the top of the tub to the base. The tub sits up on four small metal feet which are situated in the four corners on the base of the tub.
Historical information
Provenanced to Fremantle Prison. Originally accessioned into the Prison's first historic collection under accession number 78.165, as 'Coal Tubs'. Original location was not recorded. Described as a 'metal box'; description corresponds with objects but only one 'box' is mentioned.
These three convict era tubs were rediscovered onsite, in the East Workshops of Fremantle Prison, in 2016.
Details

Details

Inscriptions and markings

'1846', 'BO', broad arrow

Contextual Information

Coal in the convict period was first shovelled into skips, or tubs, before being screened to remove rock and oversized pieces. The screened coal was then stockpiled back into tubs, which were then either hand-propelled or moved by 'wheelers', with horses pulling them to their destination. However, the presence of four small feet on the base of each of these tubs suggests they were more likely used for the storage of coal, rather than transporting it. It is also possible that these tubs were used for storing other materials, such as wood, possibly during the site's construction, however a definitive answer as to their original purpose has been lost.

The tubs are large, rectangular, made of cast iron and have no lids. Tub 78.165.1 has a thick metal band under the rim, which appears to have been a previous attempt to mend a crack in the iron. Tub 78.165.3 also has a wide crack in the left side, which has been covered with concrete at some point in the past, in an attempt to repair it. On the front of each tub is a three canon motif in a shield, with the letters 'B O' either side of the broad arrow symbol, and the date 1846.

The broad arrow mark originated with Henry, Earl of Romney who was the Master General of Ordnance from 1693 to 1702. The broad arrow was used in his coat of arms and adopted as the symbol for ordinance in the British army and to signify any British Government property as prevention against theft. The 'B O' stands for British Ordinance, which was the name of one of the historic British Government offices which supplied uniforms and equipment to the army, navy and prisons. The year 1846 is likely the year of manufacture of these items, suggesting they arrived in Fremantle during the earliest stages of European settlement in the Swan River Colony.

An image of a similar object was found on the internet in 2020. The Ammunition Box was found in Palmerston Fort in the UK. https://www.geograph.org.uk/photo/1391115

Statement of significance

Despite the original purpose of these tubs being lost, their provenance to Fremantle Prison is established through their continual presence on site, and inclusion in the original items accessioned as part of the first Fremantle Prison Museum. These tubs can be accurately dated from their marks, and the presence broad arrow symbol adds to their high historic significance and provenance value. The historic attempts to repair these artefacts adds to their high research and scientific significance.

Primary significance criteria

Artistic or aesthetic significance

Historic significance

Scientific or research significance

Social or spiritual significance

Comparative significance criteria

Interpretive capacity

Object's condition or completeness

Rare or representative

Well provenanced
Fremantle Prison

Fremantle Prison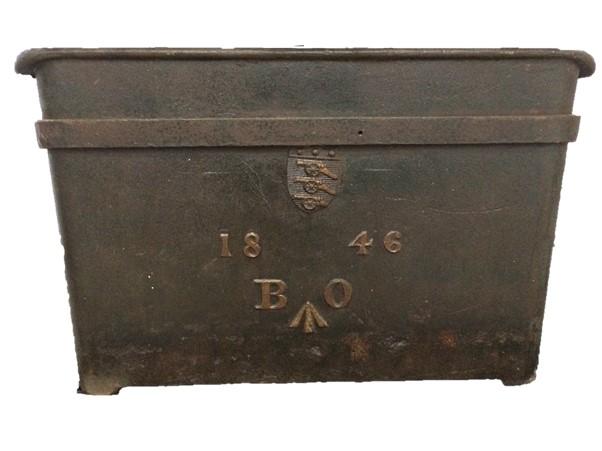 Scan this QR code to open this page on your phone ->