COMMUNION SET STORAGE CASE
1851
Overview
Large, rectangular, wooden case for storing complete Communion set. A large, rectangular, dark redwood case with a small, semicircular brass handle on either side. The case has a flip-top wooden lid, with two small brass hinges along the back. The interior of the lid and interior of the case's compartments are lined with dark green felt. The compartments of the case are shaped to hold the items of the Communion set, including a flagon, chalice, paten and spoon. The case also contains a collection pouch and small Palm Sunday cross. There is a rectangular paper certificate attached to the inside of the lid, providing details of the set and the person to whom it was issued. At the top of the certificate, printed in black, is 'Convict Establishment/ Western Australia'. On the exterior of the lid is attached a small metal plate, engraved with a stylized motif, and the date '1851'.
Historical information
This Communion set was first used in 1852, at the temporary Convict Establishment in Essex St, Fremantle, while Fremantle Prison was being constructed. This storage box is part of a complete communion set (1978.158.1-7). Later, the set was used in the Anglican Chapel of Fremantle Prison. Inside the lid of the box is a facsimile of the original receipt, dated 5 April 1852, to the Reverend Fletcher, who was the Anglican Chaplain of the Convict Establishment between 1850 and 1852.
Details

Details

Contextual Information

Religious observance played a central role in convict reform, with compulsory attendance at weekly services for both prisoners and officers. Service was initially held for all convicts in the Anglican Chapel at the Convict Establishment from 1855. The Anglican Chapel was constructed as the centrepiece of the site. This large, open room looked out across to the Prison gates, down towards the town of Fremantle. Fully completed in 1858, the Anglican Chapel is the only room in the Main Cell Block without bars on the windows. This was to create the impression of trust, to aid the prisoner's path towards redemption.

After continuous agitation from Catholic prisoners and officers for their own chapel, a Catholic Chapel was opened at Fremantle Prison in 1862. Both Chapels had a church choir, and prisoners were rewarded for regular attendance at choir training.

This communion set, including a chalice, flagon, platter and spoon, is made from plated silver and is accompanied by its original storage box. The set was first used in 1852, at the temporary establishment for convicts in Essex Street, Fremantle. Later, the set was used in the Anglican Chapel of Fremantle Prison. Inside the lid of the box is a facsimile of the original receipt, dated 5 April 1852, to the Reverend Fletcher, who was the Anglican Chaplain of the Convict Establishment between 1850 and 1852.

Statement of significance

The Communion Set at Fremantle Prison holds high historic, aesthetic, social and spiritual significance. Anchored in its strong provenance, with the retention of the original receipt of purchase, this object is a physical reminder of the importance of religion in the early Convict Establishment. It also holds wider representative significance as evidence of the nineteenth century's approach to punishment and reform; that the path to redemption was through God.

Primary significance criteria

Artistic or aesthetic significance

Historic significance

Scientific or research significance

Social or spiritual significance

Comparative significance criteria

Interpretive capacity

Object's condition or completeness

Rare or representative

Well provenanced
Fremantle Prison

Fremantle Prison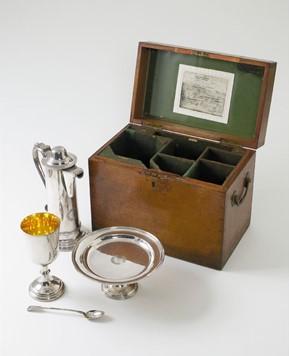 Scan this QR code to open this page on your phone ->