LANDSCAPE PAINTING
Overview
Small, landscape painting by Reynold Hart of a green and lush landscape. In the foreground is depicted a thin yellow road, which winds through the painting, disappearing into the background. In the foreground and middle ground are four tall trees with green foliage. The land either side of the lather and into the background is green, and numerous small shrubs. The sky in the top half od the painting is bright blue.
Historical information
Donated by the family of William John Elkes, a former Prison Officer at Fremantle Prison. Artworks belonged to William John Elkes (1941-2008) who was a Prison Officer at Fremantle Prison from 1968 to 1969.
Details

Details

Contextual Information

Reynold Hart was a Carrolup artist. Hart is recognised along with Noongar artists such as Revel Cooper, Parnell Dempster and Milton Jackson for artwork created as child artists at the Carrolup Native Settlement in the late 1940s and early 1950s.

Reynold Hart was born in 1938 and was a Nyungar artist and member of the Pinjarup and Kaniyang peoples of southwest Western Australia. Hart was taken to the Carrolup Native Settlement near Katanning when he was four years old and was amongst the celebrated group of young artists who were encouraged to draw and paint their surroundings by teachers Noel and Lily White, the couple that managed the Carrolup School between 1945 and 1951. Amid conditions of poverty and degradation, Noel White established educational programs in art and music, intending that the training provided at Carrolup would serve a vocational role. The Mission is best known for fostering the Carrolup style of painting, a style that became famous in Australia and overseas, with many pupils going on to become established artists. The Carrolup Mission was closed by the Department of Native Affairs in 1951, and unfortunately many former students of the school later found themselves behind bars in Fremantle Prison, where the Carrolup art style became a common theme in prisoner art.

Hart's landscape paintings and pastels, along with those of other Carrolup artists, were exhibited and sold to wide acclaim in Australia, Europe and New Zealand in the late 1940s and early 1950s. Hart continued painting throughout his adult life, and examples of his work can be found in the collections of the Art Gallery of Western Australia, the Berndt Museum of Anthropology and the Picker Gallery at Colgate University in New York. Hart passed away in Collie, Western Australia, in 1981.

The examples of Reynold Hart's artwork in the Fremantle Prison Collection belonged to William John Elkes (1941-2008), who was a Prison Officer at Fremantle Prison from 1968 to 1969. These artworks where donated by Elkes' family, who recalled he had a friendly relationship with many of the Prison's inmates. Elkes was also a carpenter by trade, and often assisted in the Prison's woodworking classes. It is therefore assumed that Elkes was given these artworks directly from Hart himself.

Primary significance criteria

Artistic or aesthetic significance

Historic significance

Scientific or research significance

Social or spiritual significance

Comparative significance criteria

Interpretive capacity

Object's condition or completeness

Rare or representative

Well provenanced
Fremantle Prison

Fremantle Prison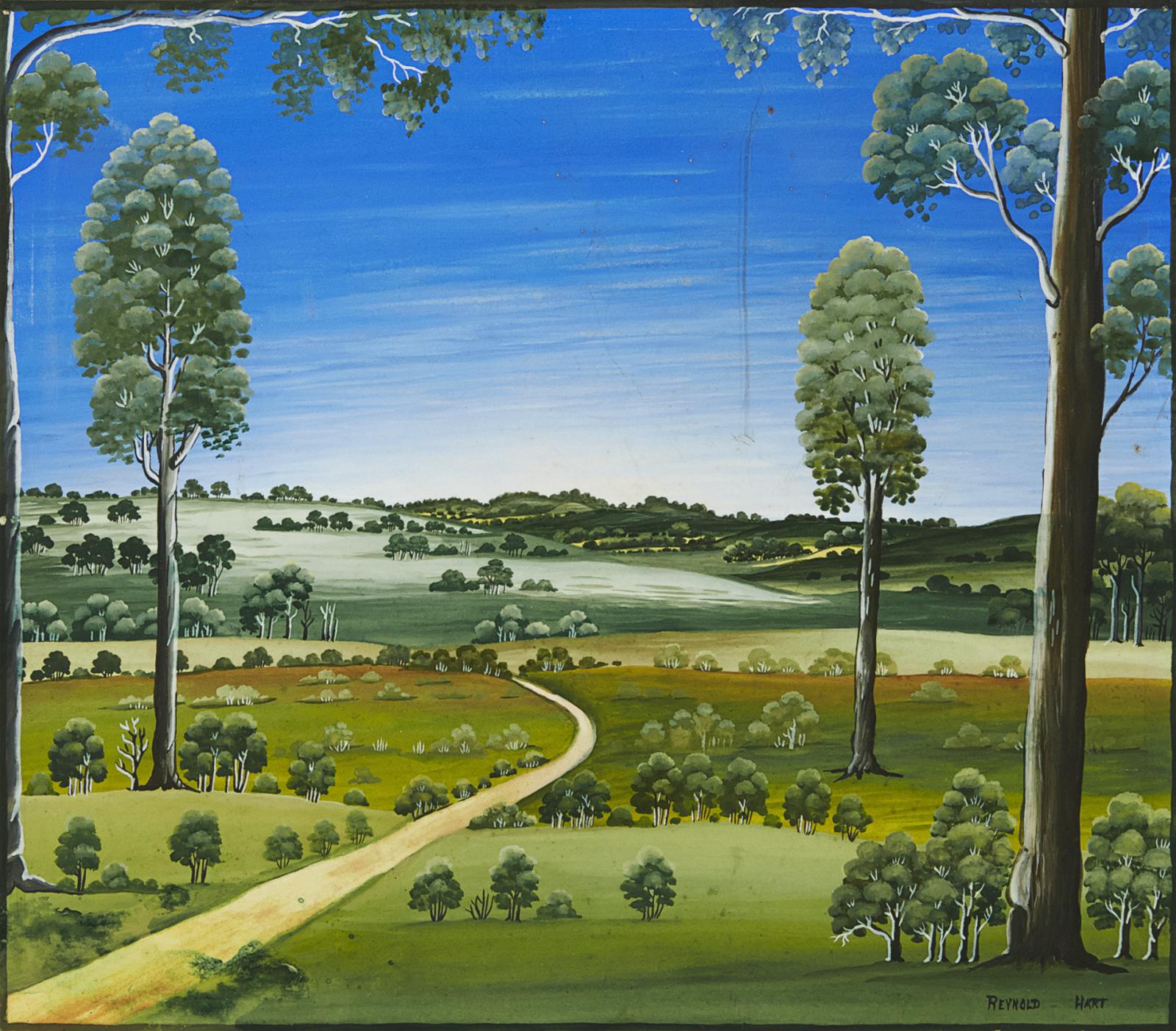 Scan this QR code to open this page on your phone ->