Steam locomotive Katie
Overview
Saddle tank locomotive with three sets of driving wheels (0-6-0) painted pale green with tender for coal and water attached. The name 'Katie' given to her in her years working for the timber companies, is painted on the saddle tanks. Has black outlining on cab, tender and tanks, with yellow hand rails. Motion is painted silver, whilst smoke box and wheels are black.
Historical information
'Katie', then known as 'No.1', was one of the two locos purchased to operate the new railway from Fremantle to Guildford in 1881. It arrived in WA on the sailing ship the Barque 'Fitzroy'.
Only four years later this locomotive was the unfortunate hauler of a runaway train coming down the hill near Darlington. At that time trains depended on the locomotive's brakes to stop them … but it didn't. So a new system was introduced so that wagons and carriages had a vacuum brake fitted. It was after this accident that No.1 had a tender fitted.
In the 1890s 'No.1' worked hauling train loads of stone for the construction of the North Mole in Fremantle.
As more powerful steam locos arrived in WA locomotive No. 1 was sold in 1899 to Westralian Jarrah Forests Ltd. It was used on the timber railways until 1940.
The Western Australian Government Railways restored it for display in 1956. Then when Rail Heritage WA was founded in WA in 1959, 'Katie' was the first item it acquired for display. As Katie spent many years working in the bush it is believed that it was named after Kate, the 'bush-ranging' sister of Ned Kelly.
Details

Details

Inscriptions and markings

The name 'Katie' given to her in her years working for the timber companies, is painted on the saddle tanks.
Also has original builders plates on each side with No.2391, Rt Stephenson and Co, Newcastle on Tyne, 1880.

Contextual Information

It is the only survivor of one of the two locomotives bought for Perth's first railway, which ran between Fremantle and Guildford. After nearly 20 years it had a second life working for what became the Miller's Timber Company.
Classified by the National Trust of Australia (WA)

Keywords

Locomotive

Railways

Western Australian Government Railways

Guildford

Transport

Timber industry

Statement of significance

Katie is of state significance. C1 is the oldest government owned locomotive extant and has historic significance for its role in Perth's first railway. The result of its 1885 accident dictated the need for technological change leading to the urgent acquisition and adoption of vacuum braking systems in WA Railways. Its historical significance resulted in the request made to Millers by the WA Government Railways to acquire and preserve it.

Primary significance criteria

Historic significance

Scientific or research significance

Social or spiritual significance

Comparative significance criteria

Interpretive capacity

Object's condition or completeness

Rare or representative

Well provenanced

Links to additional resources
Rail Heritage WA

Rail Heritage WA
Organisation Details
View Collection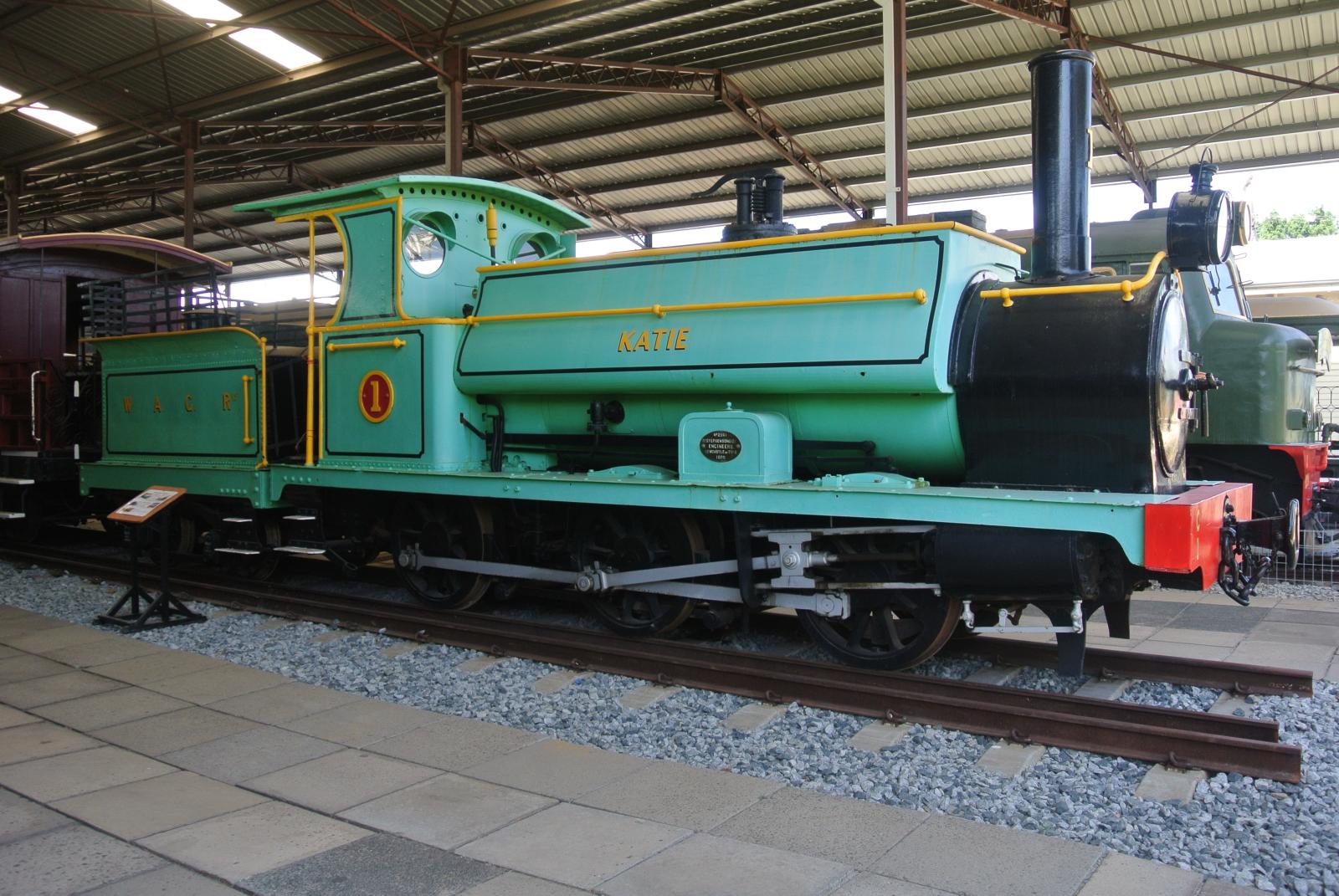 Steam locomotive C1, Katie, in light green livery at the Railway Museum in Bassendean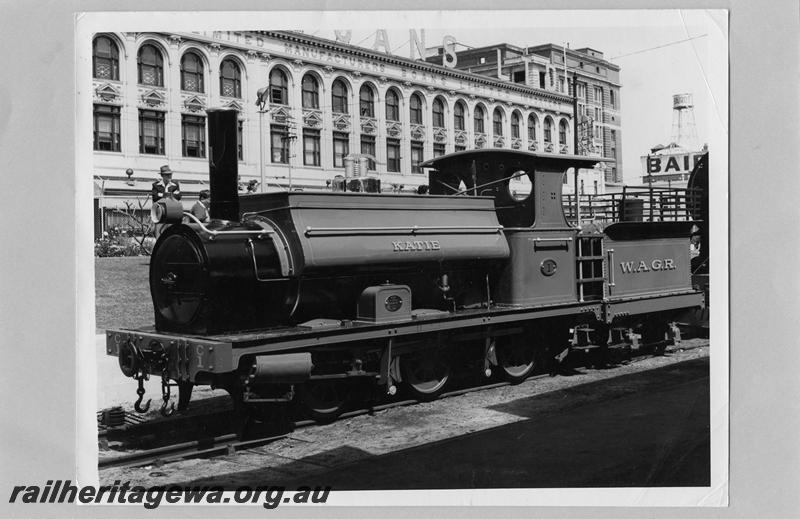 In 1956 steam locomotive Katie was on display in Perth Station after being restored by the WA Government Railways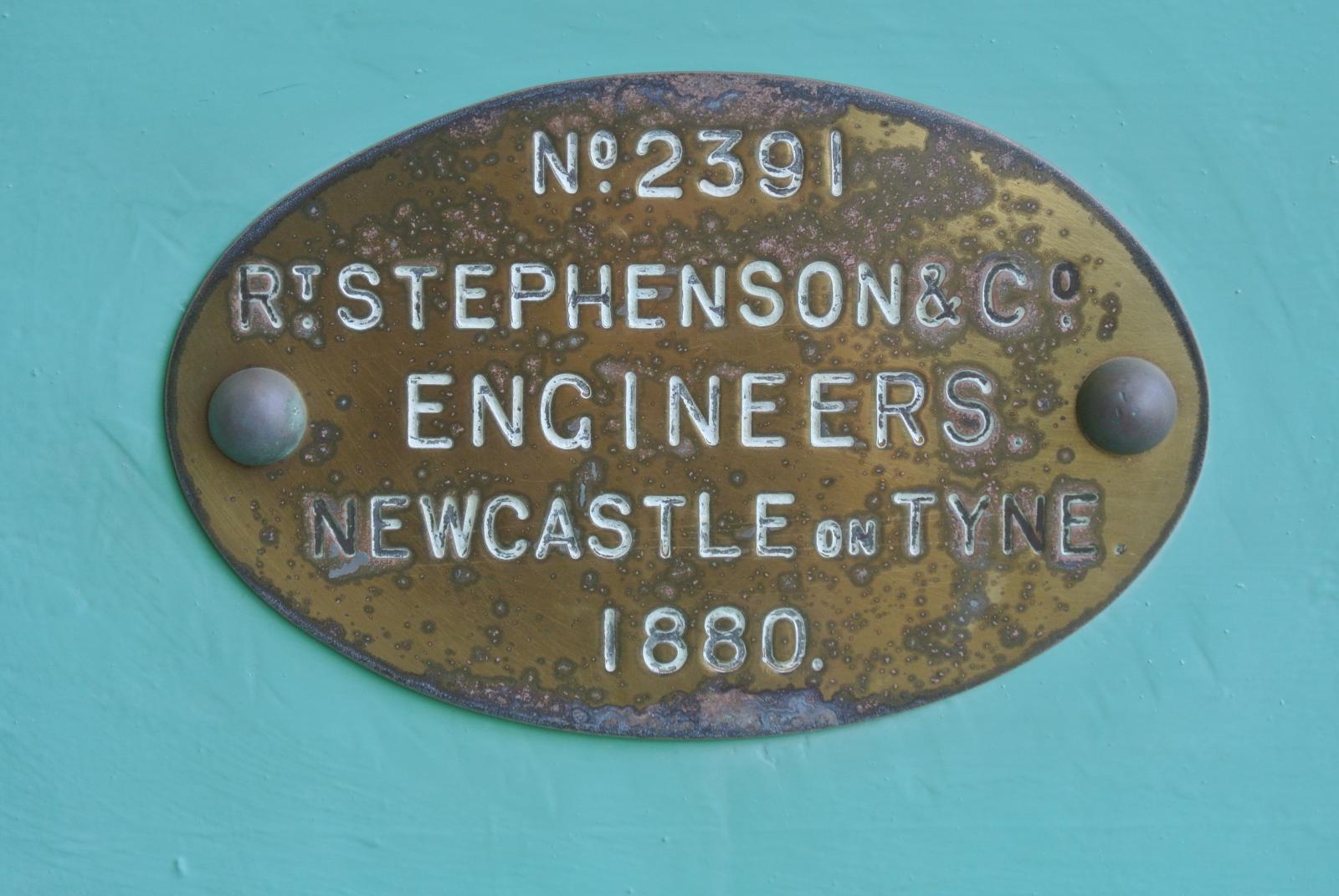 Builders plate on side of Katie saying ' No.2382 Rt Stephenson & Co, Engineers, Newcastle on Tyne, 1880