1956 Western Australian Claxton Shield Series baseball team
Overview
A photograph of the 1956 Western Australian Baseball Team who competed in the Australian Baseball Championship Claxton Shield Series. The black and white photo is mounted on tan cardboard and has diagonal green and yellow bands across the top left-hand corner of the board. Printed above the photo are the name, location and year of the competition, Claxton Shield Series and the West Australian Baseball League Inc. Below the photograph is the name and address of the photographer and the names of the players and manager.
Historical information
The 1956 Claxton Shield was the 17th annual Claxton Shield. It was held in Adelaide, South Australia from 28 July to 4 August. The participants were South Australia, New South Wales, Victoria and Western Australia. The final game of the Shield erupted in controversy when South Australia played Victoria. Victoria stood with a 3–0 record, Western Australia with a 2-1 as well as South Australia. If South Australia won against Victoria in the final game, the winner would be determined on runs for and against.
The game was tied 4–4 at the end and went to extra innings. South Australia was ahead 5-4 going into the bottom of the 12th. A one-run win would not be enough for them to win the series. They had to allow Victoria to score so they could chance a bigger win in the 13th. With a Victorian runner on third base the pitcher attempted a pickoff, deliberately throwing the ball away. The umpire called a dead ball and sent the runner back to third. The next pitch, the pitcher deliberately balked, which would have allowed the run to score, but the home plate umpire called the game over and gave the game to Victoria 9-0 on the technicality South Australia brought the game into disrepute. Appeals were denied and Victoria claimed their fifth Shield title with Western Australia the runner-up.
Wikipedia [https://en.wikipedia.org/wiki/1956_Claxton_Shield]
Details

Details

Inscriptions and markings

Australian Baseball Championships - Adelaide 1956
Claxton Shield Series
West Australian Baseball League Inc.
Frank Boase Photograph 42 Sheffield St., Malvern, S.A.
Back row: A. Smith, B. Balmer, G. Connor, R. Thornton, B. Connaughton.
Second row: A. Lodge, D. Ward, T. Mateljan, M.G. Muggleton (Captain-Coach), A. Bryan, R. Gouch.
Front row: B. Crutchett, R. Teasdale, M. Puckett, R. Gordon (Manager), E. Hayes, N. Pratt, K. Denham.

Contextual Information

The 1956 Olympic Baseball Team was selected from the players competing in the Claxton Shield tournament. Among those selected were three members of the Western Australian team—Max Puckett, Robert Teasdale and Neville Pratt.

Wikipedia [https://en.wikipedia.org/wiki/1956_Claxton_Shield]
Newspapers.com [26 Sep 1956, Page 16 - The Age at Newspapers.com]

Keywords

Western Australian State Baseball Team

Western Australian State Baseball Uniform

Australian Baseball Championships

Claxton Shield 1956

Adelaide, South Australia

Links to additional resources
Baseball WA

Baseball WA
Organisation Details
View Collection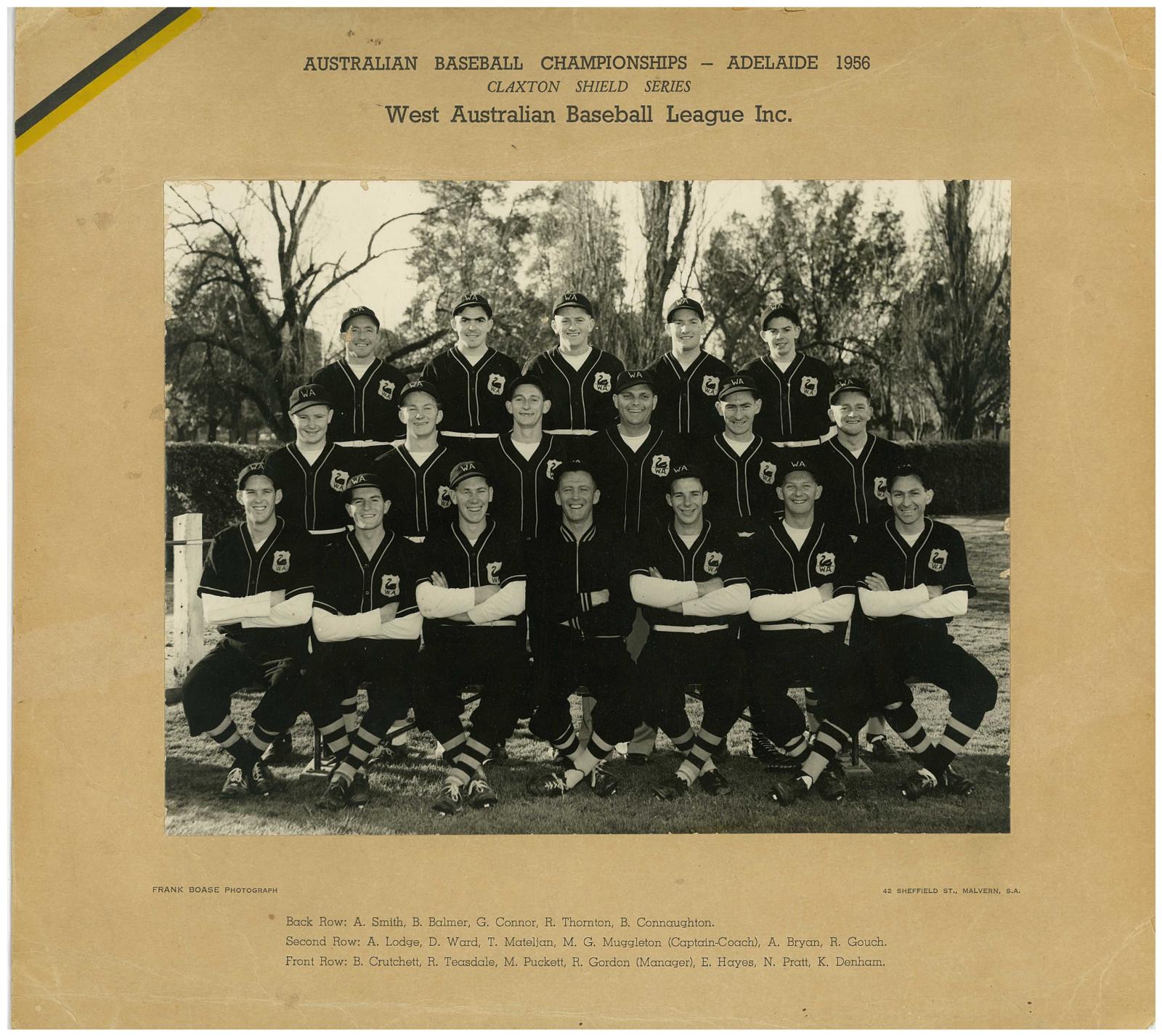 1956 Western Australian Baseball Championship Team