MODIFIED BOOK
Overview
(a) Large, brown, hardback, modified book. All the inside pages have been fixed together, and a rectangular depression created by cutting into them, and lining the edges with brown paper, thus creating an almost box-like form, with the book's front cover and two pages forming the lid. The book's title is in Latin, and has been handwritten along the spine in white ink, "NIL / DESPERANDUM / ATQUE / IN / PERPETUUM".
(b) Small, white, carboard object label found inside 1978.14a. Printed on surface in black ink, the label reads 'Hiding Place/ Made by a prisoner who was working in the/ library. He entitled the 'book' Nil Desperandum.'
Historical information
The label accompanying this book (part b) claims that it was made by a prisoner who worked in the Library. It would likely have been used for hiding or transporting contraband. The label (part b) was created when this book was displayed in the original Fremantle Prison Museum.
The book's Latin title roughly translates to 'Do Not Despair; And Into Forever'.
Details

Details

Contextual Information

While little has been published officially about drug use and contraband at Fremantle Prison, there is evidence to suggest that during certain periods of its history, such as the 1970s, drug use was particularly rife and difficult to control. According to one ex-Fremantle Prison inmate, it was not uncommon for prisoners to, "store up the quota of drugs they are entitled to for medical reasons", which would then be taken all at once to get a stronger effect. He also suggested that tranquilizers had a similar effect to, "other drugs available on the market", and that this often led to prisoners overdosing and spending time in the Prison's Hospital. This particular ex-inmate then goes on to say that it was easy to get drugs from the doctors at the Prison, such as barbiturates and sleeping pills. This meant that the abuse of prescription drugs obtained from inside the Prison was a more common and serious problem than the use of illegal drugs, such as marijuana or opium, being smuggled in from the outside. Records show that during the 1970s the problem of prisoners stockpiling their medications was recognized by certain Prison Officers, who discussed with the Prison's doctors the possibility of dispensing prescription drugs in liquid form. There was also a suggestion at this time that prisoners on more potent medications should be housed in the Prison Hospital, though this was never carried out, likely due to a lack of resources at the hospital. There were also legitimate concerns about safety at the Prison's drug dispensary, with some Prison Officers fearing it wasn't secure. According to surviving meeting minutes, there was a desire from some Prison Officers to lessen the amount of prescription drugs given to prisoners, a move that was resisted by the Prison's Psychiatrist.

Being caught with contraband would lead you to be 'slotted' or to be taken to 'the chokey', a colloquial name for Solitary Confinement. The Solitary Confinement block consists of twelve punishment cells with windows and six slightly larger dark cells with ventilation only. Each cell has double chambers with inner and outer doors for added security which also prevented communication between prisoners. In the modern era, the prisoners were kept on a diet of bread and water and spent 23 hours in their cells, with one hour exercise daily including four minutes for a shower. The 'chokey' developed a reputation where prisoners endured beatings at the hands of the Prison Officers, and where the rules of the prison did not apply.

Such punishments led to prisoners inventing more ingenious ways of hiding drugs and contraband. Drugs were secreted in the walls, crevices and even modified books, such as this one. This book is believed to have been made by an inmate working in the Prison's Library during the 1970s, and was left onsite when the Prison closed in 1991. The inmate's sense of humour is evident through the title he gave the book: 'Nil Desperandum; Atque in Perpetuum'.

Primary significance criteria

Artistic or aesthetic significance

Historic significance

Scientific or research significance

Social or spiritual significance

Comparative significance criteria

Interpretive capacity

Object's condition or completeness

Rare or representative

Well provenanced
Fremantle Prison

Fremantle Prison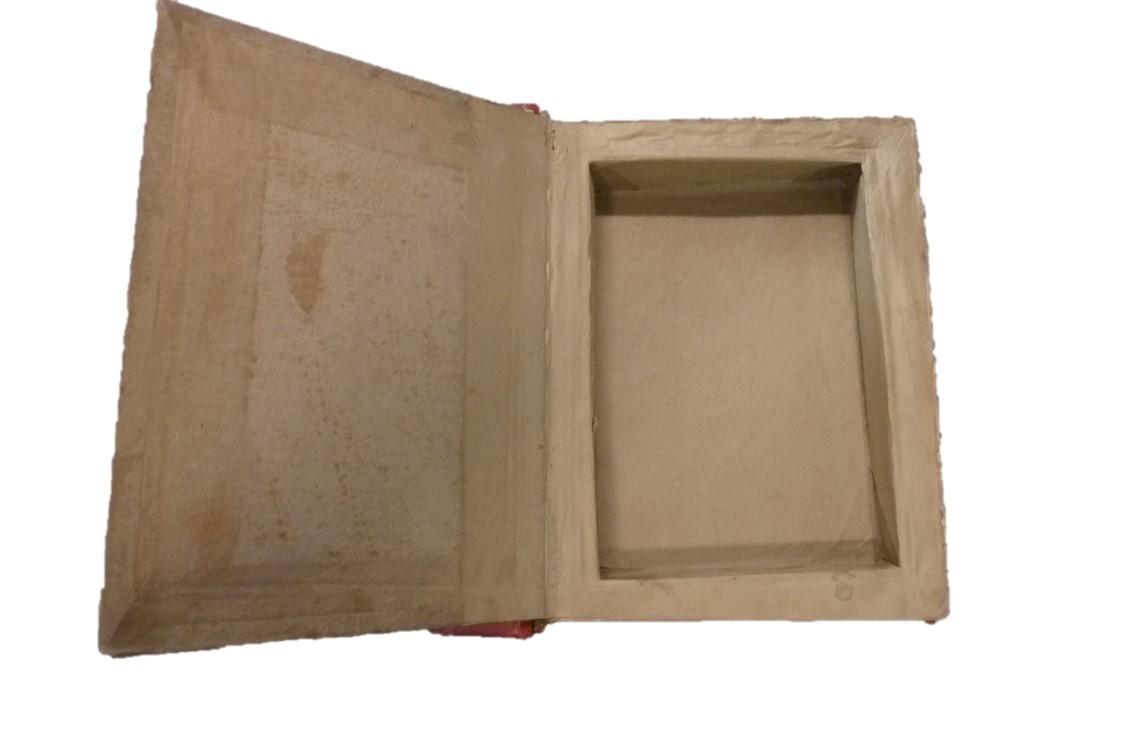 Scan this QR code to open this page on your phone ->