CAMERA
Overview
'Pocket Premo Model C' - Eastman Kodak Co.,
Folding camera consisting of a leather-covered wooden body and red leather bellows. The front of the camera forms a sliding bed for the lens plate when open.
Historical information
Premo Model C folding view camera manufactured by Eastman Kodak, Rochester, N.Y., U.S.A., circa 1910.
The camera is fitted with a Bausch & Lomb f/8 lens and Bausch & Lomb shutter release, allowing for instantaneous and timed exposures.
This type of camera was originally manufactured by the Rochester Optical Company, which was taken over by Eastman Kodak in 1903, which in turn produced the cameras with the Premo name until 1926. The Premo was designed for the amateur photographer. It was a light weight, compact camera, easy to carry when closed. It took photographs on 3 1/4 x 4 1/4 inch film plates. In its day, the camera was considered to be of good quality and yet reasonably priced.
Details

Details

Inscriptions and markings

Around lens: 'MADE BY EASTMAN KODAK Co. ROCHESTER, N.Y. U.S.A.'.

Place made

Rochester
New York
United States


Primary significance criteria

Social or spiritual significance
Busselton Historical Society

Busselton Historical Society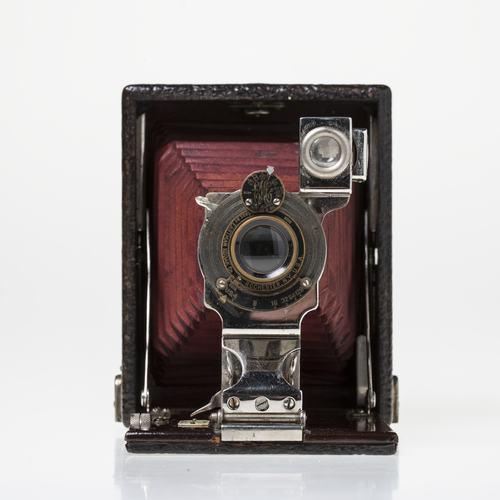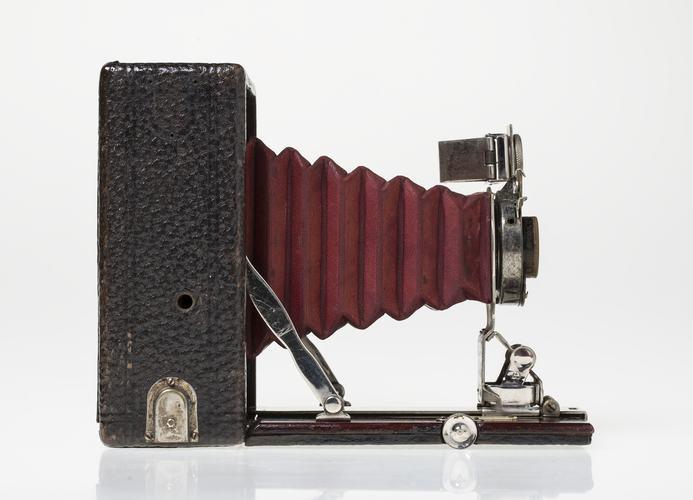 Scan this QR code to open this page on your phone ->