PHOTOGRAPH (FRAMED): SUBIACO BOYS CYCLING CLUB, C.1914
c. 1914
Overview
Image: Black and white framed photo showing five young men in a row with bicycles. The first man is standing next to his bike which has a bouquet of flowers on the handle bars; he is wearing trousers, shirt & waistcoat, jacket and white hat. The next man is sitting on his bike which also has flowers on the handle bars, and is wearing trousers with long socks, a jacket & cloth cap. The third man is standing next to his bike (flowers on handle bars) and is wearing dark trousers and jacket, with a bicycle pump visible in the pocket, and a boater hat. The fourth and fifth men are sitting on their bikes with flowers on their handle bars, the 4th wears a boater hat. In the background is a wooden fence, a house & some trees.
Mount: Cream mount 'Subiaco Boys Cycling Club c 1914'.
Frame: Mottled wood frame with gold interior edge above glass.
Reverse: An 'Art Heritage Craftsman Picture Framers' stamp on back.
See also P91.7
Historical information
In March 2011, City of Subiaco received a letter addressed to Ken Spillman from Mary Pollard, ACT. She thought that the central cyclist was more than likely her great uncle Roderick Wilson. Roderick Wilson died in 1968 in Melbourne. Mary remembers hearing stories of Roderick picking wildflowers from Kings Park, possibly relating to the activity in the photograph.
Details

Details

Statement of significance

local, sporting & social history

Historic:
Social:

Primary significance criteria

Historic significance

Social or spiritual significance
Subiaco Museum

Subiaco Museum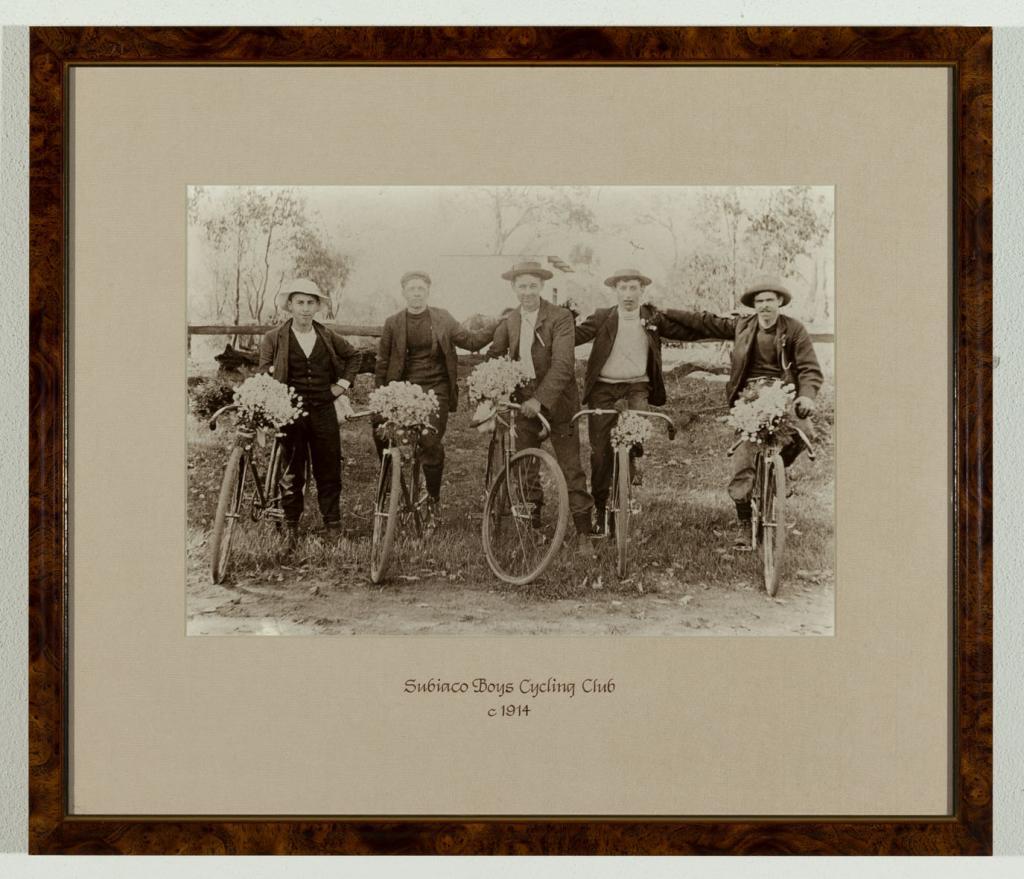 Scan this QR code to open this page on your phone ->