The Story of Mrs May Yates
Busselton Historical Society
Published:
Friday, 26 August, 2022 - 09:52
In 1916 Reverend Sidney Alexander Milward, Rector of St Mary's Church in Busselton from 1916 to 1924, formed a company of Boy Scouts. When the boy's sisters showed interest in joining this group, Rev Milward asked his fiancé, Flora Brockman to form a Girl Guide company. Flora Brockman became the captain of this early group which numbered 23 girls but the Busselton Girl Guides will always be linked to Mrs May Yates who was so influential over the years with the development of the Girl Guide community throughout the Southwest.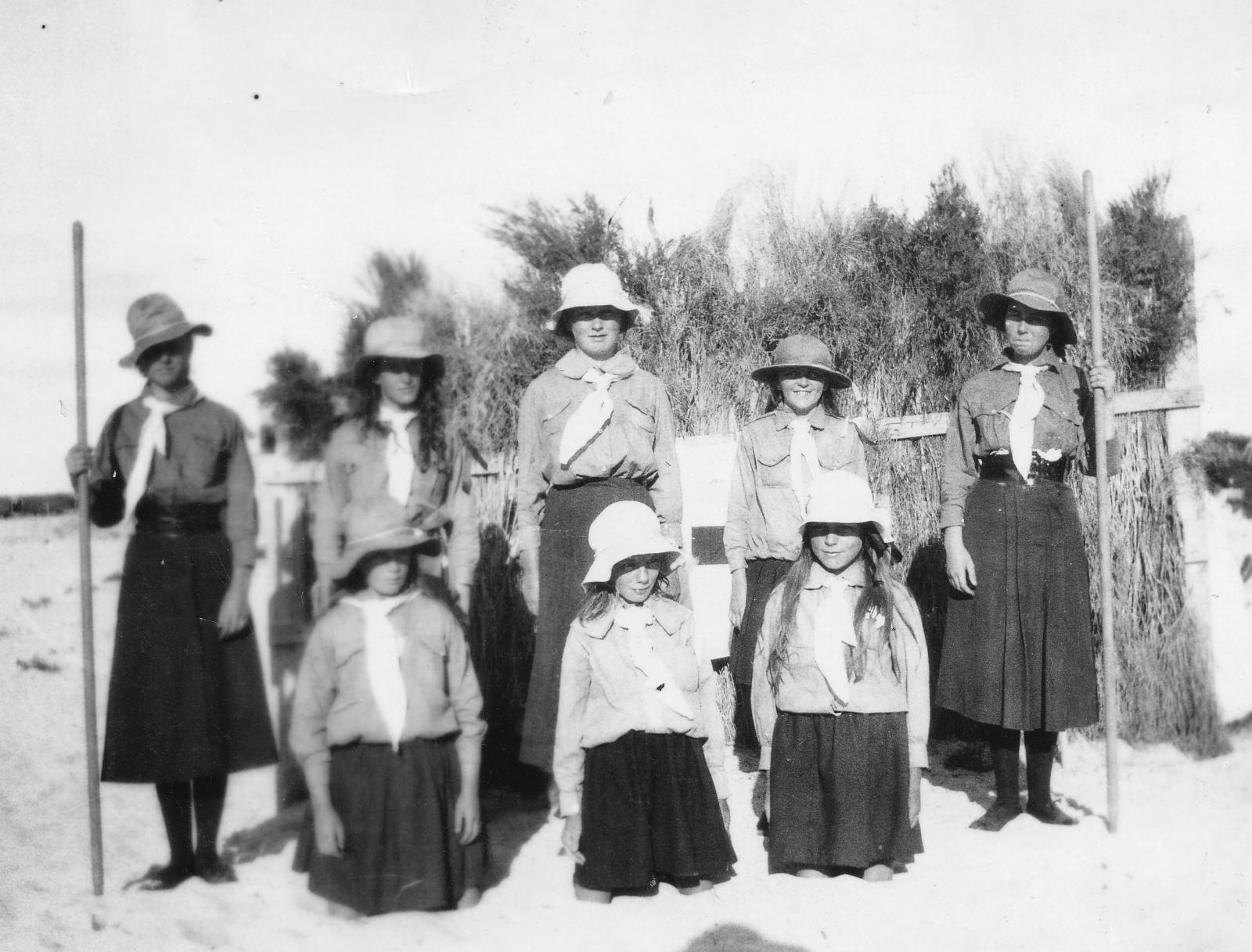 First Troop of Busselton Girl Guides c1916.  Back Row L-R Carrie Brockman, Mylla Barnard, Jean Barnard, Gloria Bignell, Rena Bovell, Front Row L-R Dulcie & Isla Baird, Mavis O'Meara,Ethel Baird (not pictured as she took the picture).  Photo 7 from the BHS Archive.
May Yates was born in Halifax Yorkshire in 1889 as Evelyn May Cocker. In 1912 she married Walter Percy Yates and between 1912 to 1917 they lived in the north of England where she was active in the Girl Guides that had been established by Lord Baden Powell and his sister Agnes in 1909. In 1917 the Yates moved to Busselton where he became the doctor for the area and she became involved with the Busselton Guides to satisfy her interest in guiding and the welfare of girls.
In 1928 the Country Organizing Commissioner for WA, Mrs C.E.F. Bull, a veteran of the Boer War, visited the Busselton area. On discovery of the Busselton Guides, Mrs Bull arranged for the group to be formally recognized as the Busselton Guides on May 30th, 1928, with May Yates as District Commissioner for Busselton and outlying districts. May Yates continued in this role until 1958.
In 1931 92 Girl Guides from the Busselton area travelled to Perth for the visit of Lord and Lady Baden-Powell. Later this year May Yates took on the additional role of first Divisional Commissioner for the Southwest and remained in this position until her retirement in 1960. At a time when horse and buggy were the main means of transport, the Southwest region extended from Bunbury to Augusta and eastwards to Brunswick, Collie and Darkan. As part of her duties Mrs Yates was required to regularly visit guiding groups in the area but luckily her husband had a car to fulfill his duties as a doctor and she was able borrow the car when it was free.
May Yates gave up rooms in her house for Brownie and Guide meetings, trained leaders and was always there for all her "girls." In 1950 she was awarded the Medal of Merit for outstanding service to Guiding. After her retirement in 1960 she became an elected member of the State Council of Girl Guides and remained involved with the movement for many more years. She worked tirelessly to enable a campsite to be opened in the Busselton area, which eventually opened in 1958 and was later renamed the May Yates Campsite in her honour. Unfortunately, this campsite was closed in 2011. 
May Yates followed the arts, played the piano and guitar and also did wood carving. She died in 1983 at the age of 94 years and is buried at St Mary's Church in Busselton.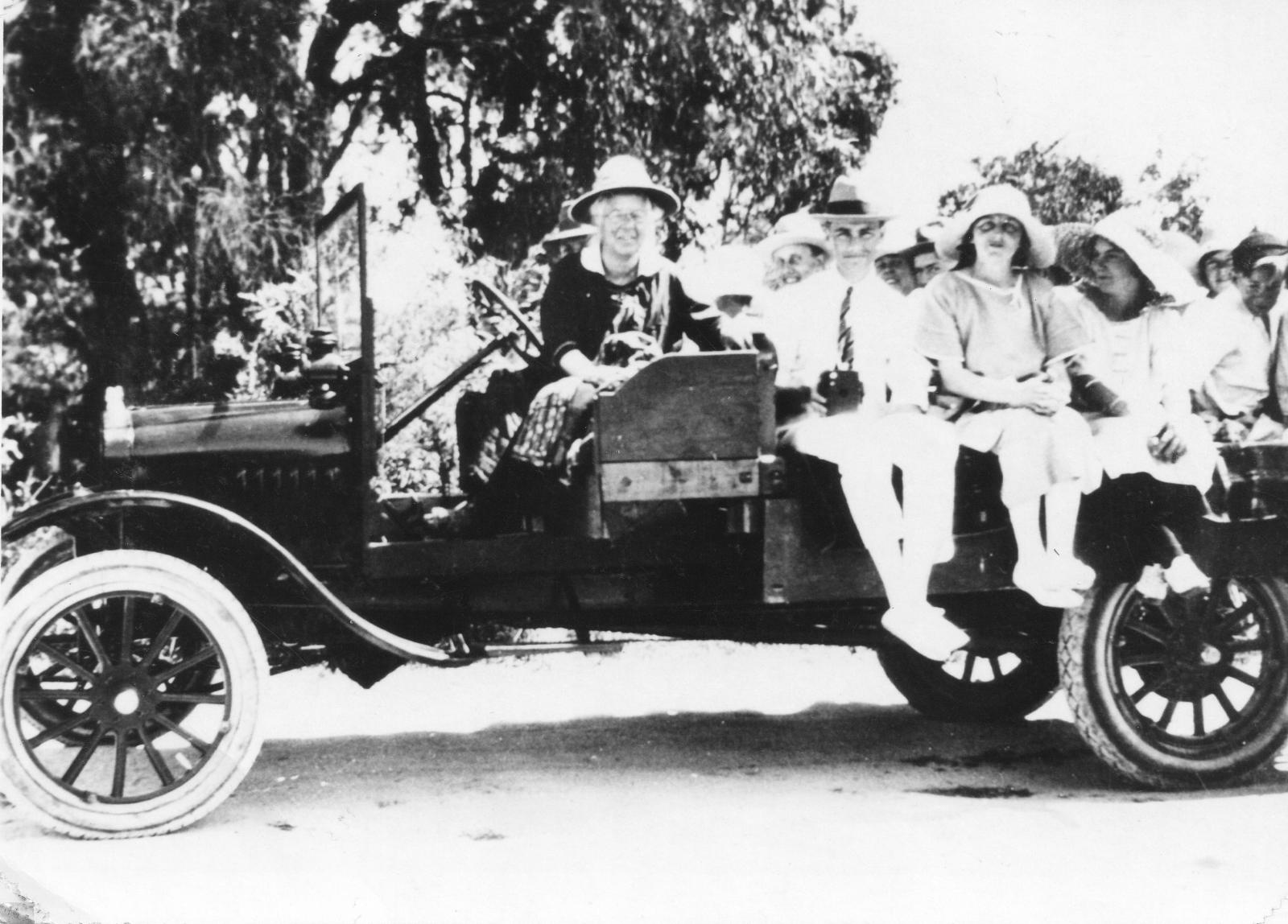 Picnic 1925c L-R, Mrs EH Neville, May Yates, C Morrison, Jack Parr, G Bignell, K Killerby.  Photo 24 from the BHS Archive.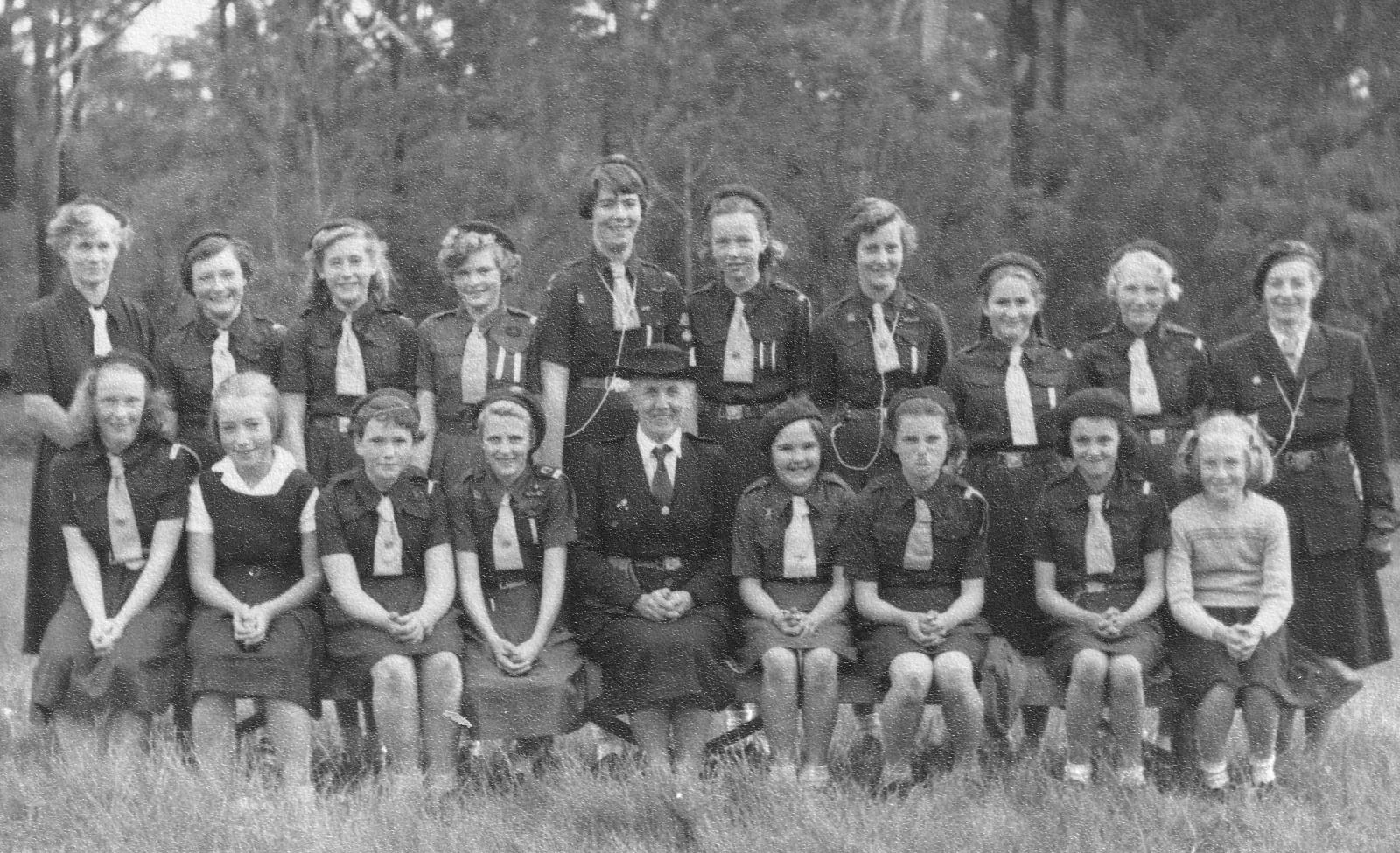 Rosa Brook Girl Guides & Brownies c1950 with May Yates Centre front.  Photo 3655 from the BHS Archive.