MAGAZINE JARRAH POST
1961
Overview
Large, yellow, paper, The Jarrah Post magazine, dated January 1961. Cover page includes a printed sketch in black ink of a kangaroo and joey posting a letter. Printed across the top of the page in Old English font, is, "The Jarrah Post". Underneath the heading, within two horizontal lines, is, "January 1961". Printed along the bottom of the front page in back, is, "Issued to well conducted prisoners under detention in the Gaols of W.A./By Authority of the Comptroller General of Prisons under the direction of the Superintendent/of Fremantle Prison." Bound along centre by metal staples. Contents include several white pages of paper, printed in black ink, including illustrations.
Historical information
Created and printed at Fremantle Prison.
Details

Details

Contextual Information

Printing was an essential trade performed from the earliest days of the Convict Establishment, and continued without interruption throughout the site's history. In 1854 convicts were instructed in the use of two printing presses, and printing operations at the Convict Establishment soon became so successful that they functioned as the official Government Printer for Western Australia from 1858 until around 1870.  

This status was again rewarded to Fremantle Prison again from 1950, with prisoners printing gazettes, forms, books, letterheads and official documents for the WA government. Around 1960 the printing operation was moved into one of the West Workshops on the Fremantle Prison site, and was renamed the Print Shop.

The West Workshops were built between 1900 and 1901, the outcome of the 1898-99 Royal Commission which recommended that more workshops be established at Fremantle Prison. Many internal documents, forms, and other works were also printed in the Prison's Print Shop, including the successive newsletters published during the twentieth century for prisoners, such as The Newsletter, The Jarrah Post, and Ad Rem.

The Jarrah Post was a monthly publication which was printed in the 1960s and 1970s. It was authorised by the Comptroller General of Prisons and was issued to 'well conducted' prisoners under detention in Western Australian gaols. In its first issue in 1960, the editorial said, "In this magazine, an attempt has been made to produce something which is entirely new in this Prison. In it, we have been given the opportunity to make known our views, and I feel this is a might step forward. The Jarrah Post is our magazine and it is intended that the items published in it will be for our interest and information." The Jarrah Post was published in booklet form, with 16 to 20 pages, roughly A5 in size. Until the 1970s, the cover page was often printed on different colour paper, and carried a cartoon illustration created by a prisoner. Sometimes, on special occasions such as Easter or Christmas, the cover was printed in colours. The contents of the booklet were produced by male prisoners, and were originally intended for use by male prisoners only. A women's page appeared in The Jarrah Post for the first time in December 1961, but was not a regular occurrence.

These publications included radio and movie programming, games such as crosswords, letters to the editor and carefully selected news items. By including these news items, The Jarrah Post allowed prisoners access to the media, if even in a small way. In theory at least, the publications produced at the Print Shop also aimed to give all prisoners, no matter who they were, the chance to give their opinions. One example is a poem by prisoner Bluey P, which was published in the August 1961 issue of The Jarrah Post, "Take up your pen, and do your most, they may make The Jarrah Post".

Primary significance criteria

Artistic or aesthetic significance

Historic significance

Scientific or research significance

Social or spiritual significance

Comparative significance criteria

Interpretive capacity

Object's condition or completeness

Rare or representative

Well provenanced
Fremantle Prison

Fremantle Prison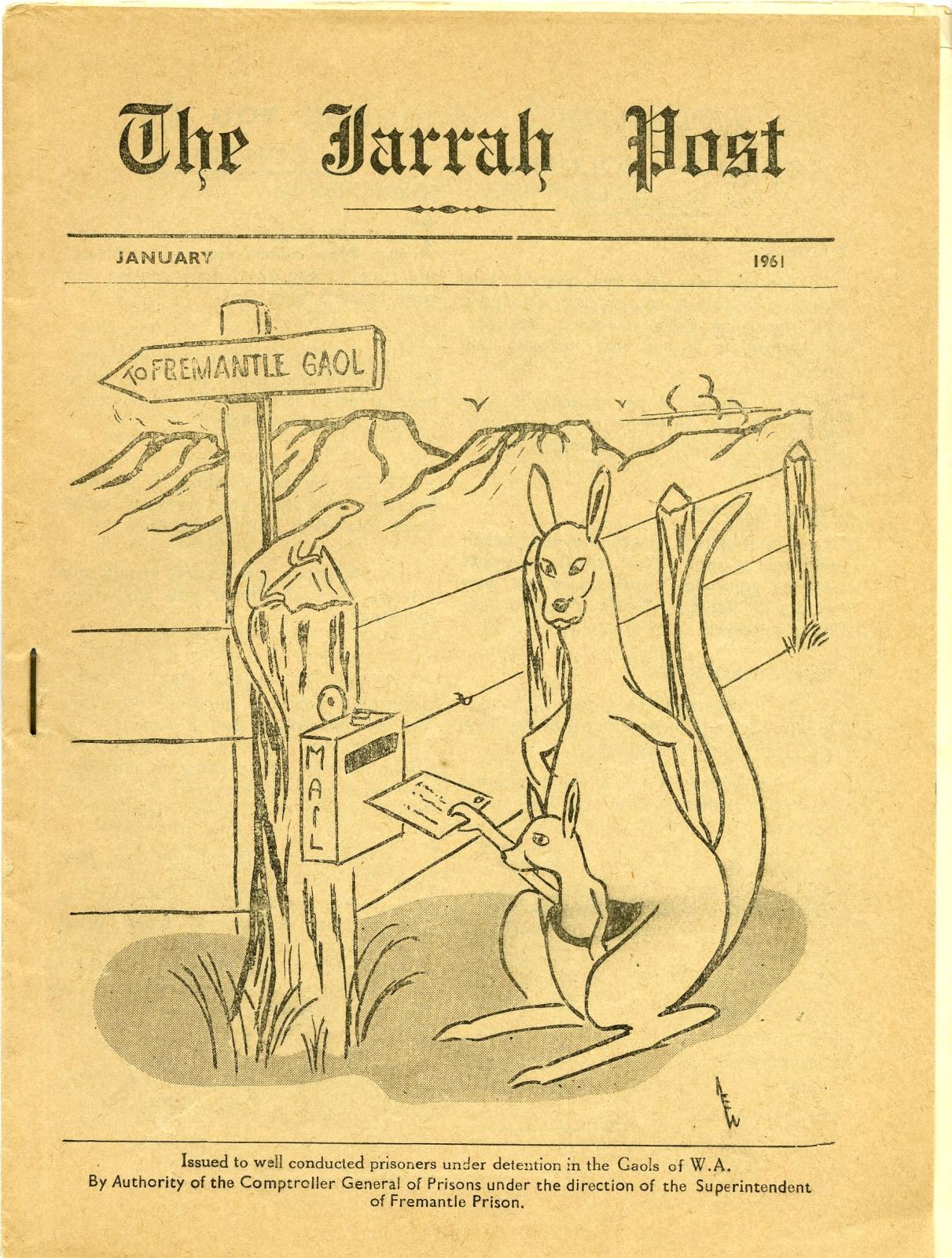 Scan this QR code to open this page on your phone ->