Surveyors Gunters Chain
c. 1900
Overview
Metal chain used for measuring by surveyors.
Historical information
Charles Lymburner was born in Dashwoods Gully, South Australia, 24 April 1864 the son of Adam Lymburn Delisser and Elizabeth Jeffs. Charles was a surveyor and joined the Department of Lands and Surveys in West Australia, in January 1893 through to 1927. In June 1901 he resigned and was thereafter a contract surveyor to the Department.
During the period when he was active he surveyed in the South West corner of Western Australia and as far north as Northampton and east into the central wheatbelt. The survey of the Frankland River, which was by no means an easy job in those days, was probably his major contribution to mapping in this State. Parts of the Victoria District (Geraldton and surrounds) were surveyed from 1901 to 1906, being almost exclusively in this District from 1903. In 1901 he was registered as living in Geraldton.
Lymburner was a sturdy character, typical of the tough hardy surveyors who worked around the beginning of this century. One story relates how he used to take a tin of 'bully beef' in his coat pocket and if at nightfall he found himself 5 or 6 miles from his base camp he would sleep beside his theodolite in the bush, after dining that night on a tinned meal.
Periodically he would take himself and any of his friends who happened to be around at the time and walk, often as much as 20 or 30 miles, to the nearest hotel where for several days they would attempt to annihilate the publican's liquor supply.
A school in the Perth suburb of Hillary's had been given the name of the Lymburner Primary School, however it is now Hillary's Primary School. There is a street bearing the Lymburner name in Geraldton, although this has now been removed and is where the Geraldton Grammar School is located.
Charles' Uncles, Edmund Alexander Delisser and Alfred Delisser were also surveyors and Edmund renamed the Nullarbor Plain from Bunda Plains to Nullarbor Plain which means 'no trees'. The Delisser Hills at Eucla, SA also bears their name.
Charles was 74 when he died on the 2 August 1938 and is buried at the Karrakatta Cemetery in Perth.
Lymburner lost one of his Gunter's chains on the McDonnell's and asked that it be returned to him if found. It turned up many years later and was given to the Chapman Valley Historical Society by the McDonnell family.
Details

Details

Contextual Information

Words by the McDonnell Family -
In 1904 the Mt Erin Station was divided into smaller farming blocks. The Lands Department Surveyor, Charles Harry Norman Lymburner and his partner lost a chain on the block selected by Michael McDonnell of Nanson. Mr Lymburner asked Mr McDonnell to send the chain to their next camp at Fig Tree with young John (aged 9) if it was found within the next month or so, otherwise keep it.
The chain was not found for several years, it was recovered on the small hill near the homestead and so remained in possession of the McDonnell family. It was often required to measure a paddock for a local farmer and remained in use until 1978. Patrick Austin McDonnell was born in 1904 so the chain was in the family's possession for the whole of his life. This story was told by Patrick Austin McDonnell.
The Surveyer, Charles Harry Norman Lymburner, was the father of Norma Cripps who died 21st July 1989 at the age of 95 years.

Primary significance criteria

Links to additional resources
Chapman Valley Historical Society Inc

Chapman Valley Historical Society Inc
Organisation Details
View Collection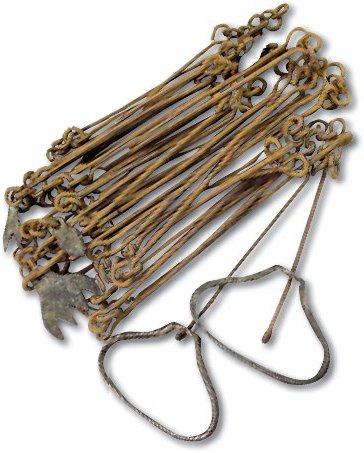 Gunter's chain (also known as Gunter's measurement) is a distance measuring device used for surveying.