Published:
Monday, 1 June, 2020 - 17:04
Sergeant Martin O'Meara was a member of Western Australia's 16th Infantry Battalion. He was awarded the Victoria Cross for outstanding bravery over a number of days at Mouquet Farm during the 1916 Somme Offensive. Each Victoria Cross is unique in that the medal is cast and hand finished including a secret identifying mark. O'Meara's medal has a further distinction. Because it was never mounted, it still retains the original presentation clasp which allowed it to be hooked onto his uniform at the time of investiture.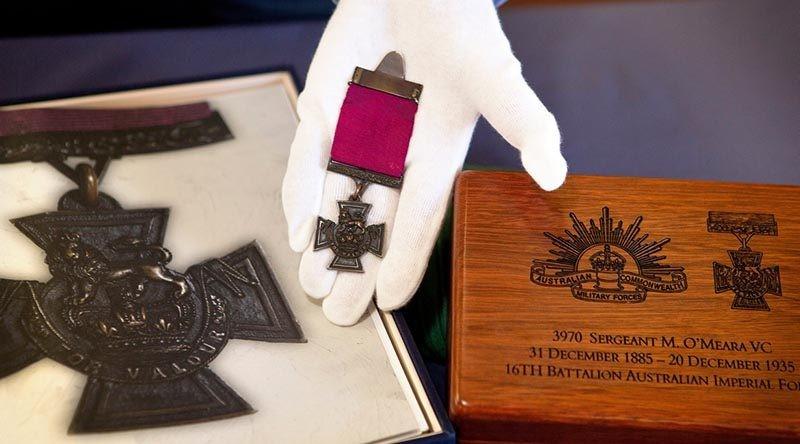 The Australian Army Museum of Western Australia and the Australian Army History Unit has loaned Sergeant Martin O'Meara's Victoria Cross to the Republic of Ireland for 12 months to feature in an exhibition. Due to the Covid-19 pandemic and international travel restrictions, this loan period has now been extended.
The Victoria Cross is the British Commonwealth highest award for gallantry in action. Since its inception in 1857 during the reign of Queen Victoria fewer than 100 Australians have been awarded the Victoria Cross. The Army Museum of Western Australia has the largest collection of Victoria crosses in Australia after the Australian War Memorial.
Martin O'Meara was born in November 1885 in County Tipperary, Ireland, and immigrated to Western Australia in 1914. On 19 August 1915, aged nearly 30, he enlisted in the Australian Imperial Force at Blackboy Hill.
Arriving at Marseilles, France, on 1 June 1916, he was soon at the front in the centre of the Somme offensive, an area of bitter fighting. Between 9 – 12 August, O'Meara distinguished himself with acts of bravery that earned him the Victoria Cross, the highest award for gallantry in the face of the enemy. O'Meara was presented his Victoria Cross by King George V in July 1917. He was one of around 6000 Irish-born Anzacs who served with the Australian Imperial Force during the First World War, but the only Irish-born Victoria Cross recipient in the AIF.
After being wounded three times and returning to his unit each time, O'Meara was eventually returned to Australia in November 1918. However the ravages of war had, unfortunately, taken their toll on him, and within days of his return to Perth he was admitted first to Stromness Mental Facility and then to Claremont Mental Hospital, with reports he was "delusional" and "extremely homicidal and suicidal and requires to be kept in restraint". Sadly, O'Meara never recovered, and died in 1935 at Claremont Mental Hospital. He is buried in Karrakatta Cemetery.
The medal will be on extended display, at The National Museum of Ireland, Collins Barracks, Dublin, as part of a 'Soldiers and Chiefs' exhibition. Loaning the Victoria Cross required a change to Australian legislation to permit a 'movable national treasure' to leave Australia. While this loan will mark the first time a VC in public stewardship has left Australian shores, it is thought likely it will be the medal's second visit to Ireland. After receiving his VC from King George V at Buckingham Palace, Martin O'Meara later visited his hometown, in October 1917, and it is thought highly likely he took the medal with him when he visited family in Tipperary.
How does Australia recognise acts of bravery?
https://www.gg.gov.au/australian-honours-and-awards/australian-bravery-…
Read the citation about Martin's bravery and his numerous woundings.
https://www.aif.adfa.edu.au/showPerson?key=O%27MEARA/M/3970
Australian Army O'Meara biography and media release
https://www.army.gov.au/sites/default/files/media/omeara_bio_.pdf
A modern investiture at Buckingham Palace
https://www.youtube.com/watch?v=kPtCemr7y9I
Explore Lorrha, Martin O'Meara's birthplace in Ireland