Published:
Friday, 22 May, 2020 - 14:37
With encouragement of her father, C.Y. O'Connor, Kathleen (Kate) O'Connor (1876-1968) studied art in Perth before pursuing a lifelong career as an artist in Paris after 1906. Kate embraced all that the centre of the international art world had to offer, before returning to WA at 72 year of age in 1948. Feeling stifled by the parochial art scene in Perth, Kate returned to Paris to rekindle her career in 1952. This self portrait by Kate O'Connor was painted at the peak of her time output in Paris in 1925. It depicts a resolute artist, fashionable dressed, with her favourite Algerian striped rug, which is still with the artist's family today.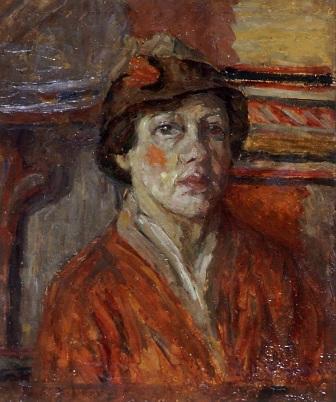 Kathleen O'Connor is represented in all Australian national and state public art collections including the largest holding of her work of 49 paintings that reside with the City of Fremantle Art Collection.
Kathleen Laetitia O'Connor was born in the harbour town of Hokitika, New Zealand in 1876. She was the daughter of Susan (nee) Ness and Irish born Charles Yelverton O'Connor and moved to Fremantle as a young woman with her family when her father was appointed as Engineer-in-Chief in 1891. 
Growing up in a privileged and conservative home, her life was irrevocably altered following a monumental tragedy in 1902 when her father shot himself with his son's revolver at South Beach. 
In her twenties O'Connor was influenced by Perth artist Florence Fuller to undertake art studies under the tutorship of English Arts & Crafts exponent J.W.R Linton. Following cessation of her studies Perth and fueled by resentment of those of her adopted home who may have contributed to her father's death, she travelled overseas with her family and developed an ambition to live as an artist in Europe. 
In 1910, when she was 33 and with the financial assistance of her mother, O'Connor established an independent artistic career in Paris, at a time when the city was the centre of international avant-garde literary, artistic and Intellectual movements. She followed in the footsteps of other Australian women artists aboard including Ethel Carrick Fox, Thea Proctor, Vida Lahey and Bessie Davidson. O'Connor moved in the fringes of artistic bohemian circles to frequent café life, study painting, exhibit regularly and connect with contemporary artists Isaac Israels, Eduard Vuillard and later Walter Sickert and sculptor José Clara. 
A follower of the French school of painting, she studied briefly with Rupert Bunny at Atelier Blanche and shared a studio with New Zealand artist Frances Hodgkins. She lived in London during WWl returning to Paris before the end of hostilities in 1917. The 1920's and 1930's were the best years for O'Connor professionally when she met Amedeo Modigliani, Marc Chagall and Dunoyer de Segonzac and continue to exhibit regularly at Salon d'Automne (since 1911) and Salon des Independants in Paris. She returned to Australia briefly to produce ceramics and textiles for David Jones in Sydney to limited success and exhibited again in Perth in 1927. She returned to Europe before World War ll, to re-establish her studio but to be exiled once more when she fled Paris in June 1940 to reside in London and Bath and take refuge in a village rectory after experiencing the horror of Luftwaffe bombing raids. After the war she lost all her possessions from her Paris studio when it was expropriated. 
Without a studio and not fully compensated for her wartime losses, O'Connor at 72, reluctantly returned to WA in 1948. She took up a studio at no.40 High Street, Fremantle and her return was soon vindicated through a retrospective exhibition of 28 works at the Art Gallery of WA and commercial shows with Hotchin Galleries and Perth Society of Artists. When Kathleen O'Connor was 75 years old she returned to Paris to find the cost of living prohibitive and without lodgings moved repeatedly between Paris and London. Her final exhibition of 52 paintings in Paris in 1953 failed to sell a single work and illness and isolation forced her to return to Australia for the last time in 1955. 
In the last decade of her life she continued to paint portraits and still life subjects in her Perth studio, exhibited nationally, awarded the Perth Prize in 1958 and hung in the Archibald Prize in 1961. Kathleen O'Connor did not finish a painting in the last few years of her life due to diminishing health. She was recognized for her life achievements through two significant exhibitions including a major retrospective at the Art Gallery of WA in 1967. Kathleen O'Connor died in Perth in 1968, in her 92nd year.