Ticket of Leave
Overview
Ticket of Leave, printed on parchment convict number 9779.
Name of convict was blackened out, unknown when and by whom, the convict number is for Benjamin Jones
Historical information
Benjamin Jones arrived in Fremantle on the Hougomont on January 10 1868, the last convict transport to arrive in Western Australia. He was married to Hannah (Anna) and had one child. After conviction for stealing cabbages, he was further convicted for the willful murder of Thomas Watkins of Aberdare, Wales in 1867, the death sentence commuted to life imprisonment. Tickets were issued to convicts to allow them to work their sentence on the properties of the district.
The ticket was to be carried by convicts at all times. After a period of satisfactory work, convicts could receive a pardon and return to society as free men.
Details

Details

Inscriptions and markings

Name's of employers - Wright Brothers - Clarrie Smith - Kiane. Dates 01/11/1884 -30/03/1886 and 13th July 1885.
On the back is a description of the person.

Contextual Information

Documents may be viewed on the IDHS website:

Trial Report 1 – 7 December 1866
Trial Report 2 – 7 December 1866
Trial Report 3 – 8 December 1866
The Trial -Welsh Language Report – 13 December 1866
Verdict 16 March 1867
Against Death Sentence 23 March 1867
Reprieve and Transportation 30 March 1867
The West Australian 30 September 1897
A Lonely Death 29 September 1897

Place made

Fremantle
Western Australia


Primary significance criteria

Historic significance

Scientific or research significance

Social or spiritual significance

Comparative significance criteria

Interpretive capacity

Object's condition or completeness

Rare or representative

Well provenanced

Links to additional resources
Irwin Districts Historical Society

Irwin Districts Historical Society
Other items from Irwin Districts Historical Society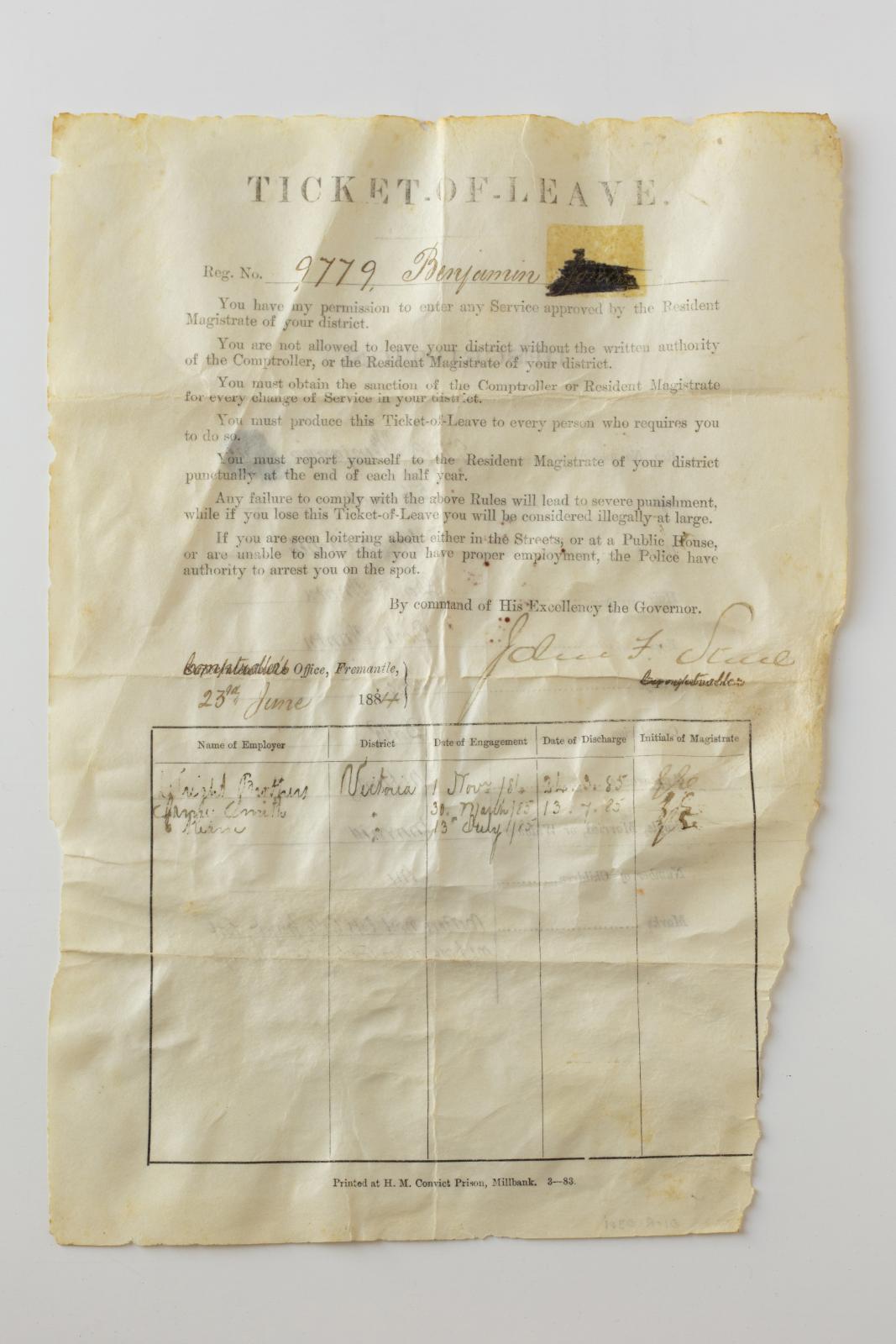 Ticket of Leave issued to convict number 9779, Benjamin Jones. Photo Bo Wong WA Museum.