Turkish Crimean War Medal
Overview
The Turkish Crimea Medal issued by Abdülmecid, Sultan of Turkey, to the armies of his allies for services in the Crimean War. The medal is of silver 36mm diameter and suspended by means of a ring, but frequently replaced by a straight suspension. Obverse: depicts the Sultan's cipher and the Mohammedan date 1271. Reverse: depicts cannon with varying arrangements of the allies' flags depending on the issue. There were three types of medal – the English, French and Sardinian,
Historical information
The Crimean War was fought from October 1853 to February 1856 between Russia and an ultimately victorious alliance of the Ottoman Empire, France, the United Kingdom and Sardinia-Piedmont. The Crimean War was one of the first conflicts in which military forces used modern technologies such as explosive naval shells, railways and telegraphs. The war was also one of the first to be documented extensively in written reports and in photographs. The war quickly became a symbol of logistical, medical and tactical failures and of mismanagement. The reaction in Britain led to a demand for professionalisation of medicine, most famously achieved by Florence Nightingale, who gained worldwide attention for pioneering modern nursing while she treated the wounded.
Details

Details

Inscriptions and markings

It does not follow that British recipients received the appropriate issue since many of the British issue were lost in a shipwreck. The most common type found issued to the British was the Sardinian.

Contextual Information

While this medal is almost always found with the British Crimea Medal, a small number of British officers who served with the Turkish forces along the Danube received the Turkish Crimea Medal only..Turkish Crimean War medals may be found in two locations in the Museum: around the large matchstick model of the Pensioner Guard Barracks and also at the Gallery entrance under the Derbarl Yerrigan presentation.
Australian Army Museum of Western Australia

Australian Army Museum of Western Australia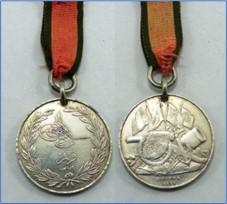 Scan this QR code to open this page on your phone ->