OFFICIAL OPENING OF AVON RIVER BRIDGE, TOODYAY
1968
Overview
B & W photo.
11 Councillors & Shire Clerk of the Toodyay Shire Council.
The official opening of the Avon River Bridge (later renamed the Newcastle Bridge), by the Minister for Works.
Behind the new structure can be seen the former wooden bridge which was later demolished.
A small amount of water can be seen to the left middle of photo, and the top of a tree is visible above the bridge at the top left of the photo.
Historical information
L-R. R. Preston ( Shire Clerk), A. J. North ( Councillor), M.J.Butterly (Councillor), D.E. Ludemann (President), R.J. McKay (Councillor), R.Hutchinson (Minister for Works), J.C. Wroth (Councillor), K.D. Lee (councillor), D.H. Aitken (Commissioner of Main Roads), J.M. Craig (Member for Toodyay), I.V. Murray (Vice President), A.A. Heath (Councillor).
Details

Details

Inscriptions and markings

Text on the reverse of photo reads, in part, "The bridge…replace an old timber structure which was subject to occasional flooding. The limit on the old bridge, which can be seen behind the new bridge, was about 40 tons. The new bridge, which is 530 feet long and 26 feet wide between kerbs, was designed and financed the Main Roads Department and built by R.P. Constructions Pty. Ltd. It could carry a 200 ton transformer on an appropriate low loader."

Contextual Information

The new 'Avon River Bridge', as it was named on that occasion, was officially opened by the Minister for Works, Ross Hutchinson, in the presence of Members of Parliament, the Commissioner of Main Roads, Shire Councillors and hoards of onlookers. The bridge was designed and financed by the Main Roads Dept., built at a cost of $245,000 by R.P. Constructions Pty. Ltd., and had a length of 530 feet and a width of 26 feet between the kerbs.
The afternoon tea for this occasion was catered by the Toodyay Anglican Church Guild, probably held in the nearby St. Stephen's Church Hall. Les Purser had the distinction of being the first person to cross the newly opened bridge, after the boom gates were raised. Postman Les rode his bicycle, and went on with his job of delivering telegrams, to the cheers of the onlookers.

Primary significance criteria

Google Maps search term / URL

https://www.google.com/maps/embed?pb=!4v1647524399783!6m8!1m7!1szIibbV64FUnHg9v_Y4EHwg!2m2!1d-31.55012422553276!2d116.4636665248103!3f332.1591441931608!4f-4.30490786578855!5f2.5910022224178646
Shire of Toodyay

Shire of Toodyay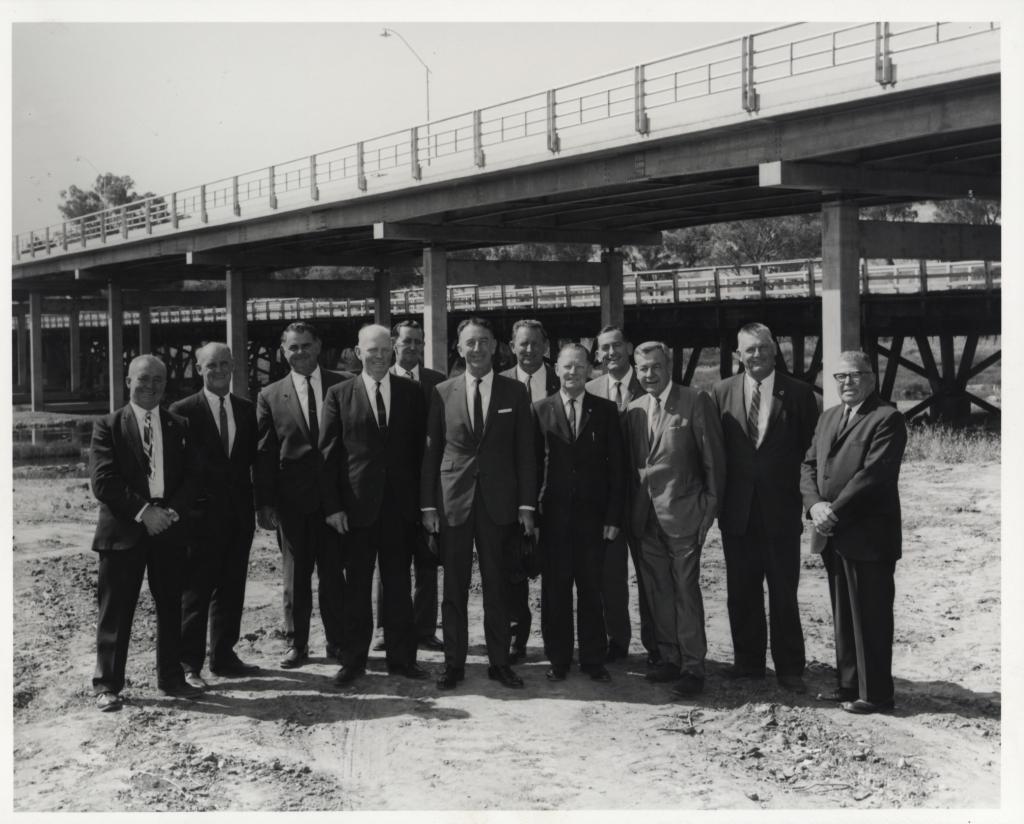 Scan this QR code to open this page on your phone ->